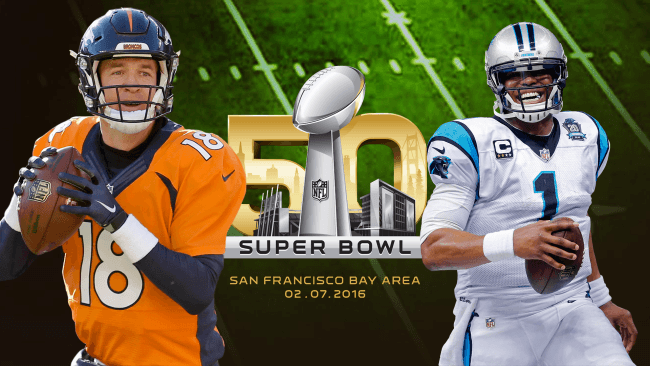 If you believe the Las Vegas odds, fifth-year NFL quarterback Cam Newton will lead his Carolina Panthers over future Hall of Famer Peyton Manning's Denver Broncos when the two meet on February 7 in Santa Clara, California, for Super Bowl 50.
If you don't believe the odds, well, it's time to put your money where your mouth is.
So where is the current line?
On average, the books in Sin City have the Panthers at -4.5 points, meaning they'll need to win by five to cover any bets. Should the Panthers only win by four, bets on Denver would win.
The over/under is 45.5 points. If you think Newton and Manning will be able to tally up at least 50 points together, you would bet on the over.
Stats Speak
Emotions aside and only taking data into play, the Carolina Panthers are largely thought to be the best team in 2015. At 15-1, should they win the Super Bowl they would match the New England Patriots' historic 2007 regular and postseason in winning 16 total games.
It would also bring Carolina its first NFL championship since the team was founded in Charlotte back in 1995.
Led by Newton's offensive attack, the Panthers steamrolled the Arizona Cardinals in the NFC Championship by winning 49-19.
"He's throwing the ball amazing right now, and you know what he can do with his legs," Broncos cornerback and three-time Pro Bowler Aqib Talib said. "He's the best of both worlds."
To compliment Newton, the Panthers are also pretty darn good on defense. In fact, they're even better.
The Panthers defense halted the Cardinal's top-ranked regular season offense and caused seven turnovers.
The Manning Factor
Hampered by injuries, the Broncos finished the regular season with the 16th-ranked offense, but #1 defense. Manning and fill-in quarterback Brock Osweiler did just enough to win games and reach the Super Bowl, which marks Peyton's fourth trip to the big show.
At 39-years-old and performing below his typical standards at times this season, speculation is overflowing regarding the future of Manning's career. Many believe February 7 will be his final game.
What does that mean in the sports betting world? For starters, it makes the Panthers bet potentially even more attractive, as emotions could play a significant role in skewing the line more than normal.
One of the most respected players to ever play the game, it's believed that the majority of the general public will be routing for Manning to go out with a curtain call by winning Super Bowl 50.
As more people place bets on Denver, odds makers might reduce the spread to entice tickets on Carolina.
Also Worth Noting
For the most serious of sports bettors, a variety of additional betting opportunities exist for Super Bowl 50 thanks to prop bets.
From gambling on how many times Manning will say "Omaha!" under center, to placing a bet on which team will score first and last and how long the longest touchdown will be, prop bets add extra interest but are truer forms of gambling that more closely resemble betting on red or black.
Finally, a 30-second commercial during the Super Bowl will cost you $5 million.