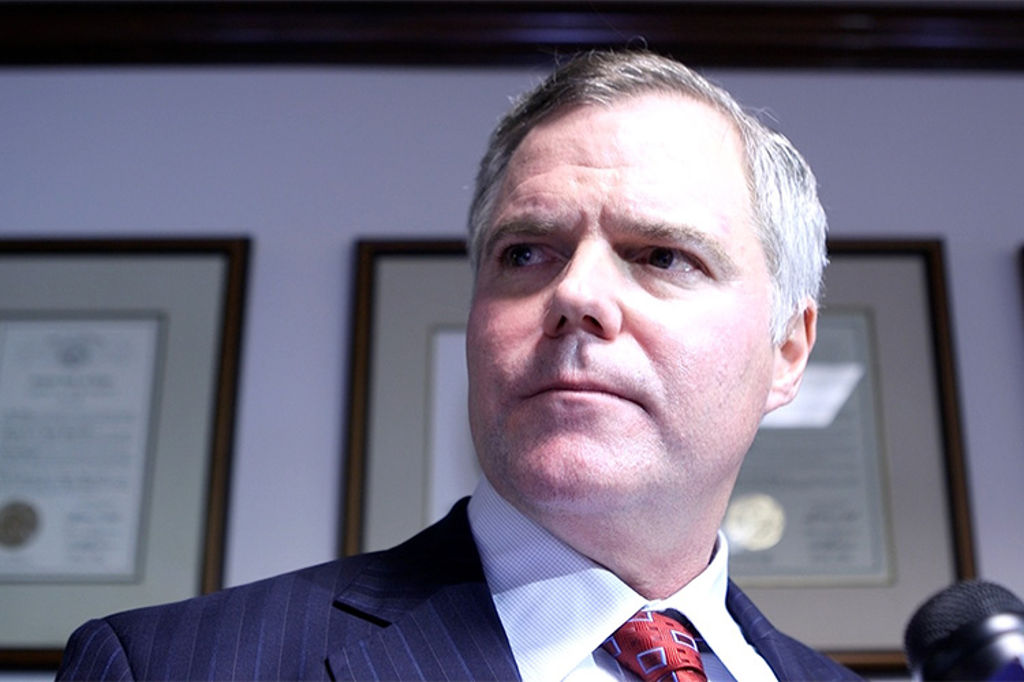 Las Vegas NBA basketball might be coming to the Strip.
Billionaire Sheldon Adelson is in the process of accommodating Oakland Raiders owner Mark Davis' wishes to relocate the NFL franchise to Sin City. And now MGM CEO Jim Murren says his company's T-Mobile Arena is on the prowl for an NBA team.
Murren has previously expressed support for the proposed $1.9 billion NFL football stadium being pushed by Adelson and Davis, and using $750 million in public tax revenue to help build the venue.
During an interview this week with Nevada Public Radio, Murren doubled down on sports and said he's actively pursuing a pro basketball team for the arena MGM owns a 50 percent stake in.
"Imagine the thought of having a professional hockey team, a professional football team, a professional soccer team, probably a professional basketball team, I'm working on that. That was an impossible dream 18 years ago," Murren explained.
"I do believe over time that we will be able to convince ownership in the NBA to relocate a team here," Murren concluded.
Betting on Vegas
The notion that Las Vegas cannot be home to professional sports is a concept that's largely been erased from the playbook. No longer are the legalized sportsbooks on the Strip a warranted concern for leagues.
NBA Commissioner Adam Silver is in favor of legalizing sports betting on the federal level, and MLB Commissioner Rob Manfred has opined that Vegas no longer presents an issue for pro sports.
NFL Commissioner Roger Goodell is the exception. He believes it's in his league's best interest to avoid Nevada.   
But today, three of the "Big Four," the NFL, MLB, NBA, and NHL, are engaged in some sort of Vegas activity. MLB is the only league not currently deliberating the validity of Vegas.
The movement began with billionaire Bill Foley who is bringing Sin City its first-ever major professional sports program, and ironically, the team will play in the Mojave Desert on ice. In June, the NHL announced an expansion franchise was coming to Vegas for the start of the 2017 season.
Foley says he will unveil the name of the franchise in November. "Our goal is really to … have a logo and a name that gives us the ability to create a culture around this team that will be built here for years and years and years to come," Foley explained recently.
MGM, Murren Changes Tune

Nevada Public Radio's Joe Schoenmann brought up the valid argument that MGM has traditionally opposed using public funds to build arenas. Murren responded by saying Adelson's NFL dream is a "personal legacy" project that isn't about profits.
"A football stadium along the lines that would be approved by the NFL will cost about $1.8 billion. There's not a high probability that that's going to be privately funded," Murren explained. "There's a distinction between an arena and a stadium."
MGM paid for the construction of the $375 million T-Mobile Arena along with Anschutz Entertainment Group, a Los Angeles-based sports and entertainment company.
Should an NBA franchise look to transfer to Vegas, the arena is ready to ball.