On Christmas evening, the Los Angeles Lakers defeated the defending-champion Golden State Warriors 127-101, but lost star player LeBron James, who exited the game with a groin injury in the third quarter.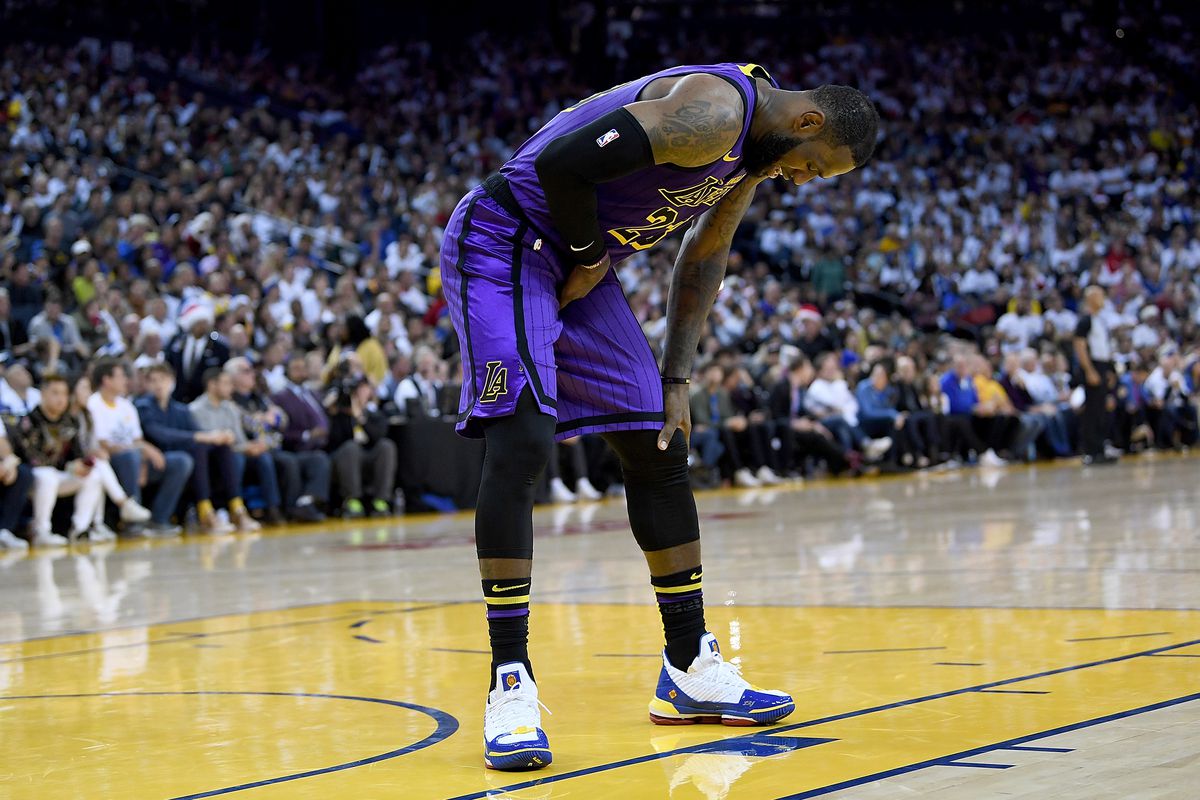 LeBron is scheduled for an MRI to determine the severity of the injury. James played in all 34 games for the Lakers this season averaging 27.3 points, 8.3 rebounds, and 7.1 assist per game.
Christmas Blowout
With under eight minutes remaining in the third quarter, the Lakers led by 14 points when LeBron fell to the ground in pain. He attempted to walk off the injury to no avail. The training staff assisted LeBron in attempting to stretch out to alleviate the pain, but that did not work either.
"I take a lot of pride in it. That's why it (angered me) not to be able to go back into the game," said LeBron James. "It's more than anything being available to my teammates, being available to my coaching staff. That's something I take more personal than anything. Hopefully it's not a long thing."
Once LeBron went down, the Warriors unleashed a 14-1 run and trimmed the deficit to two points. That's as close as they'd get before the Lakers countered with their own run. The LeBron-less Lakers did not implode in the fourth quarter and outscored the Warriors 36-19 to win by 26 points.
Seven Lakers finished the game with double digits. Forward Kyle Kuzma led the Lakers with 19 points.  Center Ivica Zubac, a second-year player from Croatia, finished with a double-double. Zubac scored 16 points on a highly-efficient 9-for-10 from the field and he added 11 rebounds.
Zubac Who?
The Lakers are thin in the big man department due to injuries and third-string center Ivica Zubac has been called into action.
Starting center JaVale McGee continues to recover from a bout of pneumonia so fierce that it required hospitalization. Backup center Tyson Chandler has been fighting back spasms all season. Two other big men sat at the end of the bench including 7-foot Zubac and rookie Mo Wagner from Michigan. Both were relegated to garbage-time appearances in blowouts.
With McGee down and Chandler's back issue flaring up, head coach Luke Walton tapped Zubac to play 30-plus minutes per night. Over the last three games, Zubac did not waste his opportunity to show everyone his skills. He averaged 17.7 points per game and shot a torrid 78.1 percent from the field.
"Mentally, it's the worst," said Zubac of his role as a third stringer. "Everyone is saying 'You've got to stay ready, you've got to stay ready.' And you know you can play. You know there are a lot of guys ahead of you in a rotation. And you've got to wait until someone goes down. That's your only chance and you've got to step up. If you don't step up in that time, then you're not playing the next 20 games."
Zubac scored a career-high 19 points in a loss to the Memphis Grizzlies the previous game. Against the New Orleans Pelicans, Zubac dropped 16 points on 8-for-10 shooting and added 11 rebounds.
Zubac has quickly become a fan favorite in Southern California as he went from the last player on the bench with 20 DNPs this season, to a starting role.
NoCal vs. SoCal Rivalry?
The Lakers stumbled into Christmas with losses in four of their previous six games. The Lakers got off to a good start with a seven-point lead at the end of the first quarter, while the Warriors looked sluggish all first half. By halftime, the Lakers extended their lead to 15 points. The Lakers were close to opening a 20-point lead in the third quarter before LeBron went down. The Warriors fought back in the third quarter, but they couldn't get anything going in the fourth quarter.
Andre Iguodala came off the bench to lead the Warriors in scoring with 23 points. Kevin Durant quietly added 21 points. Steph Curry scored 15 points, but suffered a rare bad shooting night with a 5-for-17 clip. Meanwhile, sharpshooter Klay Thompson continues to slump. He only scored 5 points.
With the victory on Christmas, the Lakers improved to 20-14 and moved into sole possession of second place in the Pacific division. The first-place Warriors are 23-12 and lead by 2.5 games.
According to the South Point Casino and Sports Book in Las Vegas, the Golden State Warriors are the favorite to three-peat as world champions at -200. The Lakers improved to 10-1 odds to win the NBA championship.