The Los Angeles Rams cut running back Todd Gurley in a cost-cutting measure, but the Atlanta Falcons didn't waste any time in snatching Gurley up to ignite their atrocious running attack.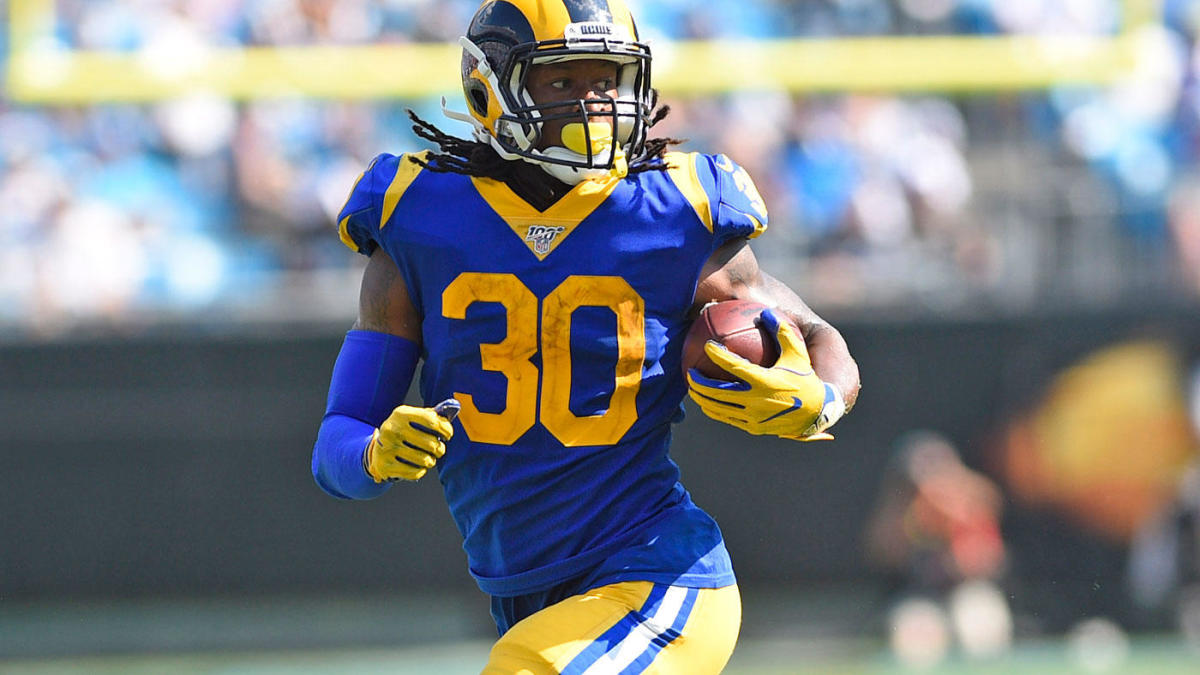 Gurley, 25, hasn't been the same since he injured his knee late in the 2018 season. He looked like a shell of himself in that postseason, including a loss in Super Bowl 53. Clearly, both Gurley and the team were downplaying the severity of his injury. He still gutted it out, played through the pain, and gave it his all.
In 2019, Gurley had a lackluster season. He played 15 games and rushed for 857 yards, which ranked him #20 in the NFL. He scored 14 touchdowns with 12 rushing touchdowns though, which tied him for #5 overall. He averaged 3.8 yards per carry for an unimpressive ranking of #37 in the NFL.
In 2017, Gurley won the NFL Offensive Player of the Year. In 2018, he signed a $60 million contract extension that included $45 million in guaranteed money, making him the highest-paid running back in the NFL.
Now, with another huge sum of money due this season, the Rams made a financial decision to part ways with their former superstar.
Back to Georgia
The Atlanta Falcons suffered back-to-back 7-9 seasons. They were 30th in the NFL in rushing last season, averaging just 85.7 yards per game.
The Falcons released Devonta Freeman earlier in the week and now hope Gurley can help lead them back to being contenders in the NFC South. It's a gamble, but if Gurley remains healthy, then the Falcons should give the New Orleans Saints a run for their money this season.
At the same time, Gurley returns to Georgia, where he played ball in college with the Georgia Bulldogs.
Gurley will earn $11 million next season, including $7.5 million from the LA Rams. The Falcons are only on the hook for $3.5 million, as he has two more years on his rookie contract.
The Rams saved $5.5 million in cap space this season and next by cutting Gurley. The organization made a tough decision to let one of its top players go.
Worn Down?
The LA Rams drafted Gurley with the 10th overall pick in the 2016 NFL Draft. As a rookie with the then St. Louis Rams, Gurley rushed for 1,106 yards in 13 games. He also scored 10 touchdowns in an extremely conservative Jeff Fisher offense.
Once Sean McVay took over for the LA Rams, Gurley's output exploded. Gurley posted monstrous seasons in 2017 and 2018 as a dual-threat back.
In 2017, Gurley rushed for a career-high 1,305 yards in 15 games and added 788 receiving yards. He posted 2,093 total yards from scrimmage. He scored 19 touchdowns including 13 rushing scores.
In 2018, Gurley set a career-high with 4.9 yards per carry and the Rams went to the Super Bowl. In 14 games, he rushed for 1,251 yards and 17 touchdowns. He added 59 receptions for 580 yards and four touchdowns.
In five seasons, Gurley rushed for 5,404 yards and 58 rushing touchdowns in 73 games. He averaged 4.3 yards per carry over his career. He turns 26 in August, but many folks in SoCal wondered if Gurley has been severely worn down during his first five seasons in the league.
With 70 total touchdowns, Gurley is tied for fourth all-time (with Jerry Rice) in the NFL for most touchdowns in the first five seasons. Any time you're on an all-time list with Jerry Rice, you've accomplished something special.