Kyle Busch will be trying to match some legendary drivers at Bristol Motor Speedway on Saturday night by winning his ninth time at the racetrack. The 34-year-old is the favorite at the Bass Pro Shops NRA Night Race.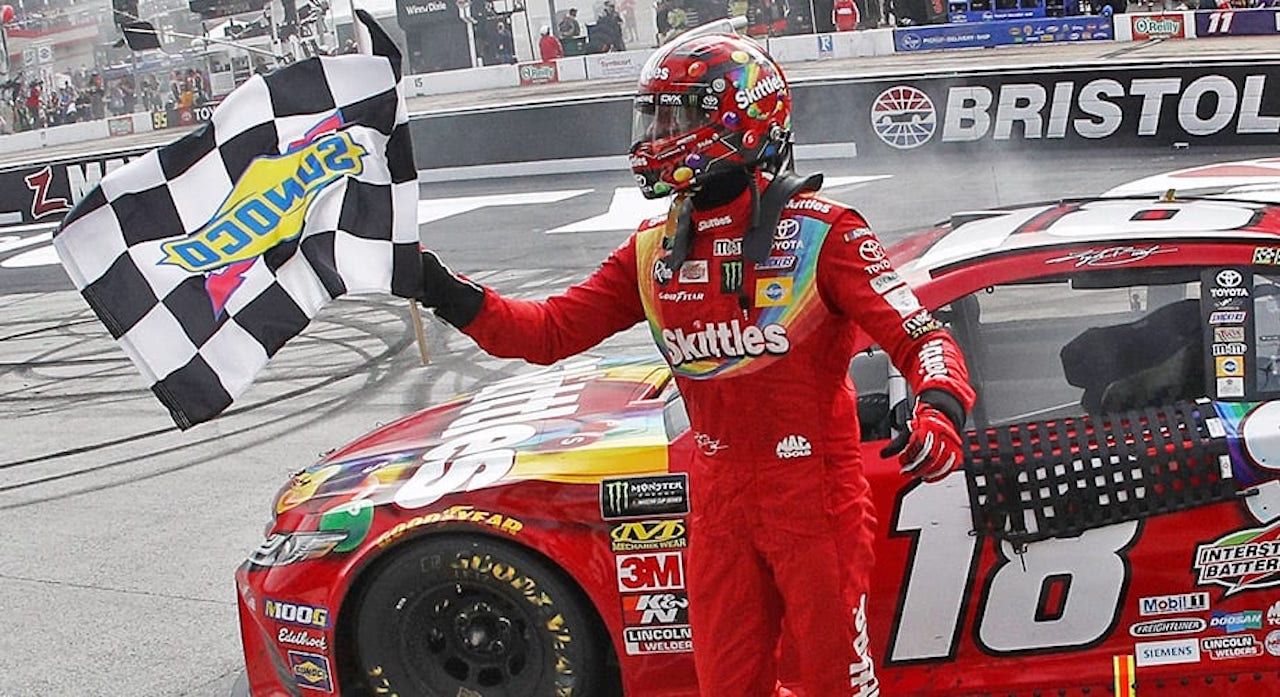 Busch is listed at Circa Sportsbook at 15/4, while at the Westgate Las Vegas SuperBook he is at 5/2. Last week's winner, Kevin Harvick is at 7/1 at the Westgate, 9/1 at the Circa. Joey Logano has the same odds as Harvick at both locations.
If Busch wins Saturday, he would tie Cale Yarborough, Dale Earnhardt and Rusty Wallace for second place on the track's all-time list. Darrell has the most with 12.
Busch won there in April at the Food City 500, outdueling his brother, Kurt. Kurt Busch is 20/1 to win.
"Obviously we're on a hot streak with Bristol. We love going there," Kyle Busch said. "We'll see what we can do there, hopefully having a fast race car and doing what we normally do there. Hopefully, we can make it back-to-back wins there for us and keep making some progress in the points for the regular-season championship."
Early Fan of Bristol
It was older brother, Kurt that started the family dominance at the Tennessee layout. He won five races from 2002 to 2004, and captured the checkered flag there again in 2006. That gave him five wins in 11 appearances. Kyle was there to watch his brother dominate.
"I remember watching when I was a kid – I wasn't there racing, yet – watching Kurt win his first race at Bristol and then having the epic battle with Jimmy Spencer there," Busch said. "That was a lot of fun to watch and see how Kurt was able to get his first win there and, of course, the years that I've been able to put cars in Victory Lane or wishing I could go back and get a few more of those wins that I missed out on – I'd have a heck of a lot more than just eight."
The younger Busch victories began in 2007, but he wouldn't win again until two years later. He won the 2009 Food City 500, and two months later for the season sweep. His other victories came in 2010, 2011, 2017 and earlier this year.
Breaking Slump
If Busch is going to get another season sweep, he will have to break a winless skid that stretches back to June 2 at Pocono. He is confident this will be the place he captures his fifth win of the year.
"Bristol Motor Speedway is one of the best tracks on the circuit," Busch said. "All the fans love it because of the excitement, the run-ins and the close-quarter action with all the cars being packed on top of one another at a half-mile race track with us 40 lunatics running around in a tight circle."
Harvick has been one of the hottest drivers the last month, winning two of the last four Cup races. He has won at this track twice, the last time in 2016. In April, he started at the back of the pack, but managed a 13th place finish.