Kyle Busch held off teammate Daniel Suarez during two late restarts to win the Gander Outdoors 400 at Pocono Raceway on Sunday.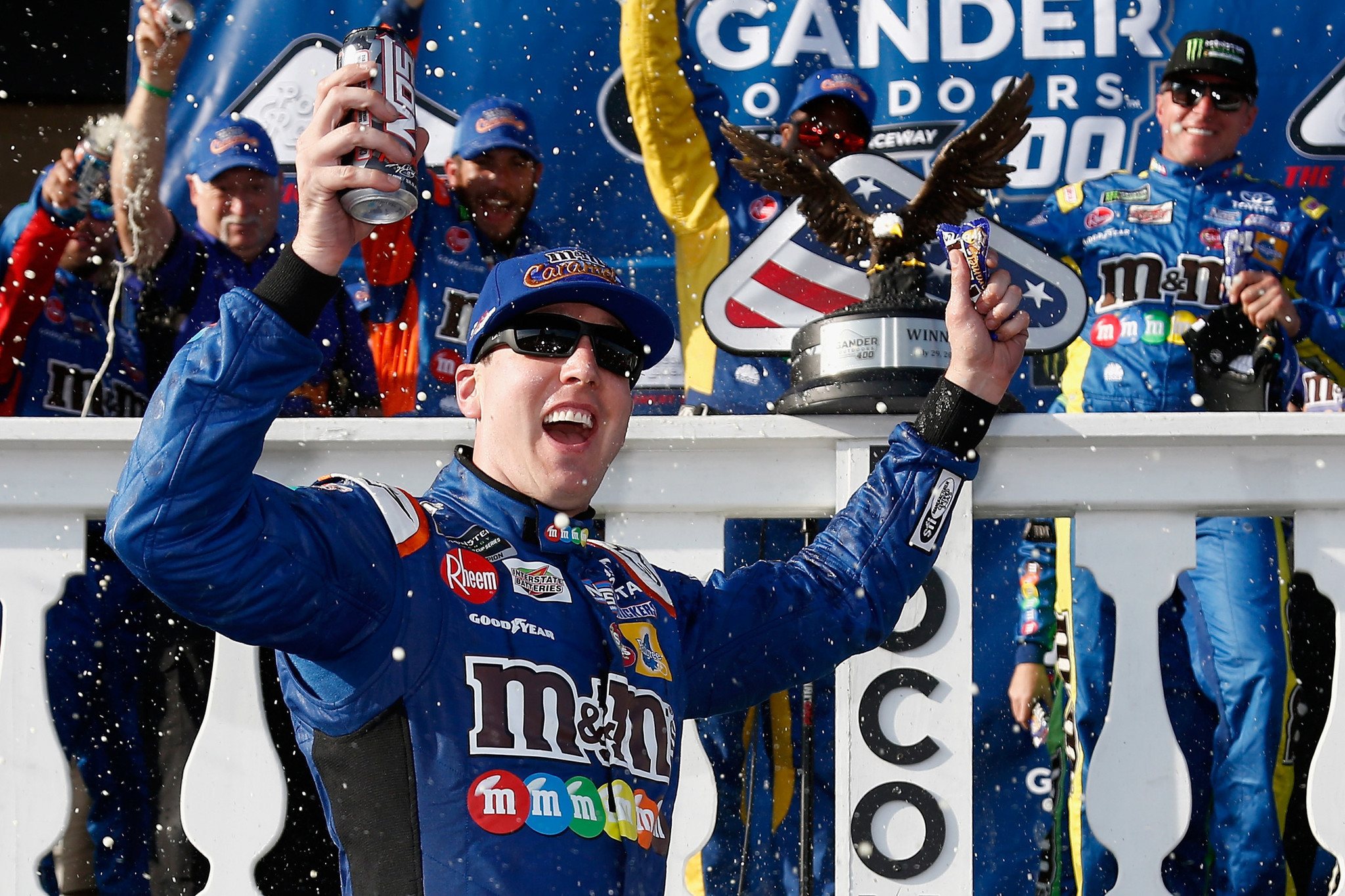 The win was Busch's sixth victory of the NASCAR Cup Series season, and allowed him to maintain his lead in the series driver standings.
Busch Climbs All-Time Winners List
The win was also Busch's 49th career NASCAR Cup Series victory, which ties him for 13th on the all-time wins list with Tony Stewart.
"That's awesome," Busch said of matching Stewart's career total after his win. "You keep reaching up the ladder, and you keep reaching more milestone drivers. Tony Stewart is one of the all-time best and one of the drivers I was a fan of growing up as well."
Busch had to start the race from the back of the pack, as his was one of 13 cards that failed the post-qualifying inspection. But that didn't stop the best cars in the race from picking up ground, as both Busch and Kevin Harvick – who would have been in pole position had he not also failed an inspection – made it back to the front of the pack.
Harvick led for 30 laps and won Stage 2, but fell back due to traffic during a restart on Lap 106. He would then suffer a collision with fellow Stewart-Haas Racing driver Aric Almirola on pit road. While Harvick once again staged a comeback, he ran out of time, finishing in fourth place.
Suarez Nearly Grabs First Career Win
Busch's largest challenge came from Suarez, who was hoping to win his first ever NASCAR Cup Series race. With Busch and Harvick failing their inspections, it was Suarez who enjoyed his first career pole. The 26-year-old Suarez – who is the first full-time Mexican driver in NASCAR Cup Series history – led for 29 laps and was in the race right until the end.
The ending was marred by two restarts, the first of which came with six laps left. Darrel Wallace Jr. lost the breaks on his car, losing control and causing a violent wreck that stopped the action.
"Hardest one of my career," Wallace said of his collision with a barrier on his passenger's side. "I'm OK, though. I'll wake up tomorrow and be a little sore, but the safety has come a long way. It's good to be able to climb out of the car."
On the restart, Busch pulled away from the pack. A second restart forced overtime laps to be run, but Busch again pulled away, ending up 1.788 seconds ahead of Suarez.
While Suarez still scored the best result for a Mexican driver in NASCAR Cup Series history, he was disappointed not to get the win.
"I didn't care if I was second, third or fifth – it doesn't really matter," Suarez said after the race. "We wanted to get that first win and we're this close. I'm sure we're going to get it soon."
Instead, it was business as usual for the 2018 season, as Busch continued to dominate alongside Harvick and Martin Truex Jr., who have combined with 16 wins this year. All other drivers on the series have combined for five victories.
That level of dominance has made the "Big Three" the clear picks to win the NASCAR Cup Series championship. Ladbrokes currently has Harvick and Truex as the co-favorites at 11/4, with Busch just behind them at 3/1.