Kyle Busch outraced his brother Kurt Busch following a final restart to win the Food City 500 at Bristol Motor Speedway on Sunday.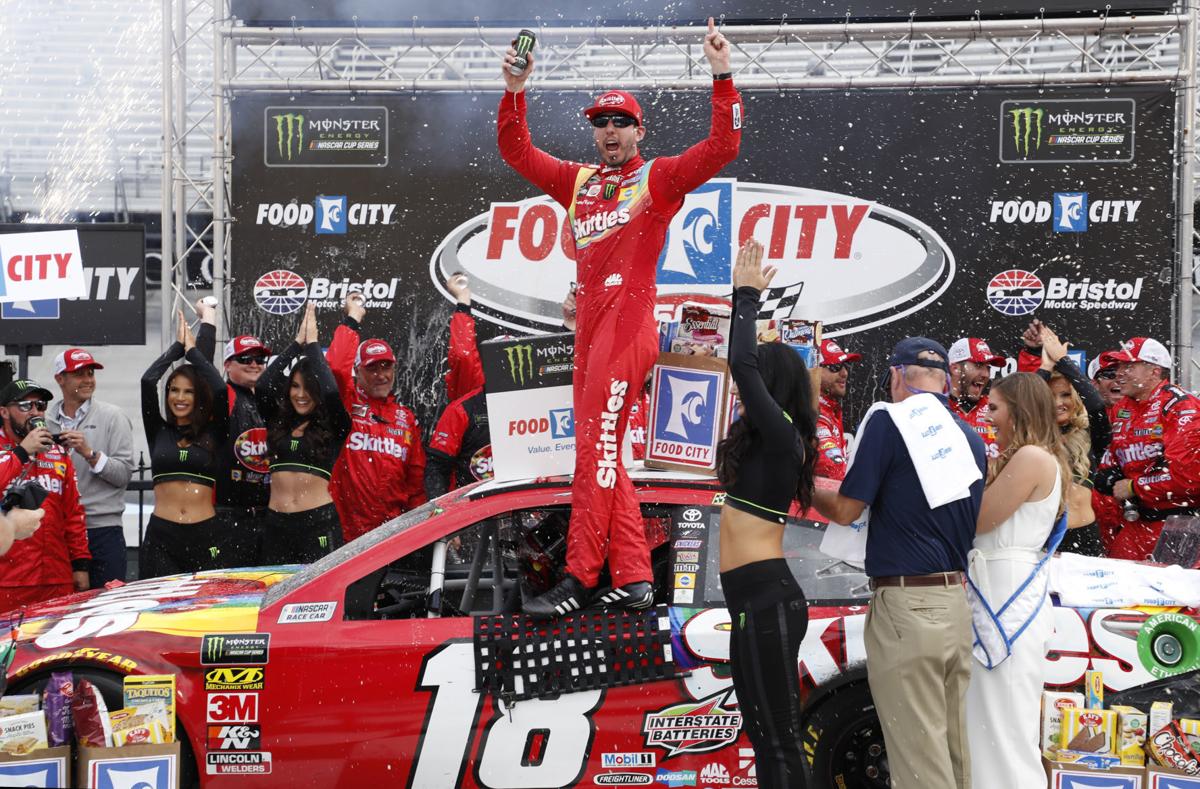 The victory gave Busch his third NASCAR Cup Series victory of the season, and his 10th win over the three major national NASCAR series.
Late Restart Leads to Duel Between Busch Brothers
The 500-lap race turned into something of a sprint late, as Kyle Larson hit the wall with less than 25 laps to go, setting up a caution. While many of the leaders chose to pit at that time, both Busch brothers stayed out, as did Daniel Suarez and Paul Menard, setting the foursome up as the leaders when the race was restarted with 14 laps to go.
But it was Kyle Busch who was able to continue his dominant 2019, while Kurt had to settle for second place.
"It's pretty awesome to be able to snooker those guys, get our win today here at Bristol," Kyle Busch said after the race. "It was fun to battle out the brother there at the end."
Kurt Busch was a little less pleased with the outcome, saying he would have done just about anything to get the win.
"I really wanted to beat him," Kurt told Jamie Little of FS1 after the race. "I was going to wreck him…I mean he's already won. I figured he could give a little love to his brother."
Apparently, Kurt event told Kyle immediately after the finish that he would have wrecked his little brother for a chance to grab his first win of the season.
"I told him you can't tell people you're going to wreck them before you do it, because when roles are reversed, that person is going to wreck you," Kyle said during the post-race press conference. "So I guess if I'm ever running second to Kurt, I'm going to wreck him. I'm glad it didn't turn out that way."
Kyle Busch Continues Early Season Domination
Kyle Busch hasn't been running second very often this season. He currently leads both the driver standings and the projected playoff standings, and is the only driver to finish in the top 10 in all eight NASCAR Cup Series races this season. Kurt isn't having a bad season himself – he is currently eighth in the driver rankings – but has yet to score a win.
Joey Logano, Ryan Blaney, and Denny Hamlin rounded out the top five at Bristol, with Blaney leading the most laps on the day at 158. Ty Dillon won the first stage of the race before finishing in 15th place, while Logano took Stage 2.
While Kyle's victory may seem predictable in hindsight, it certainly didn't look like a winning day for the driver early on. Busch was involved in a multi-car accident on just the second lap of the race, and didn't take the lead for the first time until Lap 384.
"I think with [crew chief Adam Stevens] and Kyle, they have a way of fighting through adversity," team owner Joe Gibbs said afterwards. "I think it probably took something away from the car, but they just did a great job fighting all day."