Kyle Busch captured his fifth NASCAR Cup Series win of the year after out-dueling Kyle Larson in a bump-and-grind finish at the Overton's 400 at Chicagoland Speedway on Sunday.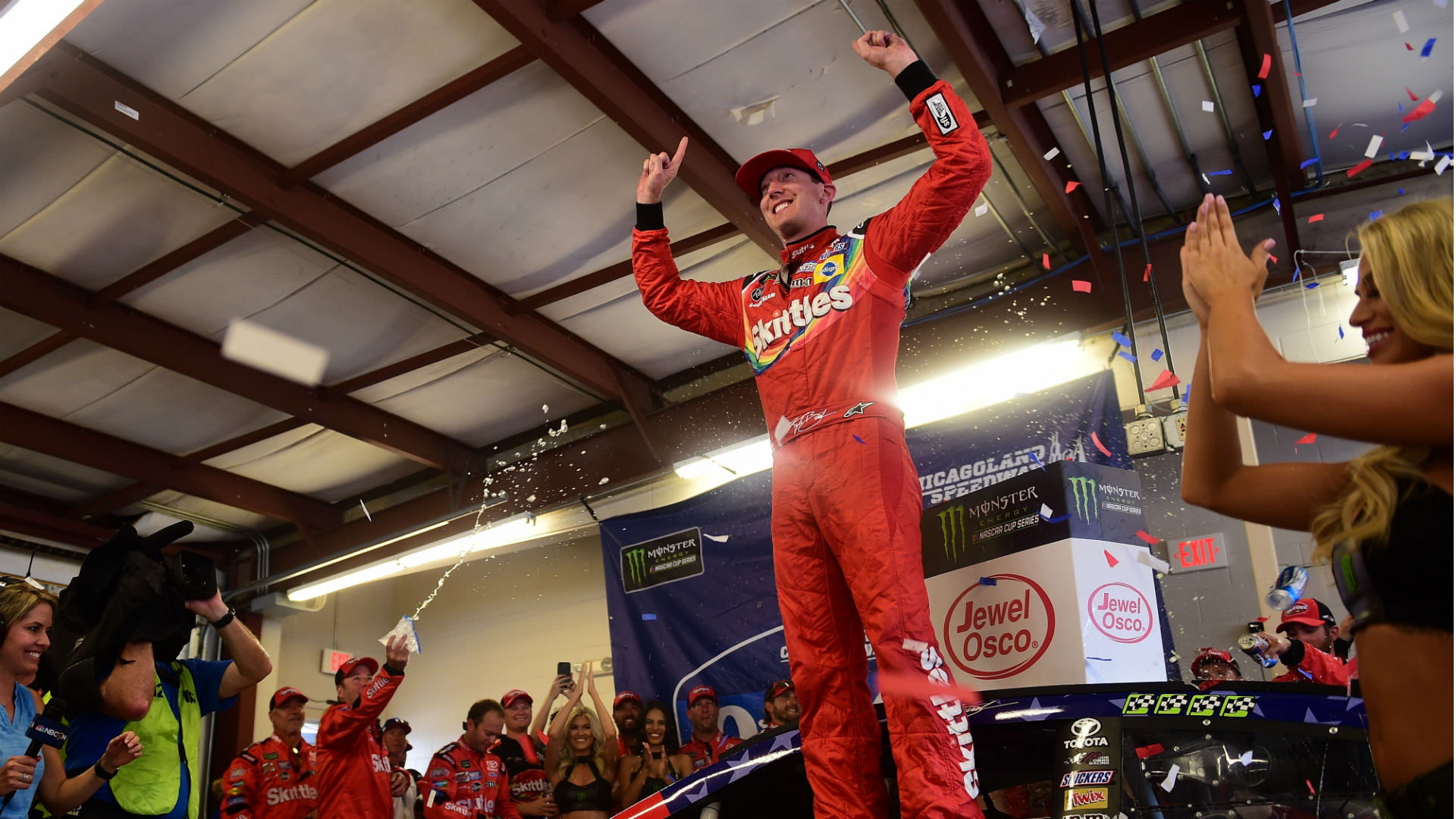 The 267-lap race featured a memorable, heart-pumping finale, as Busch and Larson made contact twice on the final lap as they battled for first place roaring towards the finish line.
Busch gained the lead on Lap 213. For a while, it appeared that the big three who have dominated this season — Busch, Kevin Harvick, and Martin Truex Jr. — would take the top three spots in some order.
But then Larson made a late charge that made for a thrilling conclusion.
Larson, Busch Trade Paint on Homestretch
Passing both Truex and then Harvick to move into second place, Larson was right on Busch's heels heading into the final lap.
Larson made the first move, tapping the back of Busch's car to nudge him into the outside wall. That slowed Busch enough to let Larson pass on the backstretch and take a tenuous lead.
But Busch had enough speed to catch Larson again, racing right into the back of his car on Turn 3. That sent Larson spinning, sliding him down the track and allowing Busch to pass. While Larson was able to hold on for second place, Busch ultimately won by 1.875 seconds, a margin of victory that doesn't reflect the excitement in the final seconds of the race.
"It was a good day, a great finish," Busch said after the race. "People don't necessarily see those very much anymore. Man, you just got to be pumped for that. It's cool."
Busch's Move Justified, Larson says
Larson agreed with that sentiment, saying that fans had to appreciate the rough-and-tumble action as the two leaders tried everything they could think of to get to the finish line first.
"That's got to be one of the best NASCAR finishes of all time," Larson said after watching a replay of the ending. "I know I'm on the short end of the stick again, but it was fun."
Larson also acknowledged that Busch's move was justified, given that he had made contact with the winner earlier in the lap.
"I know all these fans are probably mad at him, but hey, we put on a hell of a show for you guys and that was blast," Larson said.
Harvick, who had too much ground to make up to take advantage of the physical racing in front of him, finished in third. Truex and Clint Bowyer rounded out the top five.
The win was enough for Busch to hold on to his overall lead in the Monster Energy NASCAR Cup Series standings. Busch has 736 points, 62 ahead of Harvick for the lead. Busch and Harvick also top the playoff standings, ahead of Truex and Bowyer, with those four being the only drivers to win multiple races this year.
The betting odds favor one of the big three to take the series championship this year. Harvick is the 5/2 favorite according to William Hill, with Busch (7/2) and Truex (7/2) right behind him. Larson is the fourth choice at 7/1.