The New York Knicks are one of the worst teams in the NBA this season, is a young squad that is also losing the battle against the popular survival video game, Fortnite.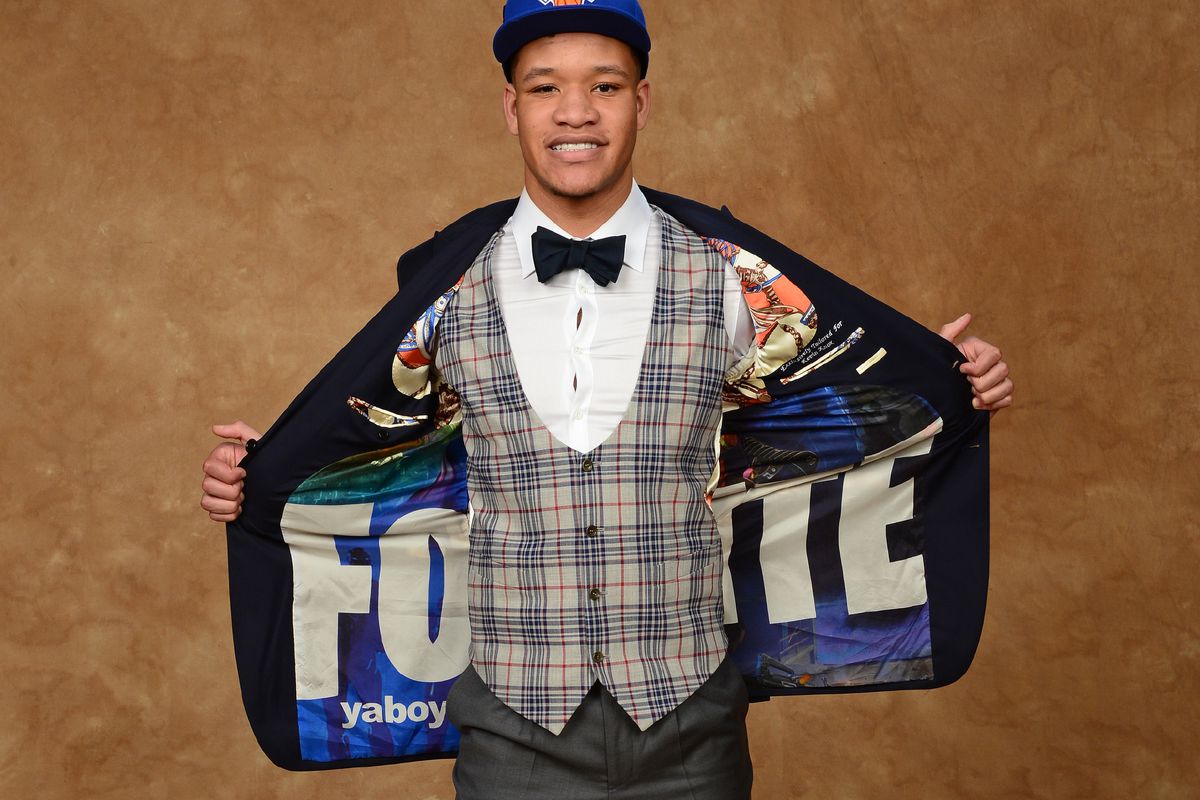 The Knicks have four players under 21-years old, including rookie sensation Kevin Knox, who is 19. Ten members  are 23 and younger and the majority of them are avid Fortnite players. The Knicks only have three players on their roster over 27. That includes 30-year old center DeAndre Jordan, whom they acquired in a trade for Kristaps Porzingis.
The Knicks do a good job at staying out of trouble, especially avoiding the pitfalls of the clubbing lifestyle. However, the young team has a natural inclination to spend too much time on their phones with social media. While other players have caught the gaming bug. During the downtime, players are immersed in video games, particularly Fortnite.
"Fortnite is probably one of the hottest games right now," Knox said. "Everyone likes to play it. That's why I got hooked on it a little bit."
There is a fine line between a hobby and a Fortnite addiction, but the Knicks are not going to ban the game like other pro sports teams. The Vancouver Canucks banned Fortnite because they felt it was a huge distraction. The vets felt the younger hockey players were wasting time playing Fortnite in the locker room, or staying up too late to play the game.
Orange Shades
The Knicks are trying to instill a new winning culture in New York City. They invested time and money in to sleep studies, specifically maximizing sleep for their players on the road.
One of the biggest causes of insomnia and restless sleep is blue light exposure. This occurs when digital devices, such as phones, tablets, and laptops, are in the same room as the sleeper. More often than not, these devices are within close proximity to the person trying to get shut out.
"This generation, they are an online generation," said Fizdale. "Whether it's communicating late in the night with people. Whether it's reading stuff, watching stuff, playing video games at the end of the night. It's still a bunch of blue light in their eyes keeping them up all night. I do get concerned with how much rest they get."
To reduce blue light, the Knicks issued special orange glasses to the players. They are supposed to wear them on the plane when traveling and at night before they got to bed.
"I notice when you wear them, even if you're on your phone or watching TV," said Luke Kornet. "You feel your eyes getting tired."
The orange-tinted glasses will boost circadian rhythms by reducing the exposure to blue lights. In the digital age, especially with younger players, it's impossible for them to put away all of their devices.
Knicks vs. Fortnite
Fatigue on the road is difficult enough to overcome. Furthermore, extra fatigue due to late-night video game sessions has become one of just multiple problems that the Knicks are facing.
Kevin Knox, a rookie and one-and-done player from Kentucky, is the youngest player on the team. He played Fortnite in college and caught the bug, like many teenagers around the world. He loved the survival game so much that he had the Fortnite logo etched into the lining of the suit he wore to the 2018 NDA Draft.
During the London trip, Knox stayed in his hotel room playing Fortnite instead of sampling the night life. Fizdale said he didn't have to worry about his team getting into trouble during the London excursion because everyone is too busy playing Fortnite.
"Fortnite, that's my competitor right now," Fizdale said. "That game is tougher than the Boston Celtics. Fortnite is undefeated."
"We saw what he said about it," said 20-year old center Mitchell Robinson said. "And I kind of figured he was talking about us a little bit. But it kind of is a distraction for us. We'd be up all night to like three in the morning playing that game. We need our sleep, for our energy to get us up higher, and stuff like that. I see where he was coming from."
Mario Hezonja, a 23-year old forward from Croatia, is also an avid player. He uses the game to connect with friends back in Europe and family in Croatia.
"If you can control yourself, there's no problem for you," said Hezonja. "But if you are reckless with it. You don't think about it. Video games, partying, going out, all that other stuff you're going to end up in trouble regardless. I understand what Fiz is saying. It might be a problem. But I don't think anyone over here is going crazy about it. We play for fun. I play for stress relief. For me it's a fun way to get away from things."
A Year of MSG Blues
David Fizdale knew the head coaching job for the Knicks was sort of cursed, but he took it anyway. In a short time, he alienated the veterans on the team for reducing their playing time. The Knicks were focused on developing younger players, which is a soft-admission of tanking.
Enes Kanter was one of the most vocal vets who did not like the new direction of the Knicks. The Knicks could not trade him anywhere, so they bought out his contract. Kanter then signed with the Portland Trail Blazers.
The Knicks experienced one of the ugliest seasons in its franchise. Fans are hoping this is the last bad year before the team turns around it's fortunate. The good news is that the future is looking up and that their owner, James Dolan, might finally sell the Knicks. The Knicks maneuvered enough cap space to acquire two high-profile free agents (e.g. Kevin Durant and Kyrie Irving) and sign them to max contracts.
The Knicks traded away their best player in a decade when they shipped Kristaps Porzingis to the Dallas Mavericks. They were unable to swap the Unicorn for the Unibrow, when word got out that Anthony Davis wanted out of New Orleans. By trading Porzingis and other hefty contracts (e.g. Tim Hardaway, Jr.), the Knicks alleviated over $70 million in cap space next season.
The Knicks also have a lottery pick coming. They have been tanking in order to win the Zion Williamson sweepstakes. Knicks fans were holding their breath when Zion went down with a sneaker blowout in the Duke/UNC rivalry game.