Kevin Durant confirmed, via his Instagram feed @easymoneysniper, he underwent successful surgery to repair a torn Achilles, which he suffered in Game 5 of the NBA Finals on Monday night.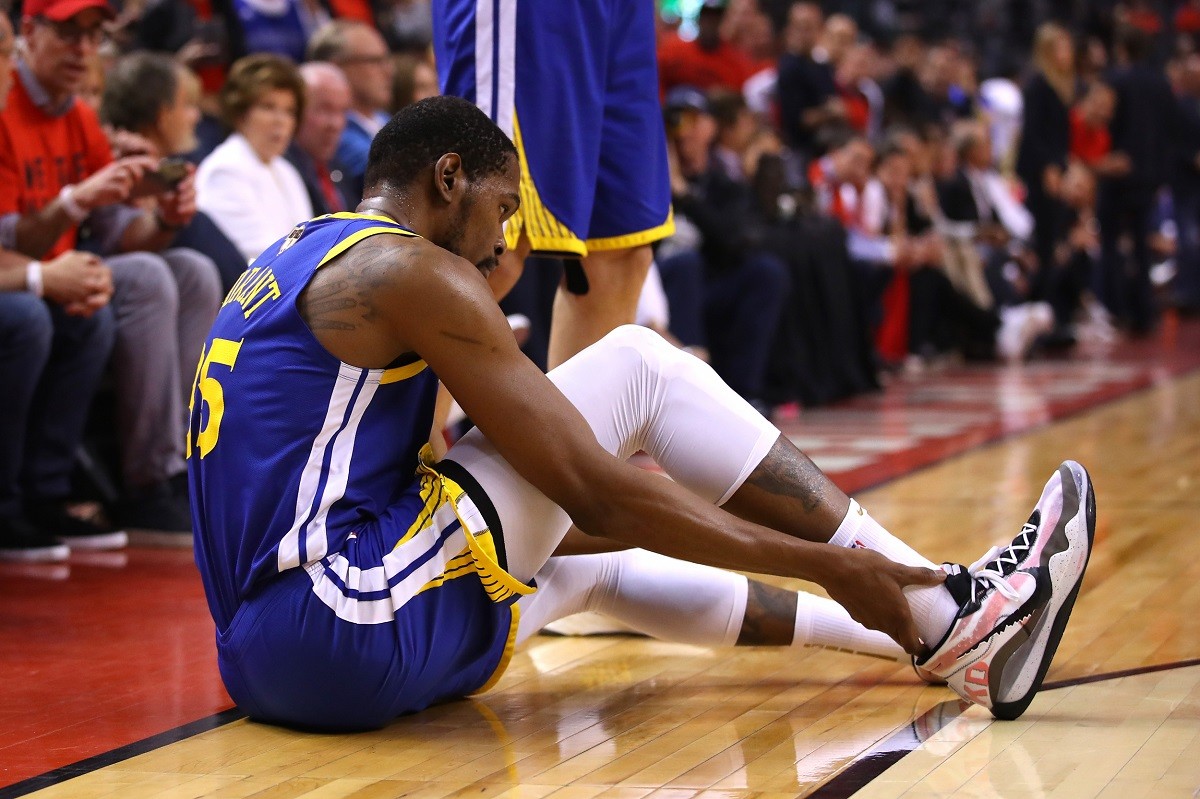 Kevin Durant went to New York City for an MRI on his Achilles to confirm the severity of the tear. The test occurred on Tuesday, but the Warriors did not elaborate on the injury. Durant remained in NYC where he underwent surgery on Wednesday.
After a 32-day layoff with a calf injury and with the Warriors trailing 3-1 in the NBA Finals, Durant returned to action for only 12 minutes in Game 5. With under 10 minutes remaining in the second quarter, Durant injured his Achilles and left the game. Presumably, it will be his last game in a Warriors uniform.
On Instagram, Durant wrote, "My road back starts now! I got family and my loved ones by my sode and we truly appreciate all the messages and support people sent our way. Like I said on Monday, I'm hurting deeply but I'm OK. Basketball is my biggest love and I wanted to be out there that night because that's what I do. I wanted to help my teammates on our quest for the three peat."
Bob Myers, Warriors GM delivered an emotional press conference that had the same gravity of as a death in the family. The injury hit everyone hard in the Warriors organization. It also sent ripples through the sporting world, including former athletes who suffered similar injuries.
Most of all, Durant's injury could alter the future landscape of the NBA. The most coveted free agent in decades now comes with a warning label.
Damaged Goods?
The torn Achilles might be the major injury that splits Durant's career into two parts: before injury and after torn Achilles.
Dominique Wilkins ruptured his Achilles back in 1992. The "human highlight reel" and All-Star from the Atlanta Hawks advised Boogie Cousins during his rehab stint this past season.
"You have to get the surgery required," said Wilkins. "You have to put yourself on a rehab schedule and really stay committed to it. That's what I did. I stayed committed to being back and playing at the same level. It takes work. Kevin Durant is no stranger to hard work. That's what makes him who he is. I really feel bad for him. I know the kid very well. Any time something like that happens, it hits home."
Kobe Bryant tore his in the twilight of his career. He might have played a little longer if the injury never happened. It took Bryant 240 days to recover from his injury.
Durant still has an opt-in clause for another season with the Warriors worth $31.5 million. There is a prevailing theory KD will opt-in if the Warriors lose the Finals because he wants to win one more title and not end his career in Oakland with a loss and a crushing injury.
KD at MSG in NYC
The Knicks still want Durant, even with a 30-plus veteran with bum wheel. But if they sign him, he will not be wearing a uniform until late in the season. They will have to incur a huge salary hit while KD recovers. The news is disheartening for a Knicks fan. Then again, it is just another part of the curse of the Knicks.
It takes players an approximately 300 days to recover from a torn Achilles. Even then it might take a full season afterwards to recover. But there's always the residual pain and discomfort.
"If he popped it, then that's six to nine months of rehabbing," said Tiger Woods.
Boogie Cousins tore his Achilles at the end of the 2017-2018 season. KD's teammate missed the first half of this season with the Warriors before 'Boogie Time' returned in late January 2019. Cousins took nearly a full year, or 357 days worth, to recover from his tear.
In the best-case scenario, Knicks' fans could see KD in a uniform sometime in March 2020. Worst case? The Knicks anxiously wait until the start of the 2020-21 season to see KD play his first game at MSG.
"There's so much more advantages now for guys to get back," said Wilkins who suffered his injury over 27 years ago. "The medicine now versus the medicine when I was playing is totally different. We had to work that much harder back then."
The Brooklyn Nets cleared cap space after the Allen Crabbe trade with the Atlanta Hawks. The Nets are eager to make a run at both Kyrie Irving and Kevin Durant.