The Detroit Lions (2-3-1) lost their star running back, Kerryon Johnson, to a right knee injury in a 42-30 loss to the Minnesota Vikings. Backup running backs Ty Johnson and JD McKissic will split time for the Lions heading into Week 8 against the New York Giants.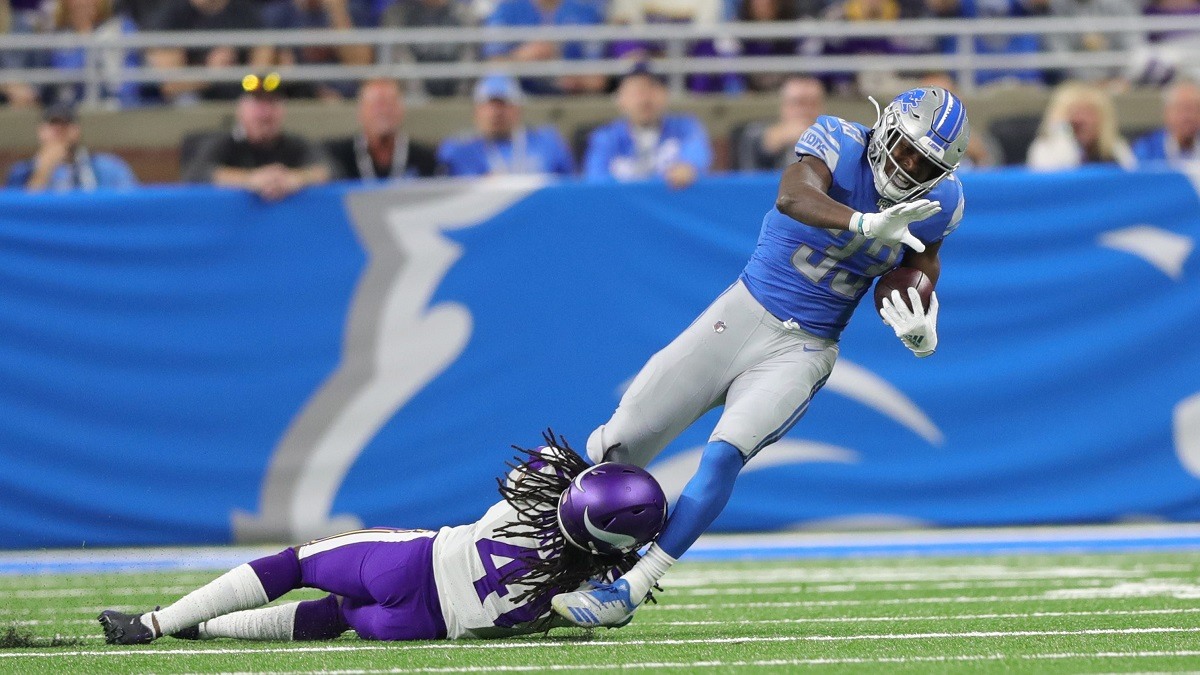 The Lions placed Kerryon Johnson on the IR while he recovers from knee surgery. He is expected to miss at least eight games.
Johnson suffered a knee injury in the first quarter of the Minnesota Vikings game. He left and never returned. Before his knee injury, Johnson rushed five times for 23 yards.
Through the first six games of the season, Johnson rushed for 308 yards and two touchdowns. He also caught nine passes and one touchdown. In a loss against Kansas City in Week 4, Johnson rushed for 125 yards and added 32 receiving yards for his best all-around game of the season.
Backups JD McKissic and Ty Johnson saw action when Kerryon went down. McKissic rushed for 29 yards on five carries. Ty Johnson also rushed for 29 yards, but on 10 carries. Ty Johnson added four receptions for 28 yards. McKissic caught two balls for 31 yards.
"On the field we'll push forward as normal," said head coach Matt Patricia. "We think we'll get good production with Ty Johnson and JD McKissic, and we think those guys are ready to step into roles."
Patricia is open to potential trades, especially since a knee injury prematurely ended Kerryon Johnson's season in 2018.
"We're always in the business of listening."
Johnson played only 10 games his rookie season before he missed the remainder of the 2018 season with a left knee injury. Talk about being born under a bad sign. In only 16 career games, Johnson injured both of his knees.
McKissic and the Other Johnson
Backups JD McKissic and Ty Johnson will split the remaining workload until Kerryon Johnson returns from his knee injury. Neither backup has scored a touchdown this season.
"There's only a few running backs that take every single snap during a game," said Patricia. "There's only about a handful. So, we're prepared to go running back by committee, or whoever's out there being ready to go."
McKissic has been in the league for four seasons and saw limited action as a backup with the Seattle Seahawks. In 2019, McKissic rushed for 109 yards on 15 carries for an impressive 7.3 yards per carry. McKissic also caught seven passes.
The Lions selected Ty Johnson in the sixth round of the 2019 NFL Draft. Johnson played his collegiate ball at Maryland, where he played running back and returned kicks. Johnson finished third all-time in Maryland history with 4,196 all-purpose yards. He once returned a kickoff 100 yards against Ohio State.
In his rookie season with the Lions, Ty Johnson rushed for 83 yards and added eight receptions. Johnson is averaging 3.6 yards per carry.