This weekend's Kentucky Derby/Oaks cards provide bettors with a veritable wagering smorgasbord, one giving you betting options covering the entire risk/reward spectrum.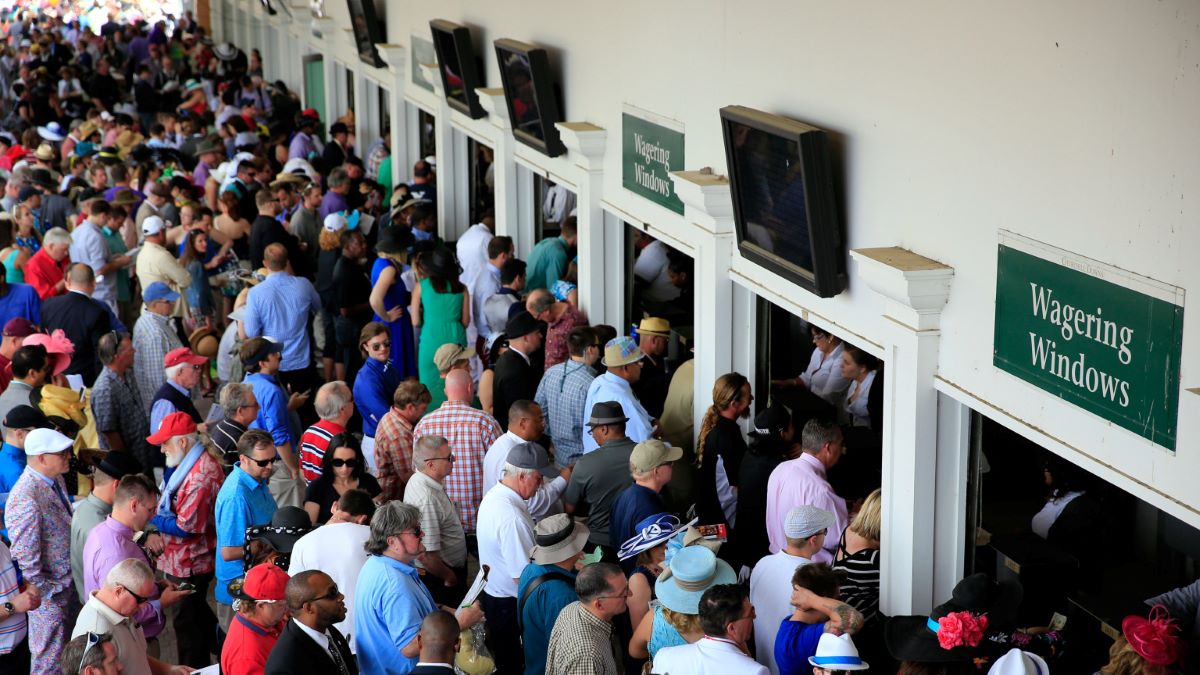 There are, of course, your regular standbys: the win-place-show, exactas, trifectas, and superfectas. But because of the spectator-free nature of this year's Derby and Oaks weekend, Churchill Downs knocked 90% off the superfecta minimums. Now, you can make Derby superfecta wagers for as little as 10 cents, down from the $1 minimum of the past.
We've covered the monster payouts Derby superfectas can offer. Nine times this century, the superfecta paid at least $42,430. Three times, it paid six figures, led by the $432,127 lucky bettors cashed for picking 50/1 Giacomo's 2005 victory over 71/1 Closing Argument.
Churchill Downs kept its minimums low on several of its other wagers as well. Trifectas, pick-3, pick-4, and pick-5 bets start at 50 cents. Daily Doubles and Super High-5, where bettors pick the first five places in a single race, carry a $1 minimum. The basic exacta remains $2, although exacta boxes and wheels are $1.
Getting Horizontal Can Mean Getting Rich
Where much of the interest lies, however, is in the horizontal, multi-race wagers. The weekend cards provide four pick-4s and four pick-5s with 50-cent minimums. Bettors lucky enough to have 65/1 Country House atop their Derby-ending pick-5s last year cashed tickets worth $72,317.60.
Then, there's the shoot-for-the-moon Single 6. That 20-cent minimum wager requires bettors to pick six consecutive winners of Churchill Downs' six Saturday stakes races. A single winning ticket takes the whole Single 6 pool. If multiple bettors hit all six, they split 90% of the pool, with the other 10% carrying over to Churchill Downs' next card.
---
Churchill Downs Single 6 Races
Choosing the winner of each of these races on a Single 6 ticket could bring huge rewards for lucky bettors.
| | | |
| --- | --- | --- |
| Race Number | Race | Field Size (pre-scratches) |
| 9 | Pat Day Mile (G2) | 9 |
| 10 | Iroquois Stakes (G2) | 11 |
| 11 | Distaff Turf Mile (G2) | 8 |
| 12 | Derby City Distaff (G1) | 10 |
| 13 | Turf Classic (G1) | 10 |
| 14 | Kentucky Derby (G1) | 18 |
---
Bettors start with the 9th race, the Grade 2 Pat Day Mile, buzz through the Grade 2 Iroquois Stakes, the Grade 2 Distaff Turf Mile, the Grade 1 Derby City Distaff, Grade 1 Turf Classic, and end with the Derby. That requires breaking down races involving some of the top horses in the country, even before the Derby gate opens in the 14th race.
Pre-scratch field sizes for the Single 6 races are 9-11-8-10-10, and 18 for the Derby. Amazingly, there were multiple winning tickets for the Single 6 last year, paying bettors $271,869.80. The Single 6 offers a modest 15% takeout.
So does the weekend's other Pick 6, the Oaks/Derby Pick 6. That two-day betting cavalcade requires horseplayers to pick the winners of three Friday races, the Grade 2 Alysheba, Grade 1 La Troienne and Grade 1 Oaks, then turn around and pick three Saturday races — the Derby City Distaff, Turf Classic, and the Derby.
---
Churchill Downs Oaks/Derby Pick 6 Races
Want to pick six winners over two days of action at Churchill Downs? Choose wisely in these races, and you could you leave the track as one of the weekend's big winners.
| | |
| --- | --- |
| Race Date and Number | Race |
| Friday, Race 10 | Alysheba (G2) |
| Friday, Race 11 | La Troienne (G1) |
| Friday, Race 12 | Kentucky Oaks (G1) |
| Saturday, Race 12 | Derby City Distaff (G1) |
| Saturday, Race 13 | Turf Classic (G1) |
| Saturday, Race 14 | Kentucky Derby (G1) |
---
For punters not wanting to go that far out on the multi-race spectrum, there's the always-popular Oaks/Derby Double and the Oaks/Turf Classic/Derby Pick 3.