Guard Kemba Walker exploded for a career-high 60 points for the Charlotte Hornets in an 122-119 overtime loss to the Philadelphia Sixers. Newly-acquired Jimmy Butler stole the spotlight when he hit a game-winning three pointer in overtime to lead to the Sixers to victory.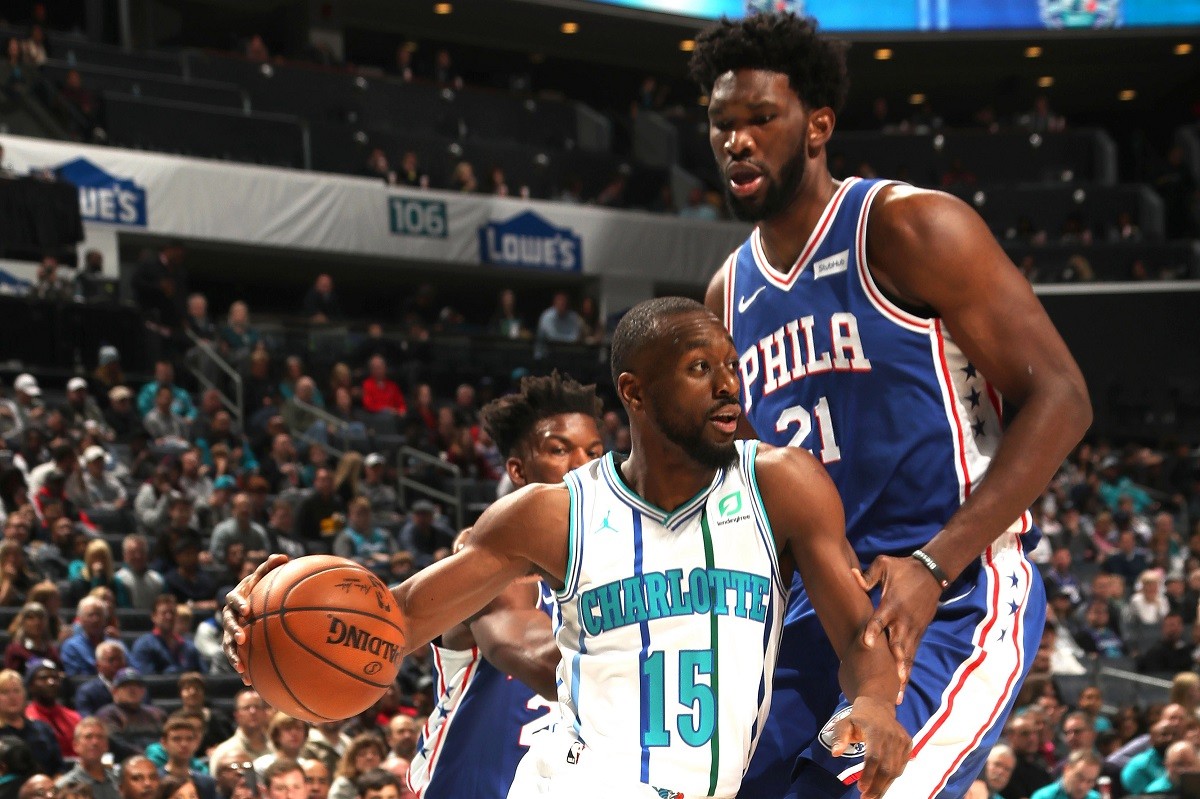 Kemba 60
Kemba Walker does not back down whenever he plays the Sixers. In his previous two games, he scored 70 total points including a 37-point night. The 60 points on Saturday night now brings his total of 130 points in his last three games against the Sixers.
Walker shot 21 of 34 from the floor including 6 three-pointers. He hit all 12 of his free throws and added seven rebounds and four assists.
Despite the avalanche of points, Walker and the Hornets could not hold off the Sixers. Jimmy Butler had a quiet night with only 12 points before he hit the game winner.
Walker wanted the win more than hitting the 60-point plateau.
"That's an unbelievable thing to do right there," Walker said. "I'm just mad that we lost. I'm a competitor. It would have been even better with a win."
Walker's 60 eclipsed Klay Thompson's former season-high of 52 points. Steph Curry scored 51 points earlier this season as well.
Kemba En Fuego
The Sixers are known for being a tough defensive team. However, even they couldn't figure out how to stop Walker.
"We tried double-teaming him," Brown said head coach Brett Brown. "We tried hard-hedging him. The reality of it is, is that you have Joel Embiid and Jimmy in that situation a lot and he is doing that against two all-league defensive players. He is just hard to guard and he is really unique.
Jimmy Butler, regarded as one of the NBA's top defenders, could not slow down Walker.
"Sixty points in an NBA game against a pretty good defensive team is a remarkable effort," added Brown.
Butler Downtown Dagger
While Walker was a one-man show for the Hornets, the Sixers had a true team effort. Joel Embiid had a monster night with 33 points for the Sixers. Ben Simmons and JJ Reddick added 23 apiece.
Butler finished the night with 15 points on 4-11 shooting, but he hit the biggest bucket of the night. As time expired, Butler hit the game winning three-pointer.
"I wanted the shot to go in to win the game. I also wanted it to go in because I didn't want Kemba to give me 70. I wanted it to stop at 60," Butler joked with reporters after the game.
Jimmy Butler: 0-11 on game tying or go ahead shots in the final 10 seconds of games since the start of last season – MOST misses in NBA – until last nights game winner for Sixers!!@6abc #sixers #JimmyButler pic.twitter.com/3FPeBaX09X

— Jeff Skversky 6abc (@JeffSkversky) November 18, 2018
New Kid in Town
Jimmy Butler played three games with the Sixers since his trade from the Minnesota Timberwolves to Philadelphia. He is averaging 19 points per game with the Sixers.
Butler threw shade at his old squad when emphasized he is having more fun playing with his new team.
"It's so fun to win," said Butler. "So much more fun to play with these guys. Everybody wants to win, and when somebody messes up, you talk to them and they do their job."
Winning a game in dramatic fashion will win fans over really quick. The honeymoon period is still ongoing, but there's nothing but love for Jimmy Butler in the City of Brotherly Love.