Fueled by purse increases to two of its flagship 3-year-old races, Keeneland is putting a record $7.7 million in purses into the 19 stakes races on its just-announced 2022 Spring Meet card.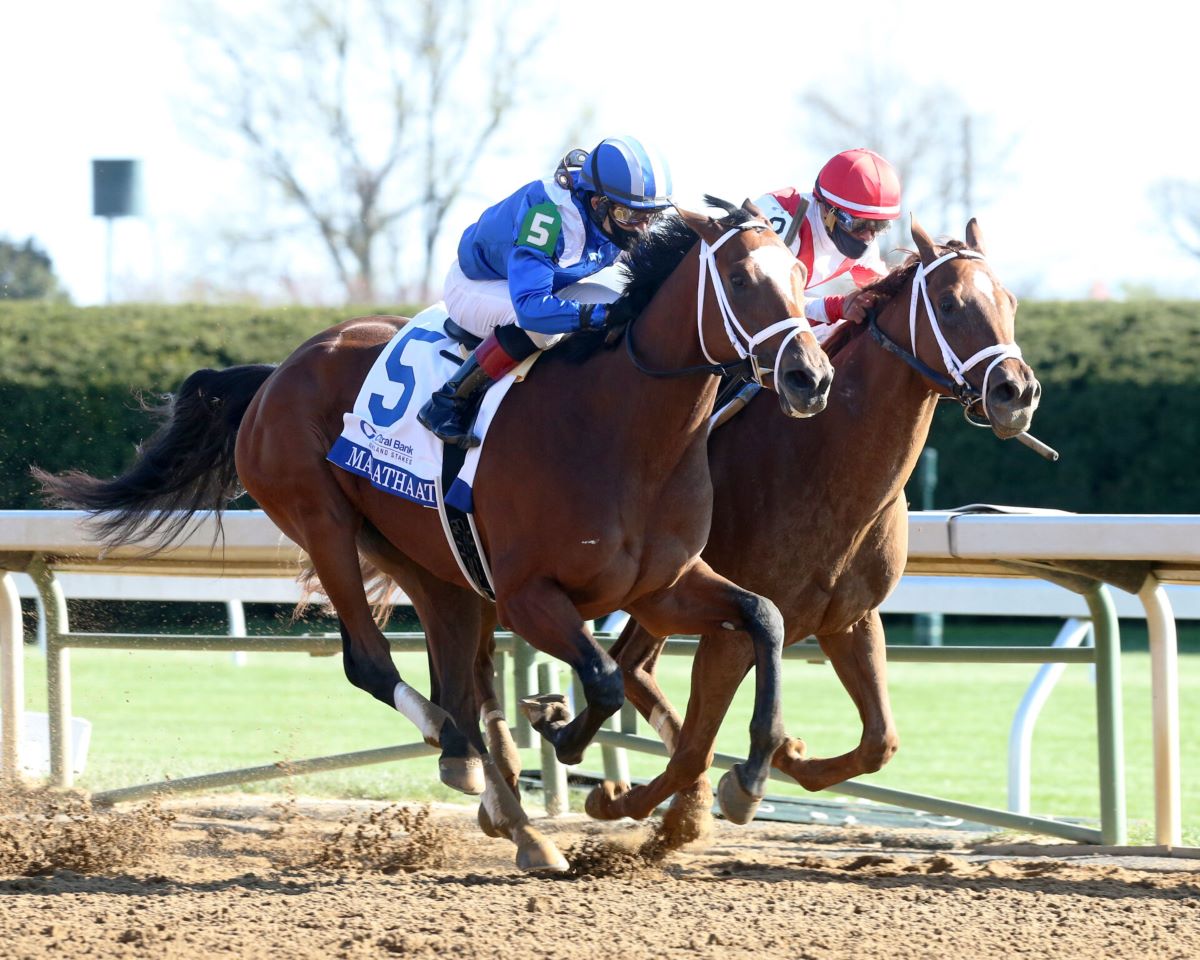 The Lexington, Kentucky track announced increases to all stakes purses for the April 8-29 meet. Prominent among those are purse bumps to the Grade 2 Blue Grass Stakes and the Grade 1 Ashland for 3-year-old fillies. The Blue Grass gets its $1 million purse restored, while the Ashland — moved to Opening Day of the meet — now sits at a record $600,000.
The Blue Grass returns to its seven-figure purse of 2015-2019. Last year's Blue Grass contenders ran for $800,000.
The April 8, 1 1/16-mile Ashland — one of the top Kentucky Oaks prep races — is one of three stakes for 3-year-olds on opening day. It joins the Grade 3 Transylvania, run at 1 1/16 miles on turf, and the ungraded, seven-furlong Lafayette. The Lafayette returns to the Spring Meet for the first time since 2008. It was run on the Breeders' Cup undercards in 2015 and 2020.
Blue Grass, Ashland headline opening weekend
"Keeneland in the spring is about 3-year-olds blossoming into talented runners, and we have focused on enhancing those stakes, in particular, to attract the best sophomores in the country," Vice President of Racing Gatewood Bell said in a statement. "Moving the Ashland to opening day makes the start of the First Grade 1 race of the year (at Keeneland) extra special and provides a showcase for this historic Grade 1 event, which is the division's first Grade 1 race of the year."
Bell pointed out that Keeneland will offer 10 stakes worth $4.55 million on opening weekend. Five of those will run on Saturday, April 9, headlined by the Blue Grass, which is Keeneland's flagship Derby prep. Along with the $1 million purse, the 1 1/8-mile Blue Grass offers 100-40-20-10 Derby qualifying points.
The $500,000 Grade 1 Madison for fillies and mares going seven furlongs is the other featured race that day.
Keeneland's 15-day Spring Meet cards 10 stakes on turf and nine on dirt. That five-stakes Saturday on opening weekend is one of six multiple-stakes days.
Keeneland doubles purse of one Grade 1
While every stakes race enjoyed a purse-bump, Keeneland doubled some of those purses. The Grade 1 Maker's Mark Mile went from $300,000 to $600,000. The Grade 3 Lexington, another Derby prep, went from $200,000 to $400,000, and the Grade 3 Ben Ali from $150,000 to $300,000.
The April 16 Lexington is the final stop on the Derby trail. It offers 20-8-4-2 Derby points to its top four finishers.
The Ashland, Madison, and April 15 Maker's Mark Mile are three of the meet's four Grade 1 events. The fourth is the $500,000 Jenny Wiley, which sends its older fillies and mares 1 1/16 miles on the Keeneland turf on April 16.
---
Keeneland 2022-Spring Meet Key Stakes Races
Race
Grade
Distance
Eligible Horses
April 8
Ashland Oaks
I
1 1/16 miles
3-year-old fillies
April 9
Blue Grass Stakes
II
1 1/8 miles
3-year-olds
April 9
Madison Stakes
I
7 furlongs
4-year-olds and up,
fillies & mares
April 15
Maker's Mark Mile
I
1 mile (turf)
4-year-olds and up
April 16
Jenny Wiley
I
1 1/16 miles (turf)
4-year-olds and up
fillies & mares
April 16
Lexington
III
1 1/16 miles
3-year-olds
April 23
Elkhorn
II
1 1/2 miles (turf)
4-year-olds and up
---
"Keeneland is coming off a record-breaking 2021 in terms of wagering, which we are reinvesting in purse money to further elevate our racing program," Keeneland President and CEO Shannon Arvin said.
Keeneland's racing program will elevate further in the fall when it plays host to the Breeders' Cup for the second time in three years and third time overall.