The two best teams in the NFL square off on Monday Night Football. The Kansas City Chiefs (9-1) visit the Los Angeles Rams (9-1) in what everyone is billing as a potential Super Bowl LIII preview.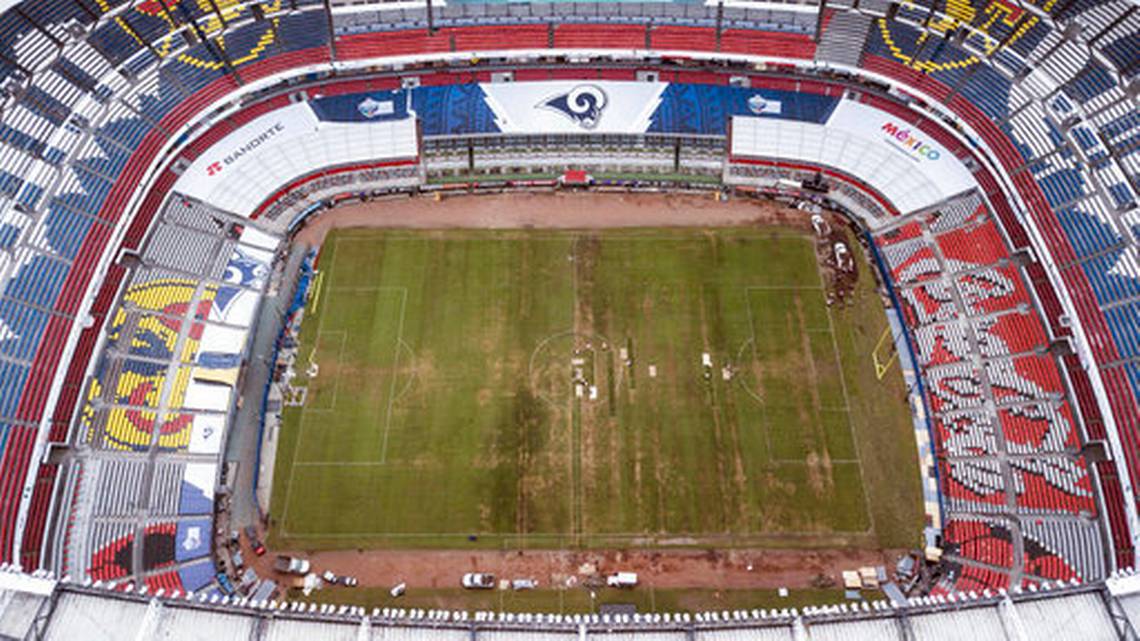 The NFL originally scheduled this game for Mexico City. However, due to poor field conditions, the MNF game was cancelled and relocated to Los Angeles.
Kansas City Chiefs (9-1) at LA Rams (9-1)
Kickoff: 5:15pm PT
Location: Memorial Coliseum, Los Angeles, CA
Point Spread: Rams -3.5
Over/Under: 63
Relocation
The NFL has been aggressively expanding its brand and desire to export American football to the global masses. The last couple of seasons, the NFL scheduled regular season games in England and Mexico. Earlier this season, Wembley Stadium in London housed three consecutive games without any drama. However, the game in Mexico City was doomed from the outset due to a combination of poor weather, the choice of turf, and over-scheduling of events.
NFL officials inspected the field at Estadio Azteca and made a tough, but right call to cancel the game due to poor field conditions. A soccer game and concert were on the schedule of events this month for the multi-use stadium, which attributed to a beat-up turf.
According to NFL Executive Vice President of International Mark Waller, "We have worked extensively with our partners at Estadio Azteca for months in preparation for this game. Until very recently, we had no major concerns. But, the combination of a difficult rainy season and a heavy multi-event calendar of events at the stadium, have resulted in significant damage to the field that presents unnecessary risks to player safety and makes it unsuitable to host an NFL game. As a result, we have determined that moving the game is the right decision, and one that we needed to announce now in order to allow our teams and fans to make alternate arrangements."
The LA Rams backdoored a home game at Memorial Coliseum for this supreme match up against the Chiefs.
Both teams practiced in Colorado this week to acclimate to the higher altitude of Mexico City. With the game cancelled, both teams will play at sea level.
The relocation did not affect the line much. It opened a field goal it moved a half point to -3.5.
Mahomes Mania
Second-year QB Patrick Mahomes is leading the NFL in touchdowns (31) and passing yards (3,150). Rams QB Jared Goff is second overall with 3,134.
No one has yet to stop Mahomes this season, except maybe in Fortnite. Mahomes played Fortnite after practice and he was killed by a player wearing his own uniform. Fortnite is one of the most popular games on the planet right now, and even Patrick Mahomes has become a part of pop culture.
Rams Gurley MVP Watch
Rams star RB Todd Gurley is putting up MVP-like numbers with 17 touchdowns and 1,390 total yards from scrimmage. So far this season, Gurley rushed for 988 yards and 13 TDs. He also added four touchdown receptions.
With top WR Cooper Kupp out for the season after a torn ACL, Gurley's role is even more important as a cornerstone of the offense.
Luckily, the Rams have a deep receiving corps that includes Brandin Cooks (3 TDs), Robert Woods (3 TDs), Josh Reynolds, and tight ends Gerald Everett and Tyler Higbee. Both tight ends caught touchdown passes last week.
That's a High Total, Bruh
Offenses exploded this season across the NFL. Teams are putting up 30+ points without blinking. Several teams can score 40+ without much of a sweat, including these two.
When the Rams met the Saints in the Super Dome in Week 9, the two teams combined for 70 points. One of the reasons bookies in Vegas had one of the worst weekends of the betting year had a lot to do with every square and sharp bet the over in the game.
The total for this game passed 63 points because it features two super-high-octane offenses and two teams that struggle on defense. The LA Rams average 33.5 ppg and the Chiefs throw up 35.3 ppg. The Rams give up 23.1 ppg, while the Chiefs allow 24 ppg.
The Chiefs allow the fourth most yardage this season with 410 yards per game, while the Rams are in the middle of the pack with 355 yards allowed per game.
McVay vs. Reid
Two top coaches will face off with the new guard (Sean McVay) taking on the old guard (Andy Reid).
Andy Reid has his past issues with clock management and has been unable to win the big one in the postseason, but overall, the veteran coach been a successful in the modern era for his ability to quickly adapt to changing conditions. Reid coach the Philadelphia Eagles for 14 seasons and this is his sixth season with the Chiefs. He led the Eagles to one Super Bowl berth and his teams posted a winning record in 15 out of 20 seasons.
Reid altered his style of coaching in Kansas City and modified the offense to fit around his quarterbacks, which ranged from Alex Smith to Patrick Mahomes. Instead of forcing QBs to do something they're not capable of doing on a consistent basis, Reid found a way to maximize his QB's abilities. Smith had his limitations, yet Reid found a way. Smith walked in the offseason and signed with the Washington Redskins. The primary reason they let Smith go, was that they had a secret weapon with Patrick Mahomes.
With Mahomes excelling in so many areas, Reid has been able to push Mahomes and the offense to new heights. Toss in a slew of offensive weapons like speedster Tyreek Hill, Travis Kelce, and Kareem Hunt, and the possibilities seem endless.
Second year head coach Sean McVay grew up in a football family. His grandfather was an integral part of the San Francisco 49ers organization as the general manager, who help put together five championship teams. McVay has a photographic memory and quick recall, which is great schtick at cocktail parties. However, it's one of the reasons he quickly rose to the top of his profession.
McVay has an ability to explain complex things in simple terms, which in turn motivates and inspires his players. McVay has lots of weapons, but puts his team in the best position to win every game.