The second full week of exhibition football is over, and their were several impressive NFL preseason performances, and ones that weren't quite as good. The picture is getting clearer on who is earning a spot on teams, and who has work to do.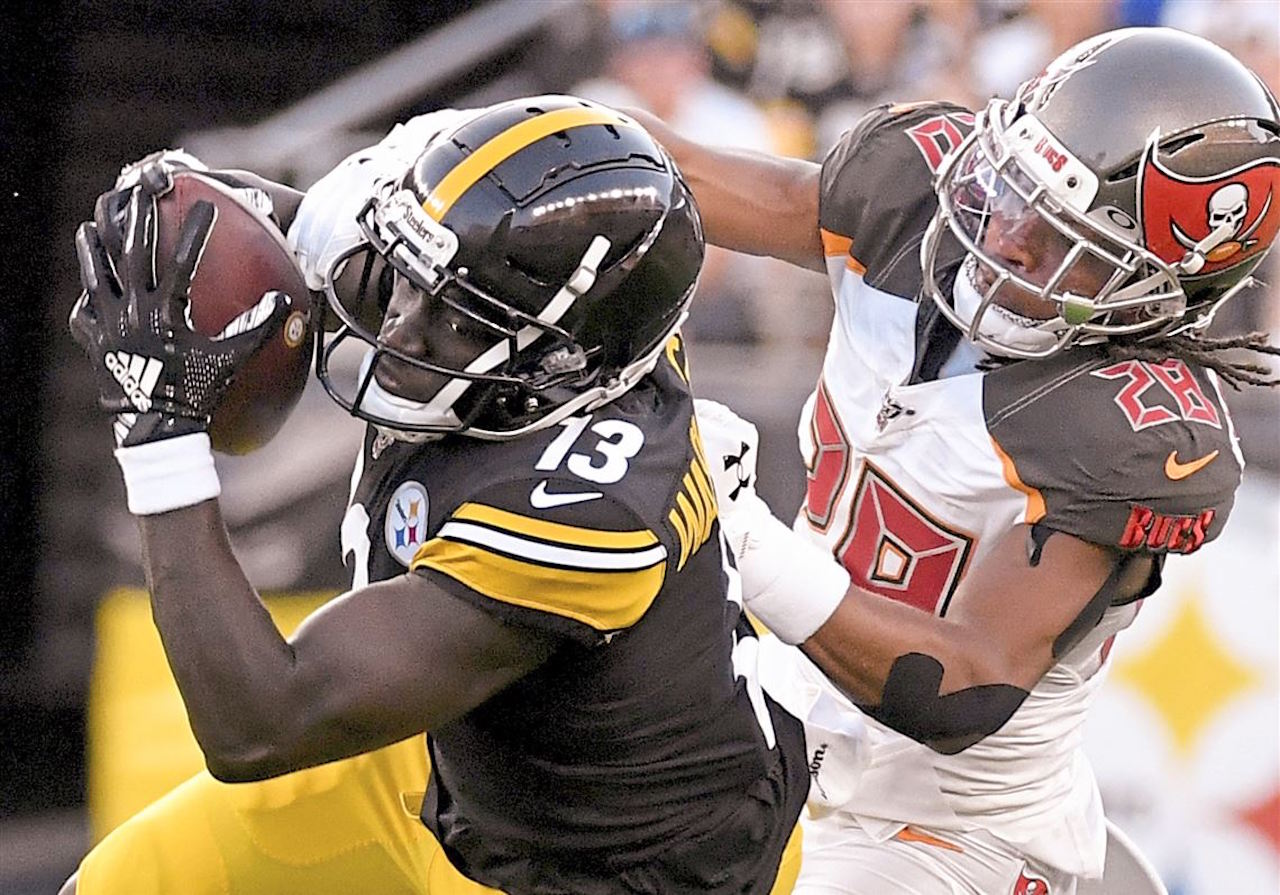 Some players, such as Arizona quarterback Kyler Murray, struggled after having an impressive debut game.Others, like Pittsburgh wide receiver James Washington, continued their consistency that will earn them more time on the field.
We take a look at the winners and losers from Week 2 of the preseason.
Winners
Josh Rosen
Though Miami coach Brian Flores said Ryan Fitzpatrick is the starting quarterback, Josh Rosen's performance against Tampa Bay. Last year's first-round pick, Rosen started and played well, going 10 for 18 for 102 yards.
"I thought he played well, made some good decisions out there," Flores said. "He was into the game. He was ready to go. I thought he did a good job in the huddle, getting the play calls in. I thought he played well from that standpoint."
Fitzpatrick is still the odds on favorite to win the job at -300, while Rosen is at +200, according to BetOnline.
James Washington
The Pittsburgh wide receiver showed that he can be a deep threat and help bolster the team's depth chart. He finished with four catches for 78 yards. He has shown a versatility that should get him more playing time in 2019.
In two games, Washington has eight receptions for 162 yards (20.3 average) and one touchdown.
Tony Pollard
Pollard has been filling in contract holdout Ezekiel Elliott, and against the Rams performed well. He had five carries for 42 yards, and a touchdown. If Elliott is hoping to show how much they need him, the fourth-round pick isn't helping his cause.
"I thought he did a good job running the football," Coach Jason Garrett commented about Pollard. "When you're playing against [Rams defensive coordinator] Wade Phillips, he's going to do everything he can to stop the run on early downs. It was going to be tough sledding for us, but I do think we found some creases there early on. Obviously, the touchdown run was big for us."
Josh Gordon
The wide receiver was reinstated by the NFL after being suspended last year for violating the league's anti-doping policy. Gordon's return couldn't have come at a better time for the Patriots. The receiving corps has been besieged with injuries, and having a big play pass catcher will help stop the bleeding.
Gordon finished last year with 40 catches and three touchdowns in 11 games.
Losers
Elliott Fry
The Chicago Bears kicker lost the battle with Eddie Pineiro and was cut by the team. Coach Matt Nagy said making the decision to part ways with Fry, gives Pineiro the chance to win the job. Because Nagy said they still might bring in another kicker if they think he can outperform Pineiro.
"Now you're not splitting reps in the preseason game, and I think there is a mental aspect too for Eddy with him now able to get out there and kick in these final two preseason games and get those reps," Nagy said. The volume will pick up for him. It's a great opportunity for him to see what he can do."
Colts' Offensive Line
The unit is mostly intact, which is why the awful performance against Cleveland is so puzzling. They allowed two sacks, and it could have been higher if not for the mobility of quarterback Jacoby Brissett.
They also struggled on the run as well. Coach Frank Reich pointed out they need some serious improvement.
"We had some pretty shaky moments in the middle from a protection standpoint," Reich said. "It was really disappointing in the sense of, you know, we led the league last year in fewest sacks and all that stuff. To come out here and not handle the pressure the way they brought it, we've got to learn from that."
Avery Williamson
The New York Jets linebacker tore his ACL in the team's game against Atlanta on Thursday. He is lost for the season, and many are blaming new head coach Adam Gase for the injury.
Williamson played almost double what several of the other defensive starters did, and now they have lost a major player for the entire season.
Kyler Murray
The No. 1 overall pick in this year's draft had a great first game, but stumbled against the Raiders. He didn't seem to respond well to constant pressure, and ended his night 3 for 8 for 12 yards. He also got flagged for two false start penalties, and a delay of game.
The low point of the night wasn't the three penalties, it was a safety he took because he had trouble picking up a blitz.