Houston Astros second baseman Jose Altuve got off to a slow start in the first two weeks of the MLB season. He'll now miss at least 10 days after straining his left hamstring during Houston's 8-3 win over the Los Angeles Angels on Monday.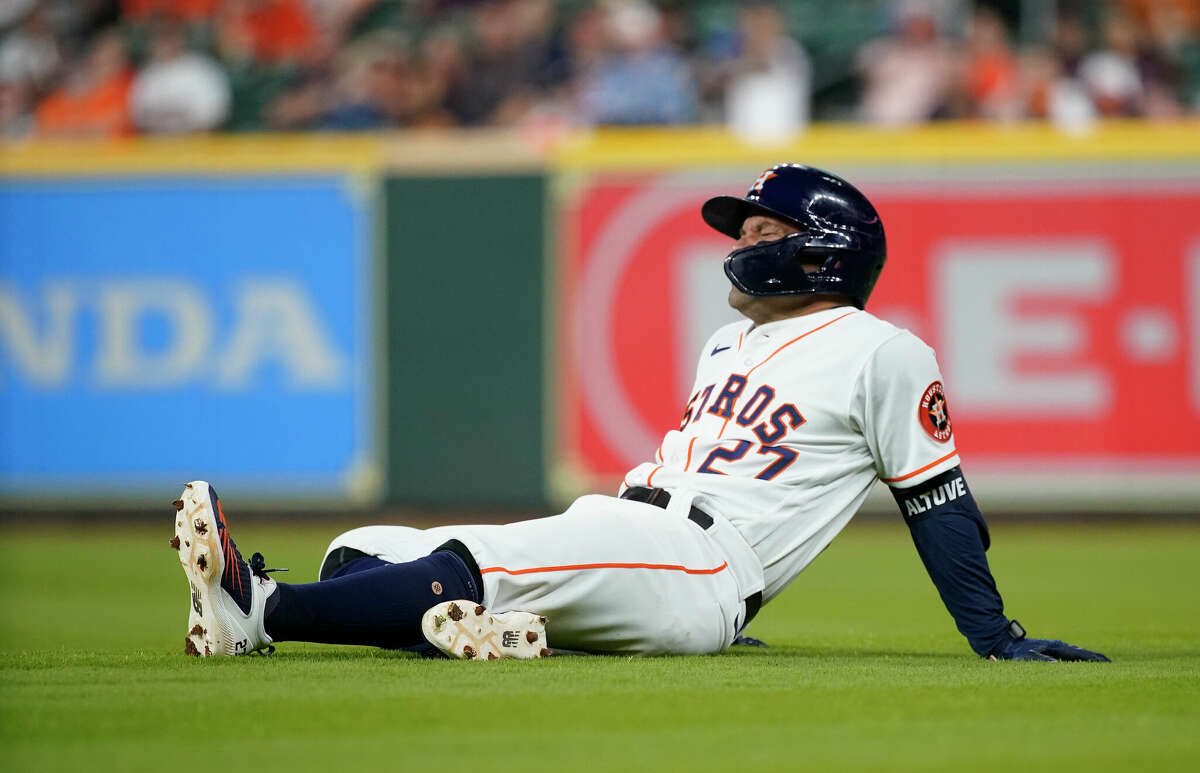 The Astros placed Altuve on the 10-day injured list on Wednesday after further evaluation revealed that he won't recover within a week.
Injures hamstring running out single
Altuve hurt his hamstring while running out an infield single in the eighth inning of Monday's game. He fell to the ground after running through first base, wincing in pain.
"He was disappointed and he apologized, which you don't have to, but that's the kind of guy he is," Astros manager Dusty Baker told reporters on Wednesday. "Sometimes you can't help it. This guy's been a rock. He's played everyday for a number of years and, hopefully, he didn't hurt it too badly and he'll be all right, hopefully within a couple of weeks."
Altuve has spent the entirety of his 12-year career with Houston, making seven All-Star teams. He's been a key member of the Astros' lineup for years, including in their 2017 World Series-winning team — a year in which he won the American League MVP award. Notably, Altuve was one member of that team who didn't participate in the Houston sign-stealing scandal, helping preserve his reputation while many teammates saw theirs tarnished.
However, the 31-year-old Altuve hasn't hit well to begin the 2022 season. Over his first nine games, Altuve went just 6-for-36 with one home run, three RBIs, and a .518 OPS. That coincided with a mediocre start for the Astros, who are 6-6 on the year heading into Thursday's action.
Astros want to keep star healthy
Altuve remains a long-shot MVP contender, even after his injury. FanDuel Sportsbook lists him as a +8500 choice to win the trophy, the same odds as other likely All-Stars such as Eloy Jimenez, Mitch Haniger, Salvador Perez, and Tim Anderson.
More importantly, the Astros will want to keep Altuve as healthy as possible as they fight for a World Series title. Houston rates as a +1000 pick to win the World Series and a -180 pick to win the AL West this year.
"I've seen guys pull a hammy and then you've got to carry them off the field. Some of them can last four to six weeks and, invariably, guys try to come back too soon," Baker said. "We want to make sure that doesn't come back anymore. He's such a vital part of this team."
The Astros are off on Thursday and will host the Toronto Blue Jays for a three-game series beginning on Friday night.