Jon Rahm learned just moments after the end of the third round of the Memorial Tournament that he had tested positive for COVID-19, a result that forced him to withdraw from the event.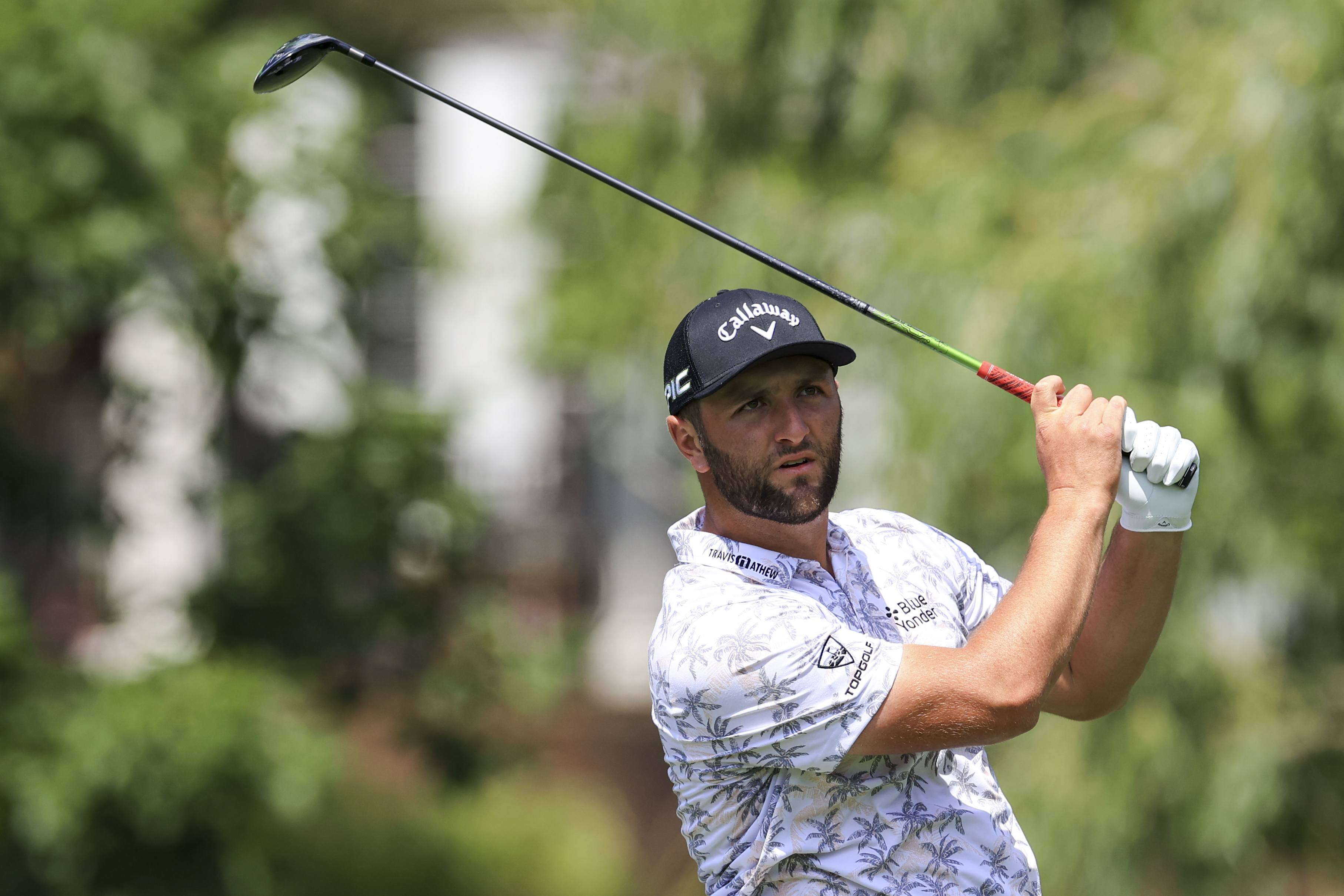 Rahm led the tournament by six strokes after Saturday's third round, after shooting an 8-under-par 64 on the day.
Devastating Moment Captured on Camera
Television cameras captured the heartbreaking moment when Rahm heard the news that he would not finish the event despite his massive lead.
Jon Rahm…with a 6 shot lead at Memorial…finds out AFTER HIS ROUND that he's tested positive for COVID-19.

That means he has to withdraw. As the leader by 6…

Just unbelievable. pic.twitter.com/AqtqNA75kH

— TJ Eckert (@TJEckertKTUL) June 5, 2021
Rahm learned Monday they he had come into close contact with another person who tested positive for COVID-19. Since that time, Rahm underwent contact tracing protocols and faced various restrictions as well as daily tests, but could still play in the event.
Rahm proceeded to test negative each day. But a test from just after his rain-delayed second round – which wrapped up Saturday morning – came back positive while he was still on the course. A PGA Tour medical advisor requested confirmation of that result, which came back at 6:05 pm, just when Rahm was finishing up the round.
Rahm remains asymptomatic. The Action Network's Jason Sobel reported that Rahm just received his first dose of the COVID-19 vaccine this week at a vaccination site at Muirfield Village, after he had come into contact with the person who tested positive.
The PGA Tour's COVID protocols are strict. While Rahm could conceivably play by himself, and golf is played entirely outdoors, there are no rules in place that would allow Rahm to get around the rules in place for the coronavirus.
"We know that being outdoors is extremely low-risk activity, and Jon has been extremely cooperative and compliant with our contact tracing protocol throughout the week," PGA Tour senior vice president of tournament administration Andy Levinson said. "We have followed our medical advisor's recommendations on this, and that is not something that any medical advisor that we worked with has suggested, that we would allow someone who is actively infected to participate in our competition, where we know that."
Rahm Began Tournament as Favorite to Repeat
Rahm entered as the consensus favorite to repeat as the winner at the Memorial Tournament. FanDuel Sportsbook listed the world No. 2 as the +1000 pick to win the event.
That meant there was plenty of action on Rahm this week. Some online sportsbooks, including FanDuel, DraftKings Sportsbook, and PointsBet, vowed to pay out bettors who had backed Rahm this week in site credit to make up for the bad beat.
🚨 BAD BEAT PAYOUT 🚨

With a 6-stroke lead, Jon Rahm has been forced to withdraw from the Memorial Tournament.

But don't worry, if you bet on Rahm this week, we've got your back. We're paying out all straight bets on Jon Rahm as winners in site credit! 💰 pic.twitter.com/i1kkDQo0Io

— FanDuel Sportsbook (@FDSportsbook) June 6, 2021
With Jon Rahm's withdrawal from the Memorial Tournament, we will be paying out all bets as winners. pic.twitter.com/Cn9MyWNqbm

— DraftKings Sportsbook (@DKSportsbook) June 5, 2021
However, multiple media outlets reported that live sportsbooks, such as Caesars Sportsbook by William Hill and the Westgate Las Vegas SuperBook, would not be refunding bets, as Rahm withdrew after the event began.
Rahm would have come into the fourth round as an overwhelming favorite. BetMGM listed him as a -1200 pick to win the Memorial Tournament after he birdied the 17th hole.
Rahm played with Patrick Cantlay and Scottie Scheffler in the third round. His playing partners were more concerned for his loss than their health.
"My heart just sank," Scheffler told reporters. "I think it's terrible they told him in front of the cameras. I just, my heart is still, it just sinks for him."
Cantlay and Collin Morikawa now share the lead at 12-under-par heading into the final round. FanDuel lists Morikawa as the +150 favorite, with Cantlay (+175) close behind.