Jon Rahm coasted to victory on Sunday, shooting a 7-under-par 65 to finish four strokes ahead of Tony Finau and win the Hero World Challenge at Albany Golf Club in the Bahamas.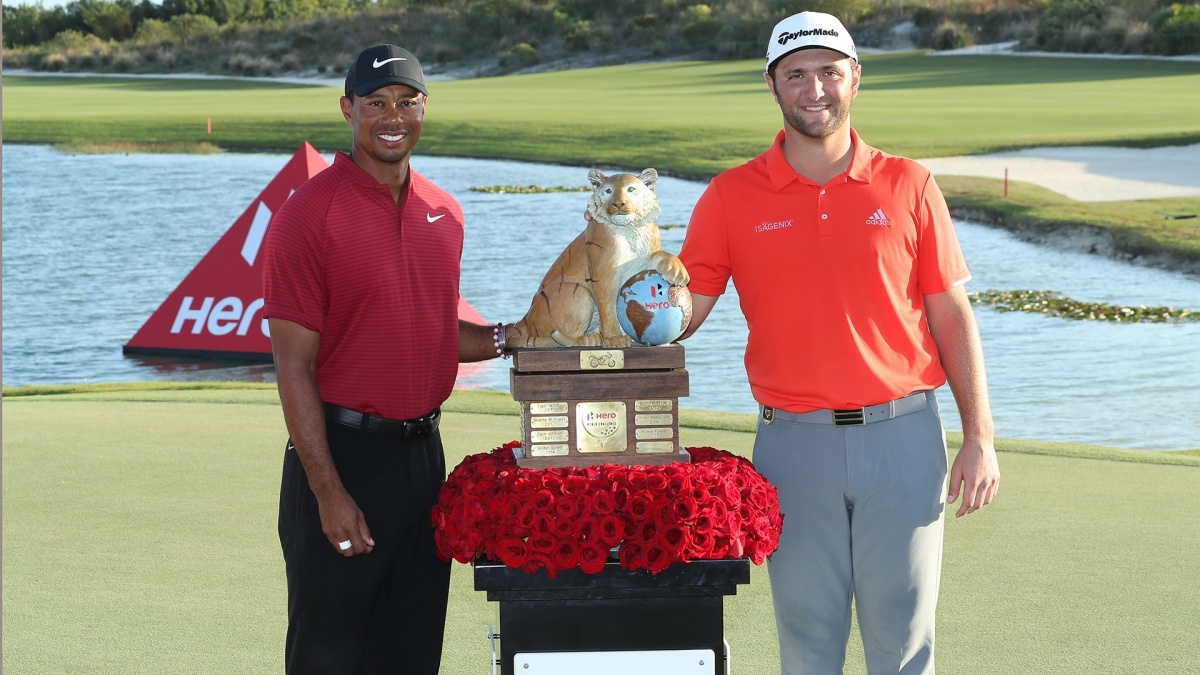 Rahm started the final day in a three-way tie with Finau and Henrik Stenson, but pulled away on the back nine to finish at 20-under-par for the tournament and secure his third victory of 2018.
Winning Tiger's Tournament Meaningful for Rahm                                                          
Rahm took the lead after Finau bogeyed the eighth hole, and never trailed again. The last threat to his title melted away on the 14th hole, when he birdied while Finau carded a double bogey, opening up a five-shot lead for the eventual winner.
Even though this tournament takes place outside of the heart of golf season, and only features an 18-player field, the win was still special for Rahm thanks in large part because the event was hosted by Tiger Woods. After the tournament, Rahm reflected on having recently played and beaten Woods in their individual match at the Ryder Cup.
"That Sunday with Tiger is still the most emotionally, most important moment of my golf career," Rahm told reporters. "It means so much to play against Tiger. A couple months later, to win his event, it's really special."
Woods' Struggles Can't Ruin Comeback Year
If there was one person for whom this weekend wasn't special, it may have been Woods. Tiger finished in 17th place at just one-under-par for the tournament, 19 shots back of the leader and ahead of only Hideki Matsuyama, who finished at even par for the event.
"It was quite awful," Woods said about his final round 73. "Overall it was a long week."
Still, Tiger said, struggling in the Bahamas couldn't take away from what was an incredible comeback year for the 42-year-old.
"This entire year has been amazing," Woods said after the tournament. "Just been so blessed to have the opportunity. To come from where I came from last year at this point, to have the ability to actually play and compete again in the game and do it consistently, is quite amazing."
Woods said that while he doesn't have definitive plans for his schedule next year, he won't play in as many events as he did in 2018.
"All I know is I played too much at the end of the year," he said. "That was just too much for my body to handle and I was not physically prepared for it."
While Rahm may have run away with the victory late, there was still some drama related to the race for the World No. 1 ranking, which remains very closely contested between Brooks Koepka and Justin Rose. While Koepka was not in the field, Rose was among the leaders, and could have regained the top ranking in the world had he finished in a three-way tie for second or better.
That looked likely to happen heading into the final hole, when Finau sunk a 10-foot birdie to take clear second and knock Rose into third place. That left Koepka on top of the world rankings, at least for the moment.