DraftKings updated its selection of NFL prop bets, which include wagers on the interceptions leader and the most picks thrown by a quarterback. NY Jets QB Sam Darnold begins the season at 10/1 odds to lead the NFL in interceptions. With Jameis Winston no longer a starter in Tampa Bay, and currently a backup with the New Orleans Saints, Darnold becomes the consensus favorite to throw the most lame ducks..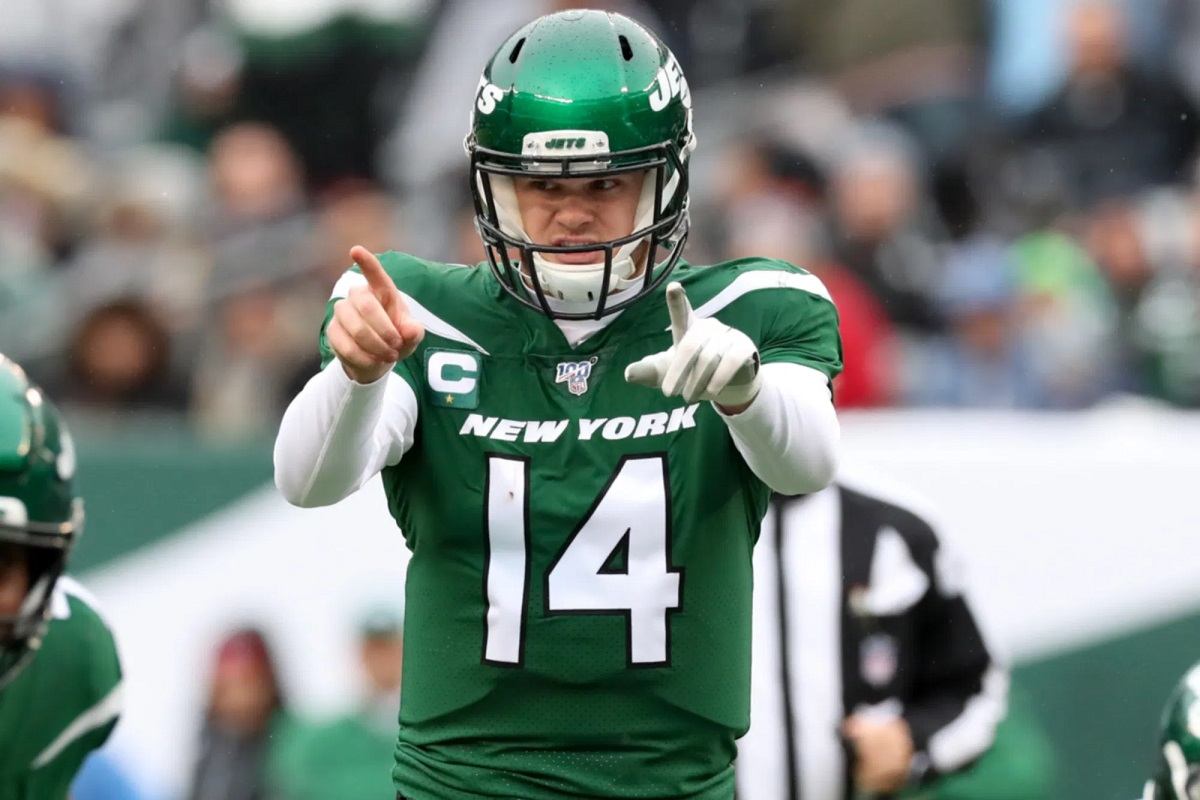 Darnold's MetLife Stadium co-worker, Daniel Jones of the New York Giants, is right behind Darnold at 11/1 odds to throw the most interceptions this year.
Rookie Joe Burrow, the #1 overall draft pick for the Cincinnati Bengals, begins his professional career at 12/1 odds to lead the NFL in interceptions.
---
NFL QB INTERCEPTIONS LEADER ODDS
Sam Darnold (NY Jets) 10/1
Daniel Jones (NY Giants) 11/1
Baker Mayfield (Cleveland) 11/1
Philip Rivers (Indy) 11/1
Joe Burrow (Cincinnati) 12/1
Jared Goff (LA Rams) 14/1
Dwayne Haskins (Washington 14/1
Ben Roethlisberger (Pittsburgh) 14/1
Matt Ryan (Atlanta) 15/1
Josh Allen (Buffalo) 16/1
Tua Tagovailoa (Miami) 16/1
DeShaun Watson (Houston) 18/1
Kyler Murray (Arizona) 20/1
Matt Stafford (Detroit) 20/1
Jimmy Garoppolo (SF) 22/1
Drew Lock (Denver) 22/1
Gardner Minshew (Jacksonville) 22/1
Teddy Bridgewater (Carolina) 25/1
Cam Newton (New England) 25/1
Ryan Tannenhill (Tennessee) 25/1
Ryan Fitzpatrick (Miami) 33/1
Justin Herbert (LA Chargers) 33/1
Derek Carr (Las Vegas) 40/1
Kirk Cousins (Minnesota) 40/1
Nick Foles (Chicago) 40/1
Mitch Trubisky (Chicago) 40/1
Dak Prescott (Dallas) 40/1
---
Last season, Jameis Winston led the NFL with 30 interceptions and seven pick-sixes. Baker Mayfield threw the second most with 21 picks.
Aaron Rodgers threw the fewest interceptions with only four picks in 16 games.
Young Burrow, Old Man Rivers
Burrow comes in as an untested rookie who will get thrown into the deep end of the pool by the Bengals. It will be sink or swim for him. For now, Burrow is the favorite to win Offensive Rookie of the Year.
Burrow isn't the outright favorite, but he's up there at 12/1 odds. If he starts all 16 games, he should be a contender solely based on his inexperience and the Bengals' below-average offensive line.
For a different prop bet, DraftKings lists Burrow with an interception over/under total of 13 picks.
Rivers at 11/1 feels like a good number, especially for an old fart like him. Rivers finished last season ranked #3 in the NFL with 20 interceptions. He had a 3.4% INT rate.
Rivers is only three touchdowns shy of joining the 400 TD club. He's also two picks away from joining the 200 INT club. Over his career, he has a solid 2.6% INT rate.
In eight out his 14 seasons as a starter with the Chargers, Rivers threw 12 or fewer interceptions six times. He's only thrown 20-plus picks in three seasons.
Rivers has never been shy about throwing the ball, even when he's having a bad game. He has 10 consecutive seasons with at least 508 pass attempts.
Now that Rivers has a new team with the Indianapolis Colts, will he be prone to more picks?
Mayfield or the NYC Boys
If it weren't for the trigger-happy Winston, Baker Mayfield would've led the league in picks. With a new head coach and a more favorable playbook, expect Mayfield to fling it with impunity.
Mayfield posted a 3.9% INT rate in 2019, ranking second among NFL starters behind Winston's 4.0%.
As a rookie, Mayfield threw 14 interceptions in 14 games, and tossed picks at a 2.9% clip.
Over the last 21 games, Mayfield has five games in which he threw three or more interceptions.
In NYC, Sam Darnold and Daniel Jones are still young QBs at 23-years old. Like Burrow, they were thrust into the limelight from the get-go.
In 13 games as a rookie, Darnold threw 15 interceptions in his first nine starts. To his credit, he didn't throw any picks in his last four games as a rookie. Darnold had two awful games as a rookie when the Minnesota Vikings picked him off three times, and then the Miami Dolphins intercepted him four times two weeks later.
Then, there's last season's infamous "seeing ghosts" incident against the Patriots that blew up into multiple memes.
Jones got his shot when the Giants benched a slumping Eli Manning. He tossed 12 picks in his first 12 starts as a pro. There were two instances last season when Jones threw three interceptions in the same game (versus New England and Green Bay).
DraftKings lists Darnold and Jones with the highest interceptions thrown over/under at 13.5.
Sam Darnold is mic'd up and he came to the sidelines and said, "I'm seeing ghosts."

(Via @ESPN) pic.twitter.com/9MoM6Rkmo5

— Dan Roche (@RochieWBZ) October 22, 2019
Interceptions Long Shots
The Hall of Fame guys don't throw interceptions often. That's why it's no surprise to see Tom Brady and Drew Brees at the bottom of the prop betting board. Both vets in their 40s are 50/1 odds to lead the league in interceptions.
The MVP favorites, Patrick Mahomes and Lamar Jackson, generate a significant amount of offense for their teams and don't turn the ball over frequently. They're also at the back of the pack, with Mahomes at 50/1 odds and L-Jax at 80/1 odds to toss the most picks this season.
---
NFL INTERCEPTIONS LEADER ODDS
Tom Brady (Tampa Bay) 50/1
Drew Brees (New Orleans) 50/1
Patrick Mahomes (KC) 50/1
Tyrod Taylor (LA Chargers) 50/1
Lamar Jackson (Baltimore) 80/1
Russell Wilson (Seattle) 100/1
Aaron Rodgers (Green Bay) 150/1
---
Russell Wilson and Aaron Rodgers are the two stingiest quarterbacks in the league when it comes to interceptions, as they each throw a pick once in a blue moon.
Rodgers and Wilson execute averse-risk decisions in the pocket, which is why they're the two longest shots on the board. DraftKings set their interceptions over/under for Wilson at 8.5 picks and Rodgers at 7.5 interceptions.