For NFL commissioner Roger Goodell, it wasn't enough to soundly win a power struggle with the league's most high-profile owner, Jerry Jones. Now, Goodell and the other NFL owners appear to be rubbing salt in the Cowboys owner's wounds by demanding he reimburse the league for $2 million in legal fees, a sanction he's appealing to the man who imposed it.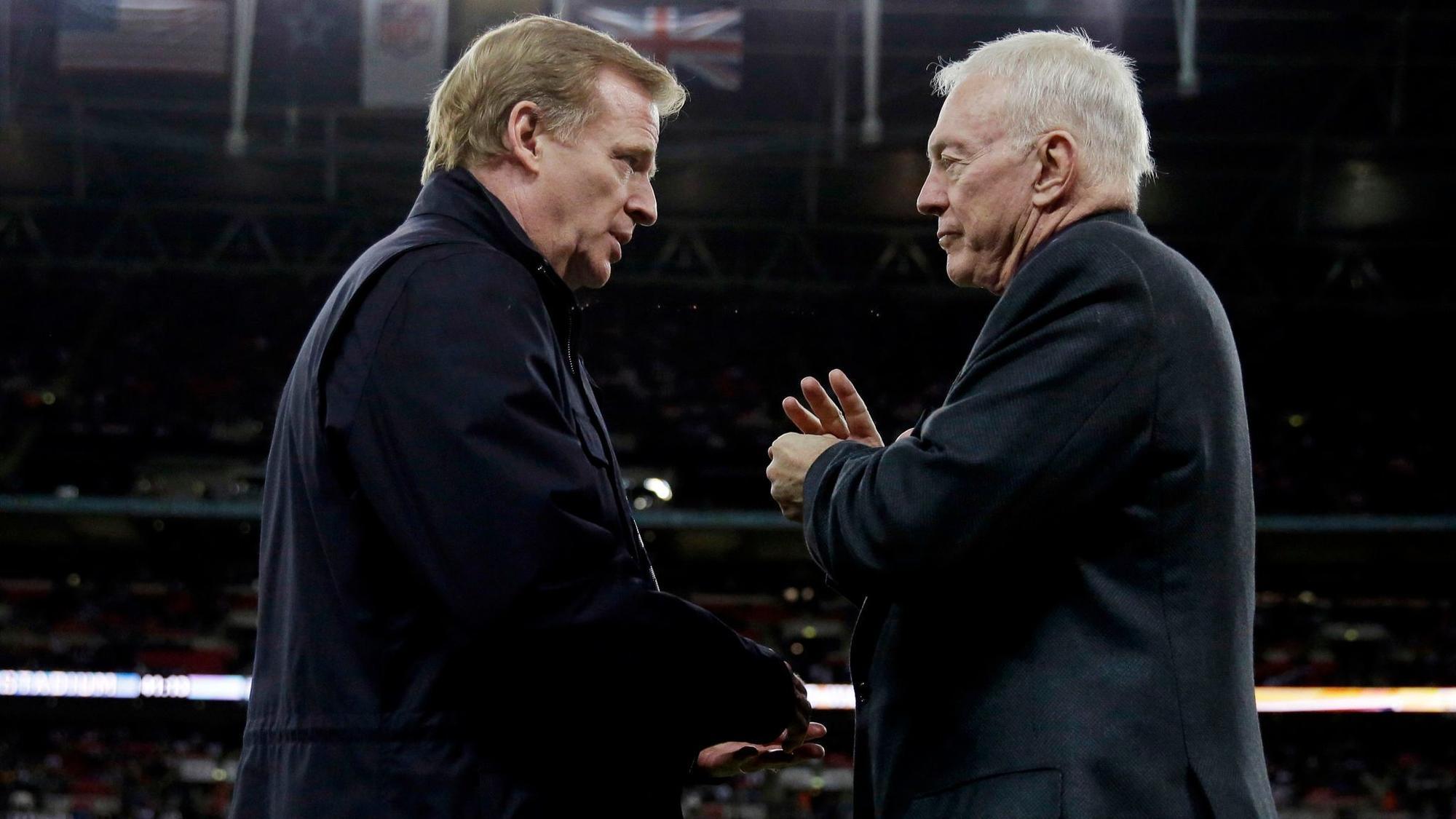 The ongoing dispute stems back to Jones's efforts in fighting a mandatory six-game suspension of Cowboys' star running back Ezekiel Elliott. He also threatened to sue the league to prevent the NFL from extending the contract of Commissioner Goodell.
Jones believed he had the support of the owners in trying to block Goodell's extension. He was wrong, and now the league is making him pay. Or at least trying to.
Fellow Owners: Fine by Us
According to the Washington Post, as many as 29 of the league's 32 owners were in favor of penalizing the outspoken owner of the Cowboys. Last year, after a failed attempt to block the commissioner's contract extension, the NFL's compensation committee found Jones guilty of conduct detrimental to the league. Goodell ended up with a contract paying him $40 million per year through 2024.
Technically, the $2 million reimbursement isn't a fine, but a means for the league to recoup legal costs. They're allowed to do so under a 1997 league resolution which states that any owner who brings legal action against the NFL is required to cover the costs of all parties.
However, it's worth noting that Jones merely threatened legal action over the Goodell extension, but he dropped it before the matter ever went to court.
That will surely be one of Jones' arguments when he pleads his case to have the fines lifted. Roger Goodell will hear that appeal and will have the final say. Considering it was Jones who went to great lengths to prevent the commissioner from keeping his job, it's fair to wonder just how impartial Goodell can be.
That appeal hearing is expected to take place next Monday.
Dez Bryant Betting Lines
Jones has done a good job of keeping his Cowboys in the headlines, but for all the wrong reasons. On the field, Dallas has been dismal, having won just two playoff games over the last two decades.
Jones continues to stick by head coach Jason Garrett, who has a 67-53 record in his eight-year tenure as head coach. Garrett will be back in 2018, but will star receiver Dez Bryant?
Bryant has been a top playmaker in Dallas for years but is coming off a down season, leading to speculation that his time as a Cowboy could be up.
The odds are against it, with online bookmakers offering some betting lines on whether or not Bryant will be cut, traded, or retained. The line on Bryant staying is +150 (bet $100 to win $150), while the odds that he's cut are +350 (bet $100 to win $350). You can also bet on Bryant to be traded at longer odds of +800 (bet $100 to win $800).
As for the Cowboys themselves, they're currently paying +2000 (bet $100 to win $2,000) to win the Super Bowl in 2019, tied for the ninth-best odds among all teams.