Seeing enough in their charges coming out of Saturday's Listed Jerome Stakes, all three trainers of the top three finishers, Courvoisier, Smarten Up, and Cooke Creek, plan running their colts in Aqueduct's next Kentucky Derby prep, the Grade 3 Withers Stakes.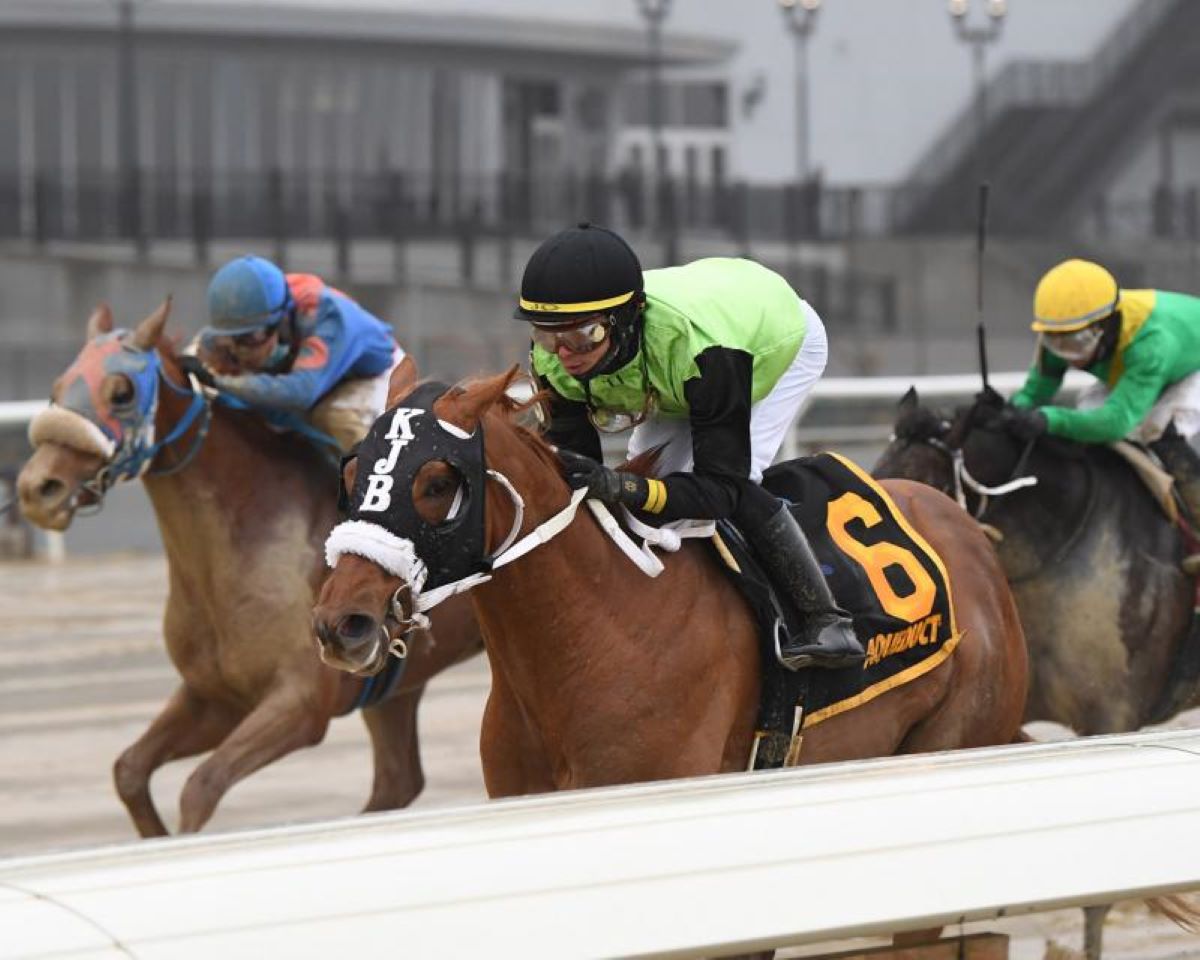 That 1 1/8-mile prep, set for Feb. 5 at the Big A, offers the same 10-4-2-1 Derby qualifying points the Jerome dished out.
"That's the plan. Right now, he seems to like the track and the Withers is there, so we're staying home with him for now," Courvoisier trainer Kelly Breen told the New York Racing Association.
Courvoisier liked Aqueduct well enough to score a 1 ¼-length victory over a surging Smarten Up. He handled nine furlongs in his Dec. 2 maiden victory, employing the same pace-pressing tactics he used to surge past Hagler down the Aqueduct backstretch in the Jerome. Courvoisier is 2-2-1 in his five races.
Cautious optimism the order of the day
John Sikura of Hill 'n Dale Farms, which co-owns Courvoisier with James Spry, carries that same cautious optimism every connection of every Derby prospect brings into the new year. With a blue-blooded pedigree colt like Courvoisier – who comes from Tapit and 2014 2-Year-Old Juvenile Champion Take Charge Brandi – that can sometimes be difficult.
"We want to be realistic and not get too over the top too early," he said. "Every race is a new test. The water gets deeper and some 3-year-olds get better with each start. Everyone finds their level. We'll just let the horse do the talking and hope that he does so loudly."
Smarten Up's trainer, Alfredo Velazquez, hopes for the same. He had to like the way Smarten Up endured a bumping coming out of the gate in the Jerome, going six-wide down the stretch and surging into the bottom half of the exacta.
Jerome provided Smarten Up an education
"We were supposed to be two to three lengths off the pace, but when he got bumped leaving the gate, he got cut on his left front and that backed him up," Velazquez said. "He had never had mud in the face before and that intimidated him for a little while. The jockey (Anthony Salgado) had to get after him a little big because when the mud hit the face, he didn't want any part of that. But as soon as he took him outside, he started to run. He's a nice horse."
Smarten Up wasn't used to the mud in the face because he's not used to being that far back. He too has never missed the board in his four starts (1-2-1), including his destruction of a nine-furlong race at Parx on Nov. 22.
Cooke Creek sent up the creek due to sloppy track
Neither can Cooke Creek's trainer, Jeremiah O'Dwyer. The post-time 1.45/1 favorite, Cooke Creek had to stay closer to the pace than he's used to running. O'Dwyer realized the sloppy Aqueduct track wouldn't be conducive to Cooke Creek's stalking/closing style. Yet, the Uncle Mo colt was there at the end, completing the trifecta only two lengths behind Courvoisier.
"He's got a ton of class and he wasn't tired afterward," O'Dwyer said. "He's a very honest horse. He did not disappoint us; he ran really well. I just think he'd be better on a fairer track and also going two turns. The extra furlong in the Withers will help him. The pace of the race and the dynamic will be different compared to a one-turn mile. They go a little steadier and he'll get a chance to settle in."
The Withers will also give this trio a chance to speed up. Courvoisier won the Jerome at 4/1 with a modest 73 Beyer Speed Figure.