After winning 32 games of Jeopardy! in a row, Las Vegas pro sports bettor James Holzhauer lost to Emma Boettcher, a librarian from Chicago. Holzhauer finally lost during his 33rd appearance, leaving him less than $60,000 short of eclipsing Ken Jennings' all-time winnings of $2.5 million.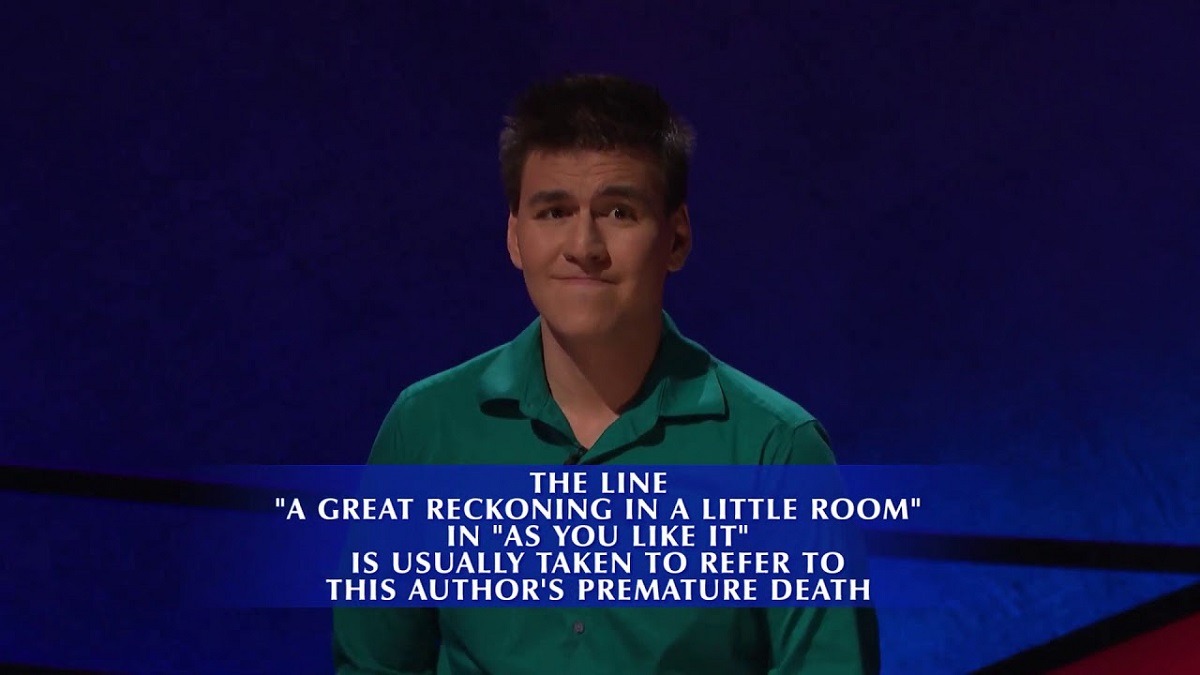 During his 32-game streak, Holzhauer amassed $2.4 million in winnings. He averaged a little less than $77,000 per game. Holzhauer's average beat out the show's previous single-day total. Holzhauer smashed the mark early in his run and broke his own record multiple times.
"Nobody likes to lose," Holzhauer told The New York Times. "But I'm very proud of how I did, and I really exceeded my own expectations for the show. So, I don't feel bad about it."
On Holzhauer's show #33 (aired on Monday, June 3, 2019) his other opponent included Jay Sexton, an engineer from Atlanta Georgia. Holzhauer headed into this game with the opportunity to pass Jeopardy! GOAT Ken Jennings for overall winnings.
Jeopardy! fans tuned in to watch Holzhauer beat Jennings' record so no one expected he would actually lose in a stunning upset by Emma Boettcher.
My kid cried about the possibility of her dad losing, so I told her we could have a party the day after it inevitably happens. Now she cries when I win https://t.co/wuBEJtcP4J

— James Holzhauer (@James_Holzhauer) June 2, 2019
Librarian Beats Pro Sports Bettor
Boettcher trailed Holzhauer by $2,600 after the opening round. Holzhauer found the Daily Double with his first pick of the game. He successfully answered a "Literature" clue for the full $1,000. He ended the opening round with $9,000.
But in the second round, Boettcher beat Holzhauer at his own game. She successfully hunted both Daily Doubles. She doubled her stack, worth $7,600, on the category "Capital 'A'" and seized the lead with $15,200 to Holzhauer's $12,600.
Boettcher found the second Daily Double in "Political Philosophy". She led Holzhauer $20,400 to $17,800 and only wagered $3,000. She nailed the clue and improved to $23,400.
At the end of the second round, Boettcher led $26,600 to $23,400. Holzhauer could not catch her. His only out was for Boettcher to botch Final Jeopardy!, so long as he got it right. Holzhauer wagered only $1,399 on "Shakespeare's Time" and guess correctly. Boettcher wagered $20,201 and also gave the correct response. She held on for the win with $46,801.
"I lost to a really top-level competitor," said Holzhauer. "She played a perfect game. And that was what it took to beat me."
Holzhauer finally met his match and could not overcome Boettcher's quick buzzer.
Not GOAT, But Legit Legend
Holzhauer didn't beat the GOAT, but he'll go down in Jeopardy! history for his legendary performance. Jeopardy! geeks will spend the next few decades arguing about who is better: Holzhauer or Jennings.
Holzhauer first turned heads with his first victory. The fact that he said he was a professional sports bettor made everyone in the industry take notice. During his epic 32-game winning streak, Holzhauer became the face of modern sportsbetting.
Holzhauer showed the world what an analytics-drive 21st Century pro looks like, which destroyed the sports bettor myth of the slovenly image of Oscar Madison or whatever disheveled and shady cipher the square world conjured up.
JEOPARDY! ALL-TIME REGULAR WINNINGS:
Ken Jennings $2,520,700
James Holzhauer $2,462,216
David Madden $430,400
Julia Collins $428,100
Matt Jackson $411,612
** Stats via TheJeopardyFan.com
Holzhauer appeared on the MLB Network and expressed his interested in an analytics job with a professional baseball team. Holzhauer would love to join the ranks of pro bettor Haralabos Voulgaris, who accepted a job with the analytics department of the Dallas Mavericks.
With $131,127, Holzhauer set the single-day mark, which broke his own mark of $111K. During his run, Holzhauer became the fastest champion to win $1 million and joined Ken Jennings as the only other player to pass the $2 million milestone.