Las Vegas sports bettor James Holzhauer won his fourteenth-consecutive match on Jeopardy! and passed $1 million in earnings.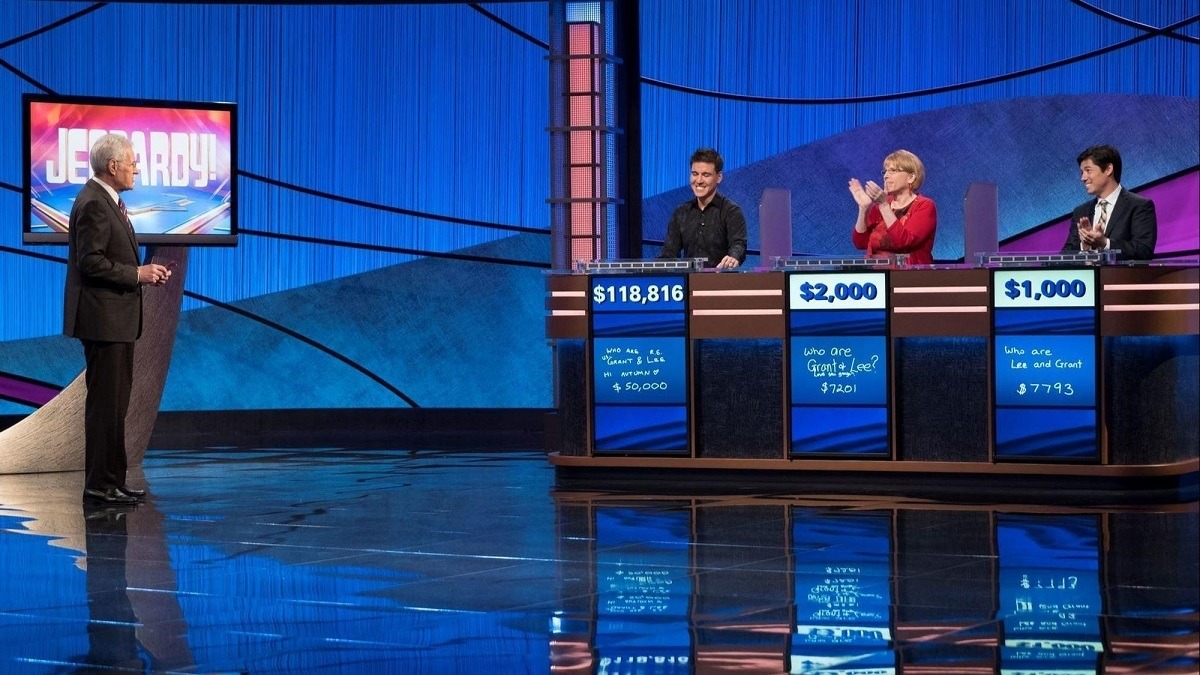 In the latest episode, Holzhauer was pitted against Kevin, a principal from Los Angeles, and Claudia, a grandmother and writer from Mesa, Arizona with 18 grandkids. Holzhauer won $118,816 including a $50,000 bonus for a correct Final Jeopardy! question on the topic of "American History". That also marked his fourth six-digit single-day score.
If Holzhauer continues at his current pace of $75,000 per win, he will need only 20 more wins to break Ken Jennings' record of $2.5 million.
ALL-TIME JEOPARDY WINNINGS:
Ken Jennings $2,520,700
James Holzhauer $1,061,554
David Madden $430,400
Julia Collins $428,100
Matt Jackson $411,612
Jennings holds the record for wins with 74.  According to stats compiled by TheJeopardyFan.com, Jennings averaged approximately $33,700 through his first 14 matches. Holzhauer's lowest win total in 14 games is $27,100. He has only won less than $50K on four occasions.
Seven Figure GOATs
Before James Holzhauer grabbed headlines with his unorthodox, yet aggressive style hunting Daily Doubles, no one thought the Jeopardy! GOAT would ever relinquish his crown. Ken Jennings set the record with over $2.52 million in winnings over his 74-match winning streak. Before Holzhauer came along, Jennings held a $2 million edge over his closest competitor.
Holzhauer set himself apart from the rest of Jennings' challengers with his willingness to go busto at any moment during Daily Doubles. Even Alex Trebek has been goading him to go "all in" at times. James obliges by making a gesture with his hands mimicking pushing stacks of poker chips into a pot.
Winnings (Thru 14 Games):
Ken Jennings $471,759
James Holzhauer $1,061,554

Final Jeopardy! (Thru 14 Games):
Ken Jennings 10/14
James Holzhauer 13/14
The real cheesecake lies in Holzhauer's ability to secure a win with a significant margin by the end of Double Jeopardy. After locking up the victory, he's then able to maximize his earning potential by wagering a significant amount of his stack on the Final Jeopardy! question without actually risking the win. Holzhauer has been absolutely money when it comes to Final Jeopardy! with an impressive 13-for-14 clip.
In the latest episode, Holzhauer smoked his opponents with $68,816 at the end of the second round (compared to Claudia's $8,400 and Kevin's $7,800). Neither opponents were able to find the Daily Double boxes. James scooped up all three, as per usual. He added over $38,000 to his stack courtesy of Daily Doubles. With a cushion of $52,000 heading into Final Jeopardy!, Holzhauer wagered $50,000 on his knowledge of American History. The question focused on the Civil War era with "Lee and Grant" as the correct response.
Holzhauer is super quick on the buzzer, doesn't get rattled during action, and he's only missed one Final Jeopardy! clue in 14 attempts. Ken Jennings went 10-for-14 in Final Jeopardy during his initial 14 matches with only four miscues.
Six-Figure Scores
Holzhauer crushed everyone in his path while posting hefty scores during his sensational run. The pro sportsbettor is averaging $75K per win, but he notched $100K or more for the fourth time since his epic streak began three weeks ago.
Holzhauer initially broke the single-game record on his fourth episode with a $110,914 total. During his tenth win, he eclipsed his own record and set a new record with $131,127.
HOLZAHAUER TOP SCORES:
$131,127
$118,816
$110,914
$106,181
$90,812
Holzhauer holds eight of the top ten all-time single-day scores. Even during the peak of the Ken Jennings run, no one ever expected anyone could come close to $100K in a single game, let alone crack that number four times.
At this point, it seems outrageous to consider that a $200K single-day win could even be possible. Then again, Holzhauer has been defying convention since he won his first episode of Jeopardy.