James Harden collected the 37th triple double of his career when he exploded with 50 points for the Houston Rockets (13-14) in a 126-111 victory over LeBron James and the Los Angeles Lakers (17-11).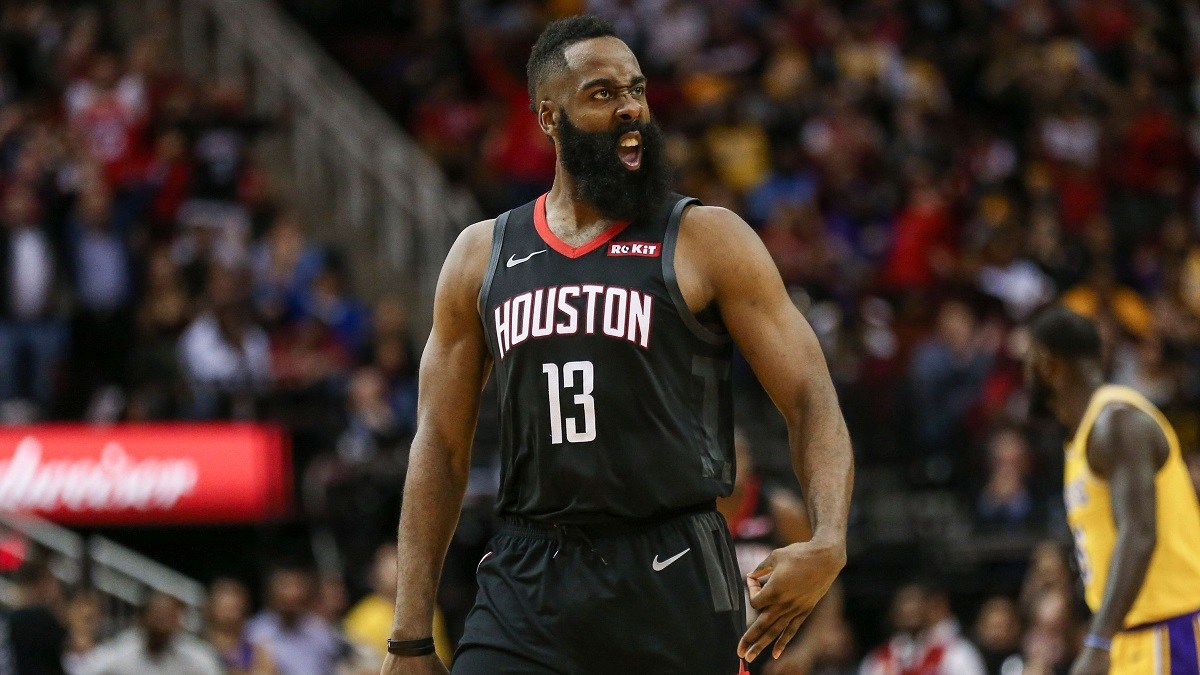 Harden also added 10 rebounds, 11 assists, and 2 steals. Harden picked up his second triple double of the season. The game marked Harden's fourth 50-point triple double, which is also an NBA record.
50 for the Beard
James Harden is leading the NBA in scoring this season by averaging 30.8 points per game. In an overtime loss against the Washington Wizards in late November, Harden scored 54 points for his first 50-point game of the season.
Against the Lakers, Harden unleashed his second-biggest total of the season with 50 points. He went 10-14 from 2-point range, but struggled behind the arc with a 4-for-12 clip. At the charity stripe, Harden hit 18 free throws and missed just one.
Harden took himself out of the game for a couple of minutes in the fourth quarter. The move surprised both his teammates and head coach Mike D'Antoni, who usually can't get Harden to leave the court.
"You play 45, 46 minutes, it's difficult on anybody in this league," said Harden. "The guys are so talented and great, so that little period that I had to rest, came back in re-energized and ready to make good plays."
The brief rest ended up a wise move because the Lakers were unable to stop him during crunch time.
Hands Free D
The Lakers were frustrated for excessive whistles. Players protested the barrage of fouls by playing hands-free defense for a couple of possessions in the third quarter. LeBron James and Lonzo Ball purposely kept their hands and arms behind their backs while defending the Rockets.
"Just trying to defend without fouling," said James. "That's a point of emphasis any time you play Houston. They got guys that can sell calls really good. Chris and James (Harden). You got to try to keep your hands out of the cookie jar."
"How hard is it to play defense like that? It's tough," said head coach Luke Walton. "They were just trying to make a point: 'We're not using our arms here. Stop calling fouls.' But we can't, whether we get frustrated or not, we can't let that affect us going under screens or us not communicating."
Walton and forward Kyle Kuzma were both issued technical fouls. In particular, an irked Kazuma drew a tech after officials missed a blatant foul against him and he called them out on their bias.
"To defend them, you just can't touch them," said Kuzma. "So just trying not to touch them."
Lakers held hands behind their backs on defensive possessions vs Rockets: "You can't touch them" https://t.co/WRSBMMkdH6 pic.twitter.com/ptqlsGXanj

— Sportando (@Sportando) December 14, 2018
James finished with 29 points in a losing effort. The Lakers are currently tied for second place in the Pacific Division with the LA Clippers. The Golden State Warriors regained control of first place. Both LA teams trail the defending champs by 1.5 games.