Jacob deGrom pitched three stellar innings on Wednesday night, retiring all nine batters he faced and striking out eight while driving in a run at the plate. Then, Mets fans watched a sight they are becoming all too accustomed to, as deGrom exited the game before the fourth inning.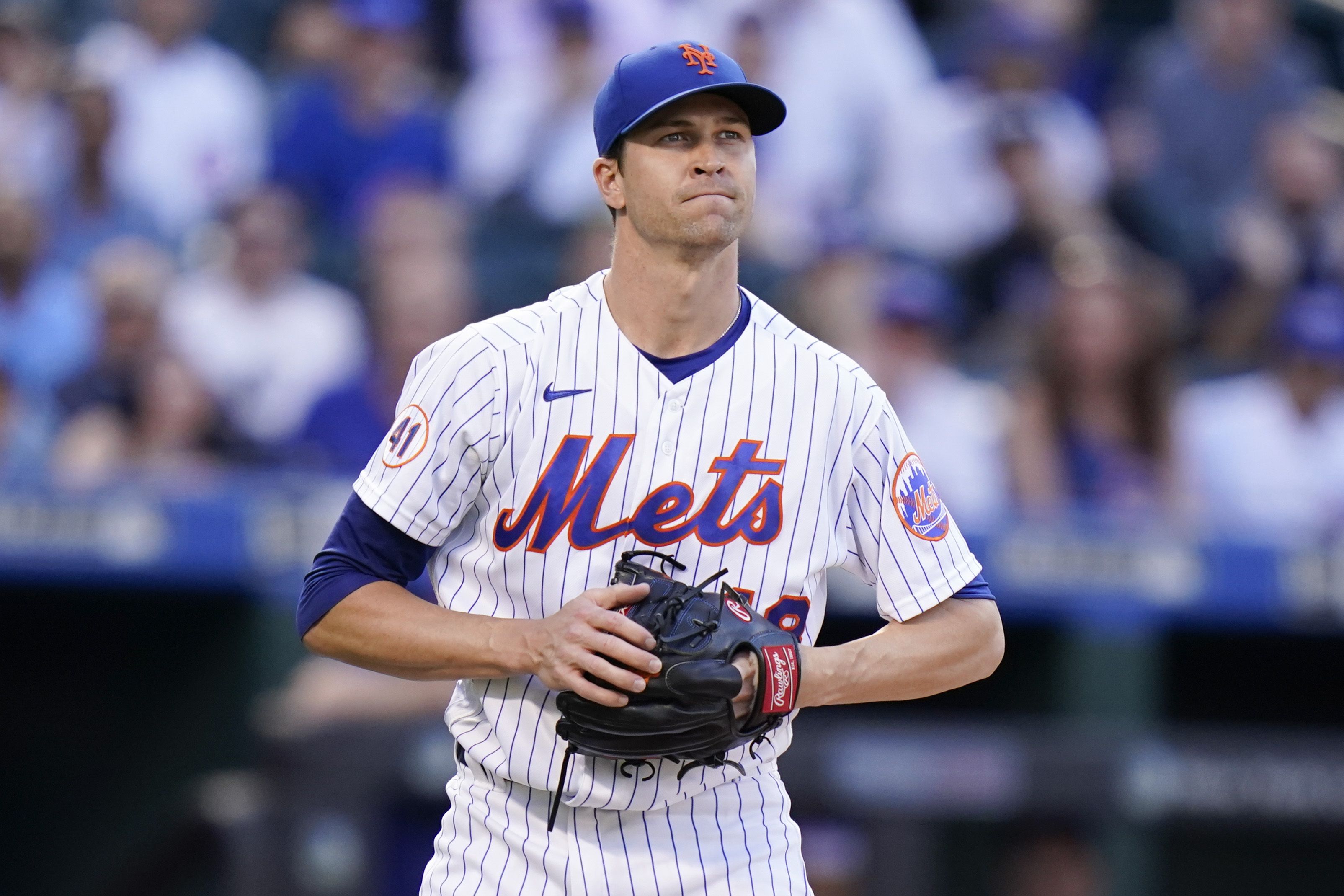 deGrom left the game after feeling right shoulder soreness.
deGrom dealing with nagging injuries all season
The problems began while deGrom pitched to Eric Sogard of the Chicago Cubs in the third inning. He showed discomfort on the mound, but continued pitching – and dominating the opposing lineup – for the remainder of the inning.
Immediately afterward, deGrom headed to the clubhouse and didn't return to the game. The Mets ordered an MRI, which apparently didn't turn up any obvious issues.
"We don't feel immediately that that's what we're going to do," Mets manager Luis Rojas told reporters when asked if deGrom could wind up on the injured list. "We just want to approach this day by day. That's my take right now."
This marks the third time that deGrom has dealt with a seemingly minor injury this season. Back on May 9, he left a game against the Arizona Diamondbacks after five innings with right-side tightness. He would miss two starts after that injury. He exited the game after six innings last Friday against the San Diego Padres with flexor tendinitis in his right arm.
"I think it's three separate issues," deGrom told reporters after Wednesday's game. "I think the lat was something to do with the swing. The elbow I didn't think too much of … I was pretty confident that was nothing. And I'm pretty confident that this is nothing. We did some tests and ruled out anything serious."
Rojas defends Mets' approach
Still, the Mets will likely be exceedingly careful with deGrom. The ace is putting together what could go down as one of the greatest years in MLB history for a pitcher. He is 6-2 with an astounding 0.54 ERA, though only in 67 innings due to his injury issues. Incredibly, deGrom is also hitting .423 with six RBIs at the plate this year in 26 at-bats.
Jacob deGrom's 2021: 6 RBI, 4 ER allowed

He's now hitting .423 🤯 pic.twitter.com/p4Rgzkyyhs

— MLB (@MLB) June 16, 2021
That added value as a batter could put him over the top in the NL MVP race, provided he stays healthy. deGrom was ranked as the favorite for the award before the injury, though FanDuel Sportsbook now lists him at +220 to win the award, just behind Fernando Tatis Jr. (+200). He remains the overwhelming -220 favorite to win the NL Cy Young Award.
Reporters asked Rojas on Thursday whether the Mets were taking too many chances with deGrom, and whether the ace would benefit from extended rest, especially after he exited early from two straight starts. Rojas rejected the idea.
"I don't see how it would change today, doing an IL stint," Rojas told reporters. "It's going to be a normal shoulder in 10 days."