The Hollywood Gold Cup gets its name back, the name it held for 76 years until 2014. It gets three-time champion: 19-year-old Lava Man, back to lead the post parade. And one of the most respected races for older horses gets an eclectic field of Grade 1 winners and placers on a marquee Saturday at Santa Anita Park.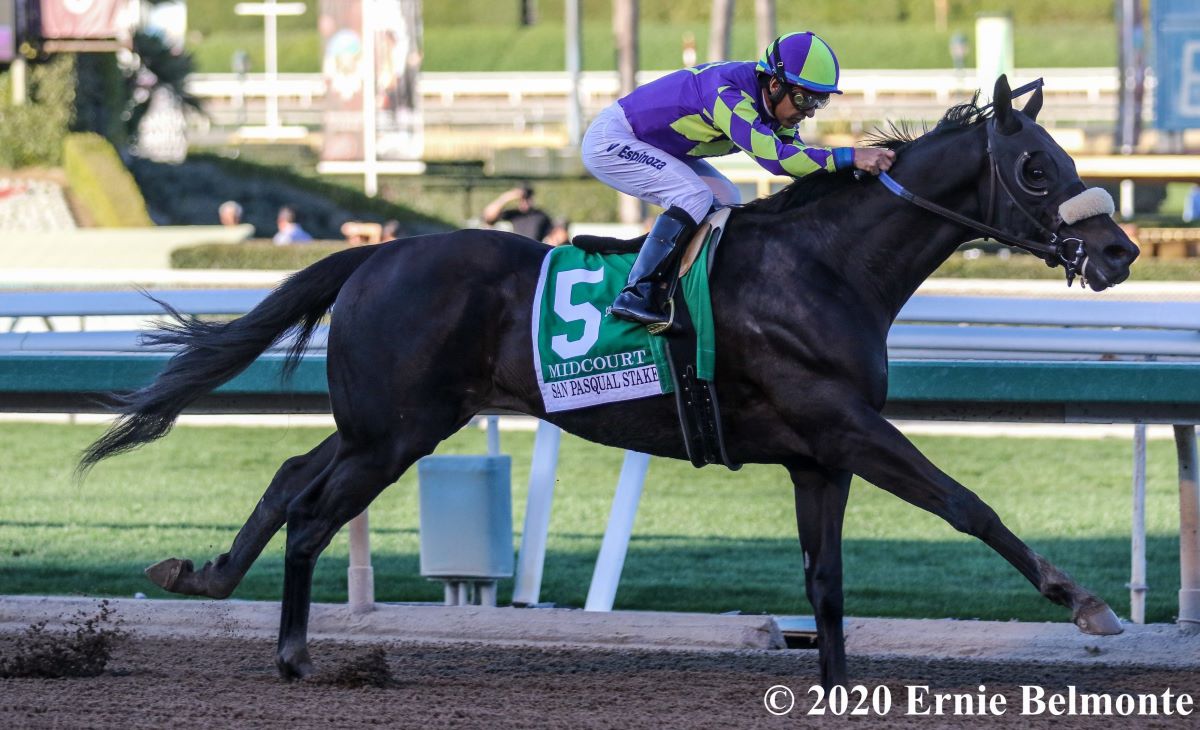 Santa Anita plays host to seven stakes races Saturday and the Grade 1¼-mile Hollywood Gold Cup gets the final word. It gets that final word with its old name back. Dating to 1938, when it welcomed the immortal Seabiscuit into the winner's circle as its first champion, the Hollywood Gold Cup was one of Hollywood Park's signature races.
When Hollywood Park closed at the end of 2013, the race migrated north to Santa Anita, where it was contested as the Gold Cup at Santa Anita from 2014-2019.
"The Hollywood Gold Cup is one of the most storied races in all of American racing and we are right to remember it," said Aidan Butler, Executive Director of California Racing Operations for The Stronach Group in a statement.  "Beginning when Seabiscuit won the inaugural in 1938, it has attracted some of the finest older horses in the world.  Even though Hollywood Park doesn't exist anymore, this race does, and it deserves to be linked to its grand past."
Becoming Horse Racing History by Making it Here
By whatever name, the Hollywood Gold Cup claims a glittering winner's roll that makes even the casual racing fan raise an eyebrow and drop a jaw. Besides Seabiscuit, you've got Noor, Citation, Swaps, Round Table, Gallant Man, Native Diver, Ack Ack, Affirmed, Ferdinand, Best Pal, Cigar, Real Quiet, the aforementioned Lava Man and Game on Dude. Citation and Affirmed won Triple Crowns, Swaps, Ferdinand and Real Quiet (who also won the Preakness) won Kentucky Derbys and Gallant Man won the Belmont Stakes.
Native Diver and Lava Man own three victories apiece, Game on Dude two.
Hollywood Gold Cup
Morning Line (jockey)
Parsimony, 15/1 (Mario Gutierrez)
Midcourt, 2/1 (Victor Espinoza)
Higher Power, 8/5 (Flavien Prat)
Brown Storm, 12/1 (Abel Cedillo)
Improbable, 2/1 (Drayden Van Dyke)
Tenfold, 6/1 (Mike Smith)
So history out of the way, who is in line to make history this year? Start with the two Grade 1 winners in the six-horse field: Higher Power and Improbable. The 8/5 favorite, Higher Power disappeared after finishing a woeful 10th as the 5/2 favorite in the Grade 1 Pegasus World Cup.
Prior to that, the John Sadler-trained 5-year-old finished third in the Breeders' Cup Classic and Awesome Again Stakes. Those wins came on the heels of Higher Power's biggest victory to date: last summer's Pacific Classic at Del Mar. Santa Anita's top jockey, Flavien Prat, rides the horse who has faced the toughest competition of any horse in the field.
Sadler, Baffert Familiar With Gold Cup Taste
It bears mentioning Sadler won this race in 2015 with Hard Aces and 2018 with Accelerate. It's also noteworthy he owns five stakes victories over 1 ¼ miles at Santa Anita since 2013.
Sadler shares that mark with Improbable's trainer – Bob Baffert. The two combined to win 10 of the 18 10-furlong stakes at Santa Anita since 2013. As for Improbable (2/1), your beaten favorite in last year's Kentucky Derby and Preakness is mired in a six-race stakes losing streak as he struggles over distances greater than 1 1/8 miles. A five-time Hollywood Gold Cup winner, Baffert was encouraged by Improbable's strong runner-up finish to Tom's d'Etat in April's Oaklawn Mile.
Midcourt Shows He's Your Most Consistent Entry
Two others with Grade 2 and Grade 3 stakes victories on the resume are Midcourt (2/1) and Tenfold (6/1). Trained by John Shirreffs, Midcourt likely brings early speed to the race and brings more wins on dirt at Santa Anita (three) than the rest of the field combined (two). Shirreffs takes off the blinkers that Midcourt wore as the beaten 3/5 favorite in the Santa Anita Handicap and trusts the savvy Victor Espinoza to find the board for the seventh time in seven races since joining Shirreffs' barn.
The field's primary closer, Tenfold ships in from the East Coast trying to follow New York shipper and 2019 Gold Cup winner Vino Rosso to the winner's circle. The Curlin product is best known for finishing third to 2018 Triple Crown winner Justify in that year's Preakness, but he did win the Grade 2 Jim Dandy Stakes and the Grade 3 Pimlico Special at 1 ¼ miles last year, so distance isn't an issue.
The pick: Midcourt. His stalking style fits this race well and he hasn't finished worse than third since February 2019.