When Oakland Raiders owner Mark Davis introduced Jon Gruden as his new head coach in January, he proclaimed, "this is the best day of my life." But in the ensuing months, and now nearly a third of the way through the 2018 NFL season, Davis might be having buyer's remorse.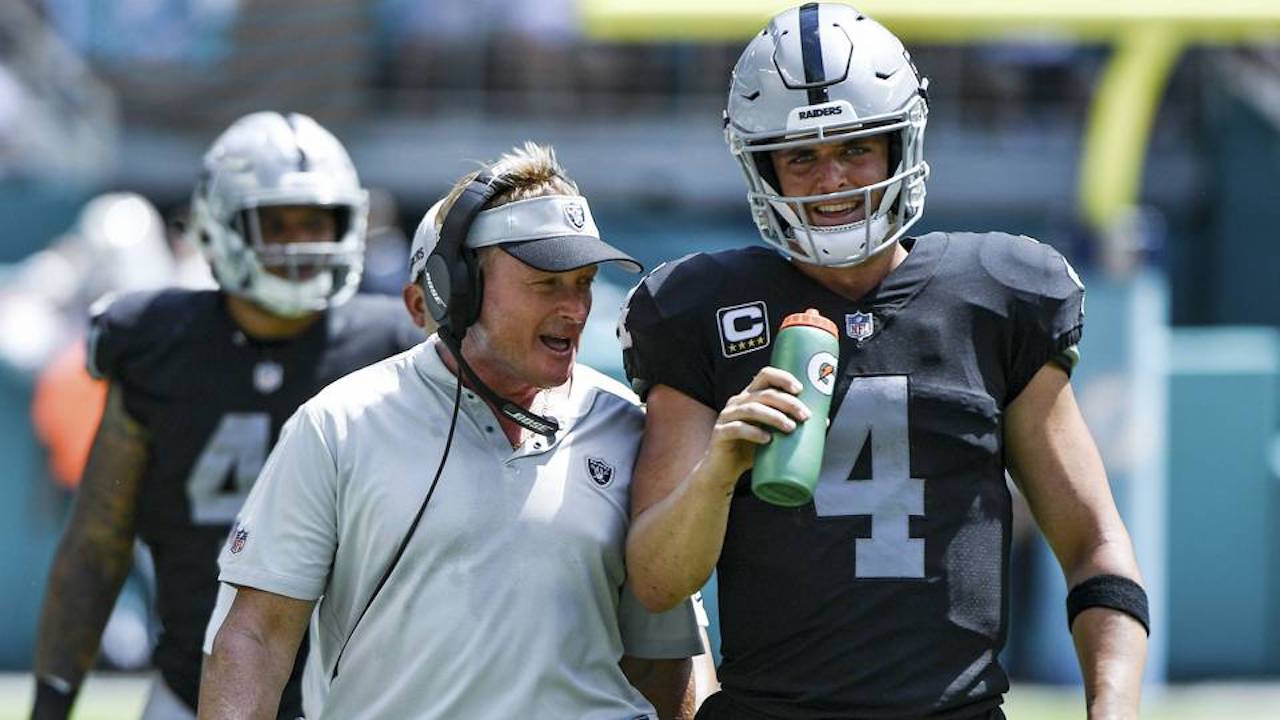 Davis had agreed to pay his new head coach $100 million over 10 years, making him the second-highest paid coach in the NFL, behind New England's Bill Belichick.
But so far this season. the Raiders aren't yet seeing a return on their investment. The Raiders are 1-4 this year, with their lone win coming in a 45-42 victory over Cleveland that the Browns essentially gave to them. Oakland has been outscored 107 to 62 in their other four games, and their defense ranks 30th out of 32 teams.
The latest embarrassment was a 26-10 defeat at the hands of their rival, the Los Angeles Chargers. The Raiders were 5.5-point underdogs, and they never came close to covering the spread.
"We had bad plays today," Gruden said. "I think we pressed a little bit. The play calling needs to improve. That's my job. We've got to play better collectively than we did today."
From Wunderkind to WTF?
Gruden had been hired previously by Davis's father Al Davis, who in 1988 brought him on as the youngest head coach in the league at age 34.
Gruden was with the Raiders for four seasons before Al Davis famously traded him to the Tampa Bay Buccaneers for two first-round draft picks, a pair of second-rounders and $8 million. Gruden went on to become the youngest coach to win a Super Bowl at 39. He eventually left the Bucs in 2007, and was in the broadcast booth doing Monday Night Football from 2009-2017.
But Mark Davis wanted Gruden, 55, back on the sidelines. Many thought he overspent to get him. The last time the Gruden coached an NFL game, the iphone hadn't even been released yet. Critics said the game had changed in his decade-plus in the booth yet exist.
Against the Chargers on Sunday, Gruden had a first and goal on the one-yard line. Instead of giving the ball to running back Marshawn Lynch, he called a pass play that was intercepted.
The questionable play call came three weeks after Gruden seemed to criticize quarterback Derek Carr for the team's early disappointing results, leading to speculation he could be traded if there wasn't improvement.
Problem Picks
Gruden's decisions that have left people scratching their heads haven't been just on the field in the heat of a game. Almost immediately since being installed at the Raiders helm, his front office leadership also left many with concerns.
First was the NFL Draft. Though Reggie McKenzie is listed as the general manager, Gruden was given the task of making player decisions. He made some questionable moves in April, including trading down from No. 10 to 15 and selecting offensive lineman Kolton Miller, who allowed three sacks in the Chargers loss.
"I don't really hear all the skeptics," Gruden said at a press conference. "I have a cellphone, too, that works. I got a lot of coaches and friends in the NFL that are ecstatic about the picks that we made."
The biggest condemnation came when Gruden let go of All-Pro linebacker Khalil Mack, who was traded to Chicago for first-round picks in 2019 and 2020, as well as a sixth-round pick in 2019 and third-round pick in 2020.
Now Gruden's own future is a matter of speculation. His buyout clause is reportedly so big that firing him would be a financial disaster. BetOnline has his odds of being the first NFL coach to go at 25/1, and Raiders ownership certainly has a history of unconventional decisions.