The National Football League opens 2019 training camps for rookies this week. Besides the drills and sweat and inevitable hazing when the veterans get to camp, the NFL also mandates a Rookie Transition Program for all new players. Let's see how the NFL welcomes its new recruits.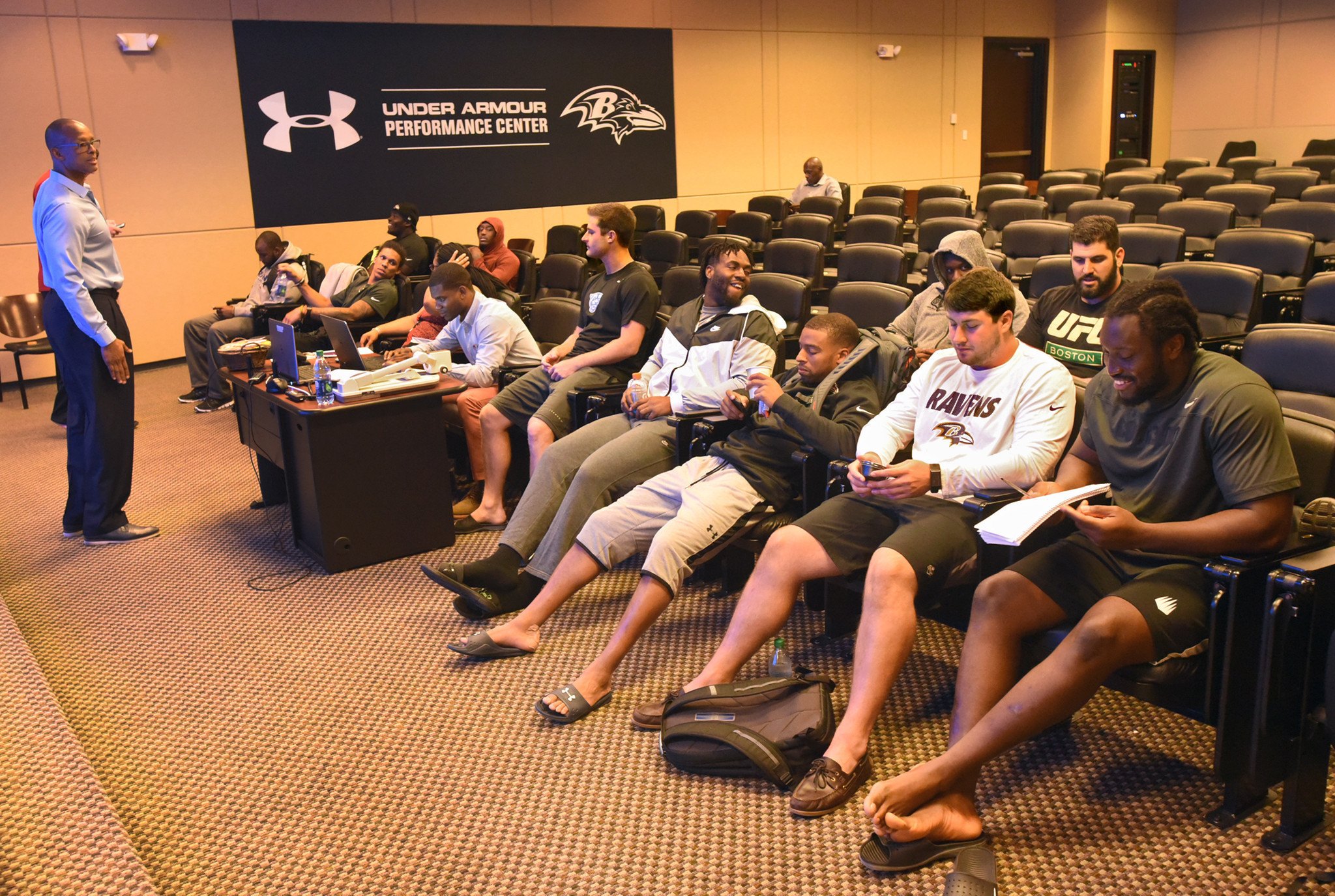 Welcome to the Big Leagues
Teams invite the drafted and undrafted players in three to seven days before the veterans arrive. These days are used to orient the new players to all that is expected of them as newly minted members of the National Football League. The league has learned over the years that fresh out of college young men are not prepared for the physical, mental, psychological and media-saturated environment they are joining.
 "The Rookie Transition Program allows the clubs to orient all rookies to local resources and to club culture, history, leadership and expectations," said Troy Vincent, NFL executive vice president of football operations. "This collaborative effort permits the league to educate players about the tools and resources available for a successful playing experience on and off the field."
The Rookie Transition Program reaches all NFL rookies and introduces them to all of the resources that are available to them. Also the program gives NFL owners, general managers, coaches the opportunity to share each club's unique culture with the new roster players.
The orientation also covers aspects of life off-the-field and offers to each rookie a clear presentation of what is expected of a professional athlete in the NFL.
Mandatory Topics in Rookie Transition Program:
A video introduction to the NFL and league policies
Player benefits and benefit resources, including their NFLPA membership, player rights and resources plus the additional  NFL programs* that are available to them
Player expectations, including the importance of sportsmanship, respect in the workplace, media responsibilities and how to work with their club's public relations staff
Social responsibility for players, which covers league policies and the ramifications of issues like driving under the influence, or committing acts of domestic violence or sexual assault
Maintaining strong mental health and fitness, and an introduction to the health and safety resources available to all players and their families in times of need
An introduction to the culture, values and history of the league and a player's club
Rule changes from college to the pros
*NFL programs include: a Speakers Bureau, an off-season Personal Finance Camp, even a Broadcast Bootcamp. Those programs are offer by the NFL Player Engagement staff which also approves the schedule for each club's Rookie Transition Program. The content is reviewed to make sure that incoming players from all 32 teams are provided the same introduction to the league's rules and expectations.
How To Be a Professional
While the rookie orientation is labeled as 'Transition' the overall thrust is towards Professionalism. College players are often not prepared for all that an NFL position demands both on and off the field.
Texans Coach Bill O'Brien speaks about professionalism: "That's a big thing, and you don't learn that overnight. We talk about getting into a routine. In college, you have class, obviously, during the day and then you're in a meeting at 2:30 and then you're out on the field at 4:00 and then you have study hall and then you have dining hall. There's no class here, so it's your job now to take care of your body, produce on the field, know your assignments. So, you have to set that routine."
"Our goal is to onboard every NFL rookie with the best resources and practices for a successful playing experience both on and off the field," said NFL Vice President of Player Engagement Charles Way.
The reality of life off the field is a huge leap from college to the pros. Failure off the field is often what ends a player's dream of an NFL career.
Jets Head Coach Adam Gase speaks to the transition: "A lot of these guys, they went from high school – they were home – to college – where everybody does everything for them. Now they're on their own. So you have to educate them about, 'This is how it's going to be and you're on your own and you're going to have to pay bills and you're going to have to get your own food.' There's a lot of things that guys don't know about."
The transition begins this week for some 750 potential NFL rookies. On average, less than one-quarter will make an NFL roster come the regular season. Transition indeed.
---
Tim Lavalli holds a Ph.D. in psychology and has focused his work on the mental aspects of competitive games. He co-authored Check-Raising the Devil, the autobiography of poker pro Mike Matusow. You can follow him on Twitter @timlavalli.