Erling Haaland is close to joining Manchester City at the end of the current campaign. The 21-year-old Norwegian will turn down offers from Real Madrid, Barcelona, Manchester United, and Bayern Munich to play under Pep Guardiola. According to The Athletic, Haaland's representatives have already agreed on terms with City.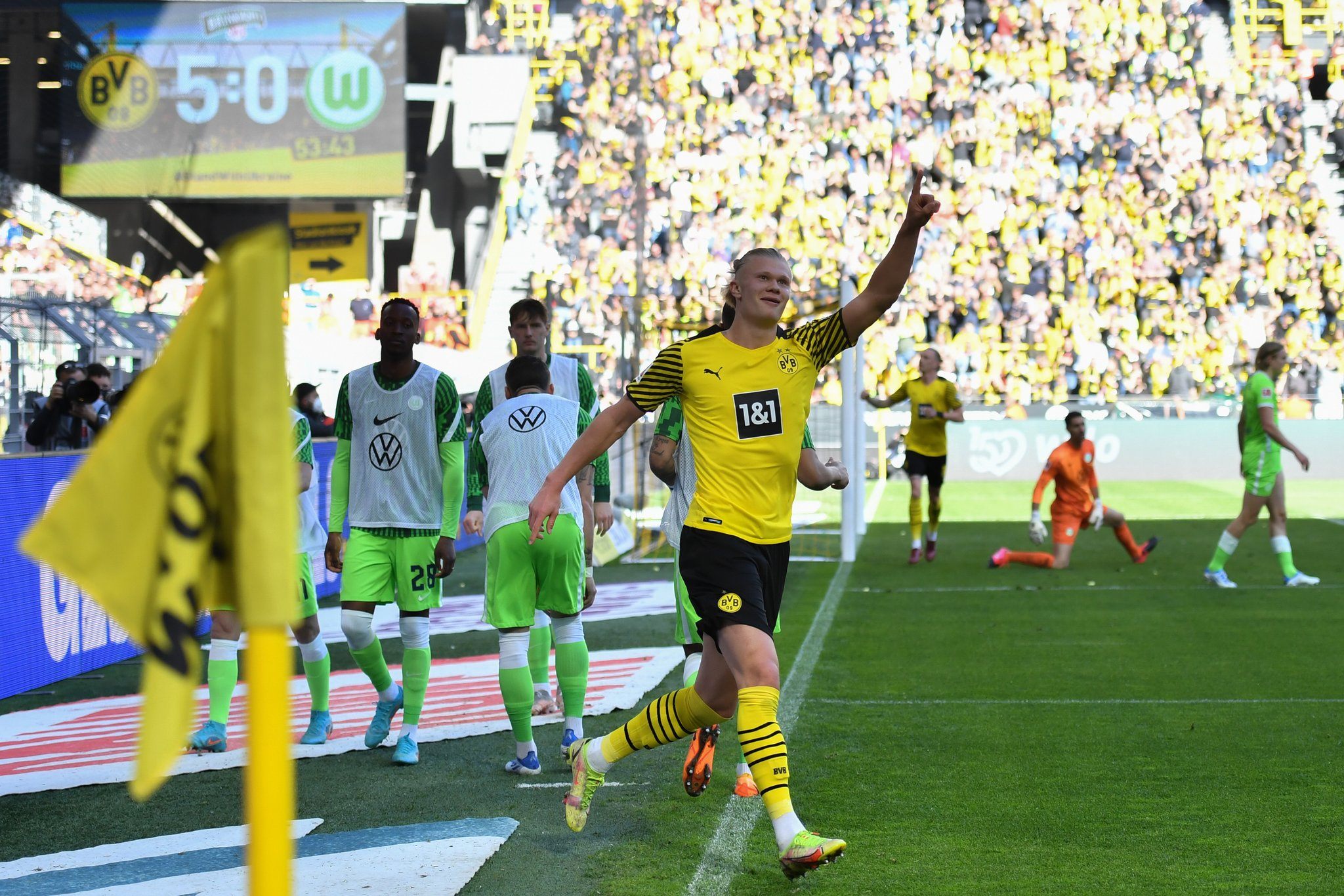 The English Premier League leaders are expected to pay Dortmund $80 million, which is specified in his release clause as of July. A year ago, the German club refused all transfer talks concerning Haaland despite Chelsea plotting a bid as high as $210 million.
Haaland's wages at the Etihad will be record-breaking. He'll earn $650K per week, $150K more than what De Bruyne and Cristiano Ronaldo are making at City and Man. United, respectively. The Viking will turn into the best-paid player in the Premier League once his transfer is completed.
On Tuesday, City boss Pep Guardiola spoke to the media in a press conference ahead of his team's match against Brighton. When asked about City's intention to pay Haaland's release clause, Pep chose not to comment in any way.
Haaland was born in Leeds in 2000 while his father, Alf-Inge, was playing there. The former defender then moved to none other than City, where he played for three years. He didn't make the desired impact on City's defense because of knee problems and finally retired in 2003 at age 31. In total, Alf-Inge Haaland played 10 years in England for the likes of City, Leeds, and Nottingham Forest.
Bets on Erling Haaland joining Manchester City are no longer being accepted, with the bookies all but certain that he's made up his mind.
How will Haaland perform in the Premier League?
Haaland just hit a brace against Wolfsburg over the weekend, reaching 33 goals in all competitions for club and country since the start of the season. Despite being out with three different month-long injuries, Haaland's form didn't suffer, as he always came back even hungrier than before.
Football data platform Comparisonator tried to use Haaland's numbers to create a projection of what his record in the Premier League could look like. Through a virtual transfer feature, Haaland's data has been moved to the Premier League to serve as an indicator of his potential impact.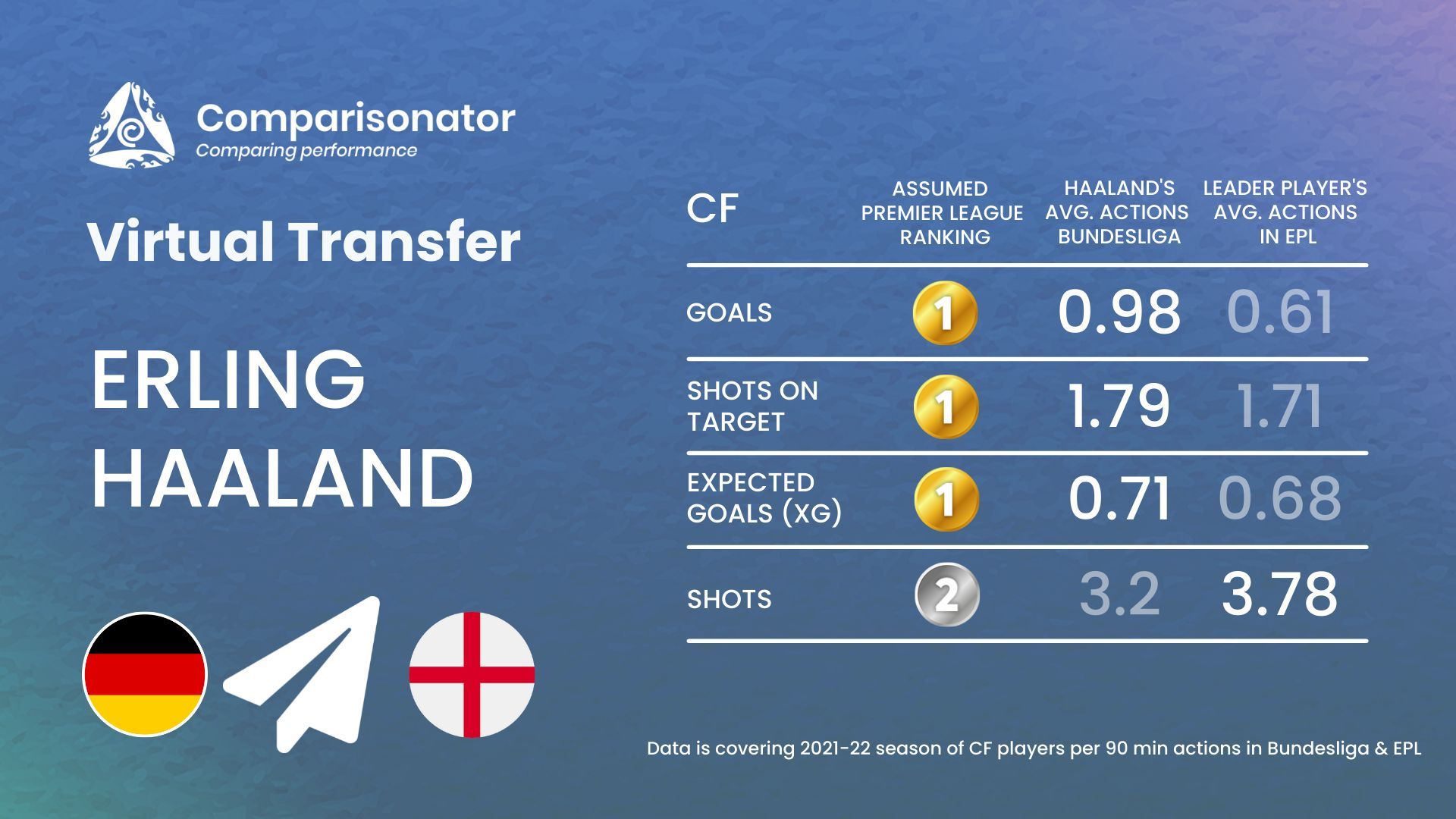 The striker would top the goals, shots on target, and expected goals sections, ahead of the best forwards in the Premier League at the moment.
The major concern among Man. City supporters is Haaland's apparent fragility. He spent almost two months on the sidelines with recurring thigh injuries last autumn, then couldn't be counted on for a month-and-a-half this year. According to German portal Sport1, Haaland and his entourage didn't want the diagnosis of his latest injury to be published by the media so he wouldn't be associated with injuries.
According to the German journalists, Haaland's latest injury was a torn thigh muscle incurred at the end of January. Haaland only played 26 of Dortmund's 42 games this season. Dortmund manager Marco Rose suggested Haaland even refused to have scans on his latest ailment.
"You work out with the player how to deal with it," Rose commented. "You take pictures or you don't? We can't push the boy into the tube if he doesn't want it for himself."
Haaland netted a total of 82 goals in just 85 matches for Dortmund after joining for $21.5 million in January 2020.