The Carolina Hurricanes haven't lost a home game this postseason. They also haven't won yet on the road. The Rangers will try to keep that latter streak intact as they host the Hurricanes in New York for Game 4 of their Stanley Cup playoffs second-round series on Tuesday.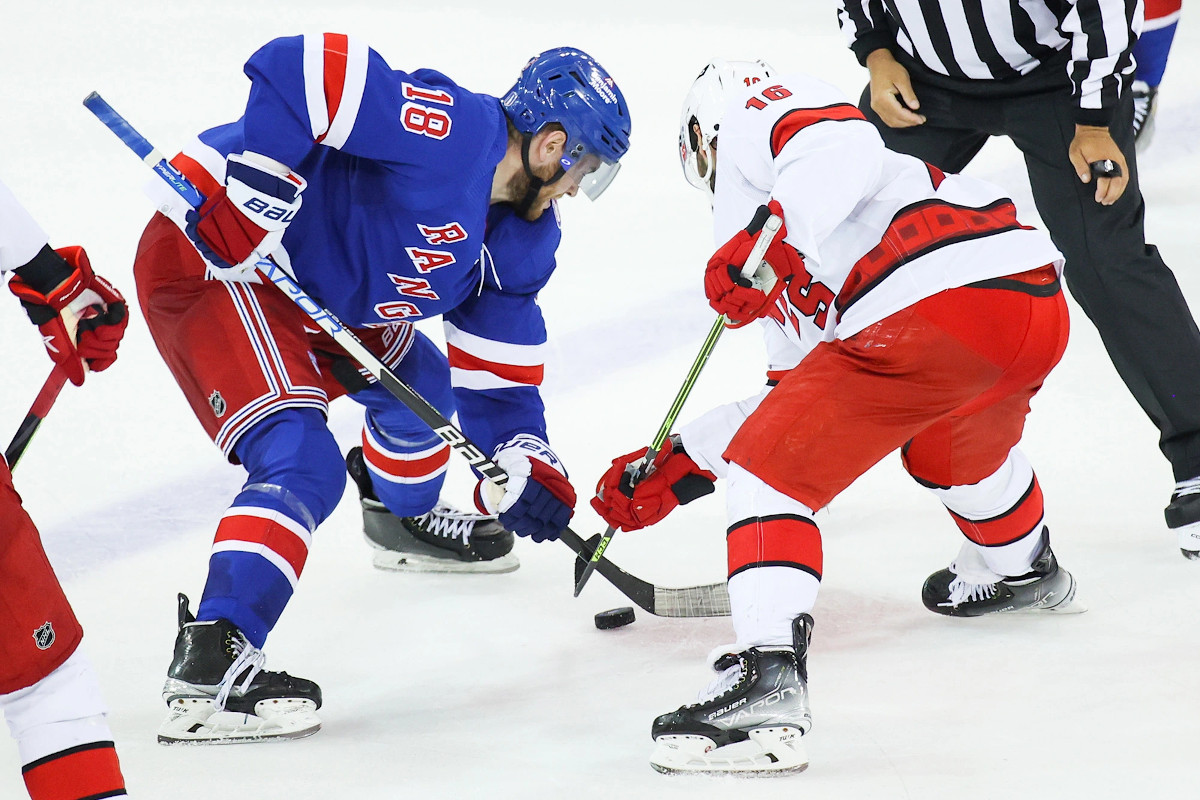 Carolina leads the series two games to one on the back of two wins at home in Games 1 and 2. FanDuel Sportsbook rates Game 4 as a toss-up, with both teams fetching -110 odds.
Rangers, Hurricanes mixing up lineups
The Rangers fought back on Sunday, taking Game 3 at Madison Square Garden by a 3-1 score. That sets up a crucial Game 4, where New York will try to even up the series before the action heads back to Carolina.
Rangers coach Gerard Gallant shifted his top three lines before Game 3, moving things around in an effort to spark better performances from his offensive players. It's unclear whether Gallant will stick with the new lines for Game 4, go back to his traditional lineup, or shake things up yet again.
"I'd love to keep rolling the same lines over when things are going good, but when we have some struggles, you put guys in different situations, see how they respond," Gallant told reporters. "I don't love to do it, but I thought last night we'd try something."
The Rangers aren't the only team mixing things up right now. The Hurricanes haven't performed well on the power play, particularly on the road, where they've scored just once – and given up a shorthanded goal – in 19 opportunities this postseason.
"Obviously, special teams have not been a huge positive for us thus far," Hurricanes defenseman Ian Cole told reporters. "Obviously, we know that and we're trying to swing that in our favor."
Shesterkin returns to form
The Hurricanes forecasted some changes to their power-play units in practice on Monday, with the bigger Nino Niederreiter moving to a net-front role, while Teuvo Teravainen dropped to the second unit.
"Our so called 'top unit' hasn't been very good," Hurricanes coach Rod Brind'Amour told reporters on Monday. "They're the ones who have really struggled. We're just trying to shake it up a little bit there, and we'll see where it goes."
Meanwhile, the Rangers are once again counting on goalie Igor Shesterkin to remain firm in net. After some early struggles in the first round against the Penguins, Shesterkin has been back in world-class form, going 4-2 with a 2.14 goals-against average over his last six games.
"It's something we've talked about a lot, about how much confidence he instills in us, especially when he's making hard saves look easy," Rangers forward Chris Kreider said after Game 3. "With that being said, we can't take our foot off the gas, we still have to forecheck to try and make it easier on Igor and the defense."