Houston Astros ace Justin Verlander has a strained latissimus dorsi muscle injury and has been shut down by the team. Verlander, who won the 2019 AL Cy Young, will most likely miss Opening Day, but he's not expected to miss more than a start or two with the lat injury.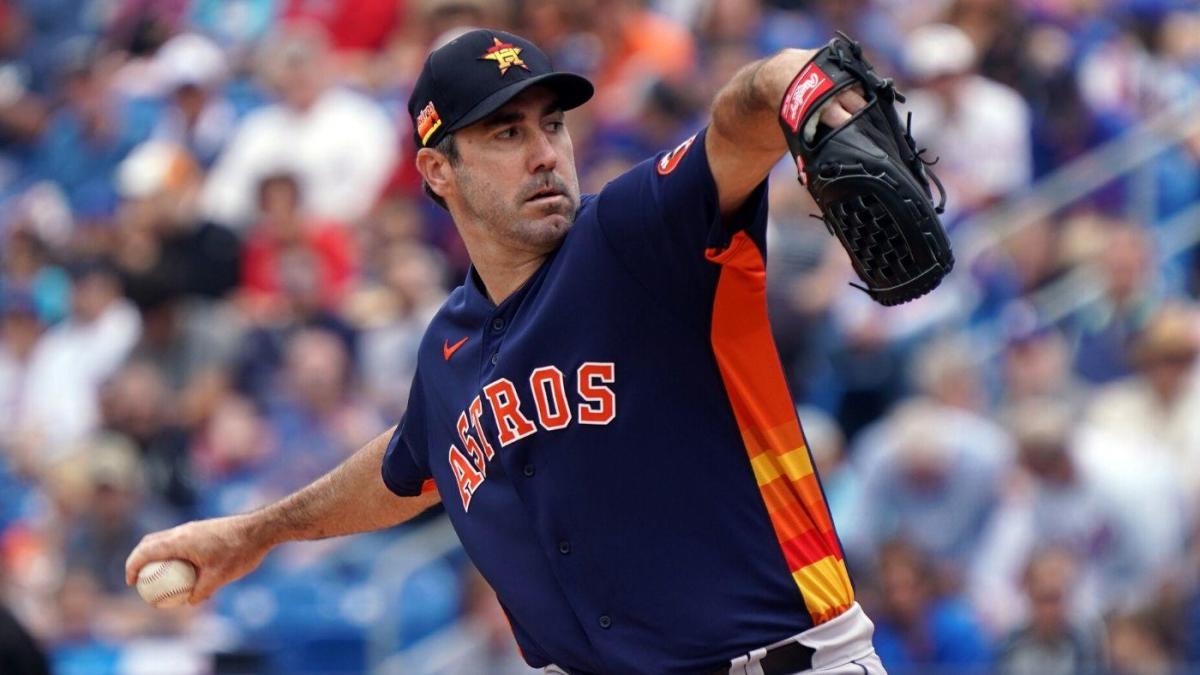 Verlander, 37, underwent an MRI which revealed a minor lat strain. The Astros decided to take a conservative approach and shut down their ace for the remainder of spring training.
Last season, Verlander started 34 games and went 21-6 with a 2.58 ERA and 0.80 WHIP. He also struck out 300 batters and eclipsed the 3,000 K milestone. In 2019, he secured 20-plus wins for only the second time in his career, after he won 24 games during a magical 2011 season with the Detroit Tigers.
In the 2019 playoffs, Verlander looked spent. He started six games but went 1-4 with a 4.33 ERA and 1.25 WHIP. The Astros lost in the World Series to the Washington National, despite rampant cheating allegations.
Over his 15-season, Hall of Fame career, Verlander is 225-129 with 3.33 ERA and 1.14 WHIP.
According to an update from William Hill, Verlander is now 9/1 odds to win the 2020 AL Cy Young award. His ex-teammate, Gerrit Cole, continues to be the consensus favorite at 12/5 odds to win the AL Cy Young with his new team, the New York Yankees.
Difficult Lats
Initially, the training staff diagnosed Verlander with a triceps soreness injury. However, after he failed to improve, they conducted an MRI, which revealed the lat strain.
"Lats can be pretty difficult," said Verlander. "Talking with doctors and looking at the scans, it's definitely not [the] worst-case scenario. Best-case scenario would be nothing. It's just probably somewhere in the middle of that."
Verlander experienced a similar issue five years ago with his old squad, the Detroit Tigers. He appeared in only 20 starts that season, and didn't join the team until mid-June.
Verlander knows his current lat strain isn't as severe, which is the good news. He's been down this road before.
"I'm trying to be very truthful with myself through this process," said Verlander. "I'm also trying to recall also how I felt in '15 and I definitely feel better this time than then. Better for this to happen now than in the middle of April or even worse in September."
The Tigers start the season on March 26 but don't expect Verlander to be healed by then.
"It would probably take a miracle to be back by opening day," he said. "But I don't want to leave miracles off the table."
Gonna Be a Long Year in Houston
Verlander needs to buckle up because it's going to be a long season. The Astros top young arm, Gerrit Cole, bounced in free agency and signed the most lucrative pitching contract in history with the New York Yankees. The Astros will be riding their old ace hard in 2020.
At the same time, the Astros will be playing the role of villain in every ballpark they step into. New manager Dusty Baker hopes opposing teams don't throw beanballs at his stars, especially Jose Altuve. If the reaction from opposing fans in spring training is any indication, it's going to be a long and tempestuous year for the Astros between the taunting and trolling from the fans, the incessant badgering of questions from the media, and the overall hatred from opposing players.
With Justin Verlander down with the lat injury, Zack Greinke becomes the likely Opening Day starter. The Astros acquired Greinke shortly before last year's trade deadline from the Arizona Diamondbacks. He started 10 games with the Astros down the stretch, going 8-1 with a 2.90 ERA and 0.95 WHIP. Combined with his stats from the Diamondbacks, Greinke went 18-5 with a 2.93 ERA and 0.98 WHIP last season.