Bradley Beal, from the last-place Washington Wizards, leads the NBA in scoring with 35.4 points per game. Beal's been on a torrid streak, averaging 41 points over a six-game stretch that started with a 60-point eruption against the Philadelphia 76ers and led up to 47 points against the New Orleans Pelicans last night.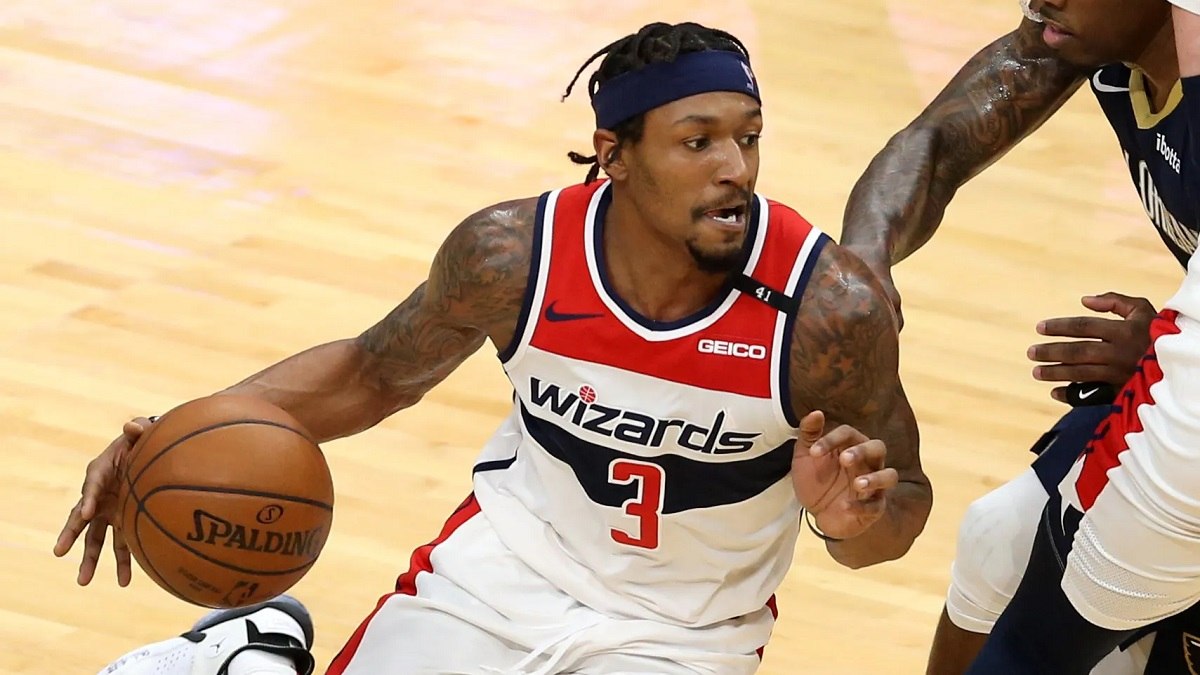 The Wizards are 1-5 during Beal's hot scoring streak, but they also played two games without Russell Westbrook. Overall this season, the Wiz are the worst team in the NBA with a 3-11 record, and they currently occupy the basement of the Eastern Conference.
The Wiz traded John Wall to the Houston Rockets for Westbrook, but started the season in an 0-5 hole that they've yet to dig themselves out of.
Beal currently averages a career-high 35.4 ppg, nearly five points more per game than last season when he posted a career-high with 30.5 ppg. Just two seasons ago, Beal averaged 25.6 ppg. Three seasons ago, Beal averaged 22.6 ppg. His scoring keeps going up, but the Wizards keep sliding deeper and deeper into the depths of the NBA's basement.
A Ton of Points, a Ton of Losses
Despite his huge scoring output, Beal would rather score less and win more games. That's the frustrating conundrum Beal finds himself in. When you're the best player on the worst team in the NBA, your natural instinct is to score as many points as possible to keep your team in the game.
"I try to come out and play with energy every night," explained Beal. "Whatever it looks like at the end, it looks like. I don't say I want to score 50 tonight. That doesn't happen."
"He can score a lot of points on any team on any given night, but he wants to lead us in victories," said head coach Scott Brooks.
The Wiz were blown out by 15 or more points in four of their previous five losses. The team isn't just losing — they're losing badly.
"All my career highs have been losses," said Beal. "I don't give a damn."
Beal became the first player in NBA history to lose 10 straight 40-plus scoring games, according to the Elias Sports Bureau. In addition, Beal is 0-5 in games during the last two seasons in which he scored 47 or more points. That happened twice this season, including last night.
He surpassed Walt Bellamy, who lost 9 straight in 1961-62 pic.twitter.com/dbjo15D7TY

— ESPN Stats & Info (@ESPNStatsInfo) January 28, 2021
Bradley Beal: Scoring Blitz
Since New Year's Day, Beal averaged 38 points in January with 5.4 assists and 5.9 rebounds per game. He's shooting 49.3% from the floor and 43.1% from 3-point range. The Wizards missed six games in January due to COVID-19 cancellations.
Through 13 games this season, Beal hasn't scored fewer than 27 points. He averaged 31.2 ppg in December. On the second game of the season, Beal dropped 39 points against the Orlando Magic.
---
BRADLEY BEAL – JANUARY STATS
| | | |
| --- | --- | --- |
| at New Orleans | 47 | 6-14 |
| at Houston | 33 | 1-5 |
| at San Antonio | 31 | 3-10 |
| vs Phoenix | 42 | 4-9 |
| at Boston | 41 | 4-9 |
| at Philadelphia | 60 | 7-10 |
| at Brooklyn | 27 | 2-5 |
| at Minnesota | 31 | 3-5 |
---
Against the Sixers in early January, Beal unleashed a career-high 60 points on 7-for-10 from 3-point land. He tied Gilbert Arenas for the most points in a game in franchise history. Beal exploded for 57 points through the first three quarters, but went cold in the fourth, and Washington's comeback fizzled out. Beal finished with 60 points to set a new career-high.
"A lot of the sh-t I'm doing, I'm in awe of it half the time, too," said Beal.
Beal's previous career-high occurred last season when he dropped 53 and 55 points during back-to-back nights. Beal lost both of those games.
On Deck: BB vs Dame and Trae
The Wizards (3-11) return home to DC looking to snap their three-game losing streak. They have three-straight home games against the Atlanta Hawks (9-9), Brooklyn Nets (12-8), and Portland Trail Blazers (9-7).
"The winning spirit that BB has is critical to our future success," Brooks said. "To go through it now and still not give in is huge. It's huge for me. It's huge for our staff, and it's huge for our team going forward."
The Wizards/Hawks game on Friday night should be fun to watch with two of the top scoring guards in the league squaring off. Trae Young averages 26.2 ppg this season, but he's also been running hot, averaging 36.8 ppg over his last four games. During that stretch, Young scored 38-plus points in three out of his last four games, including a 43 point outburst against the Minnesota Timberwolves last week.
Over the weekend, the Brooklyn Nets and their Big 3 come to DC. Early next week, Damian Lillard and Beal have a showdown. Dame ranks #3 in the league in scoring while averaging 28.7 ppg. Lillard is also in the middle of a sizzling six-game stretch where he's averaging 33 ppg.
Despite Washington's losing ways, Beal says he doesn't want the Wizards to trade him. He'd like to finish out his career in DC with the Wizards. Despite his wishes, Beal's name has been mentioned in NBA trade rumors to the Miami Heat and Toronto Raptors.