Richard Duchossois, who went from decorated World War II hero to horse racing hero to millions of racing fans through his ownership of Arlington Park, died at his suburban Chicago home on Friday. He was 100.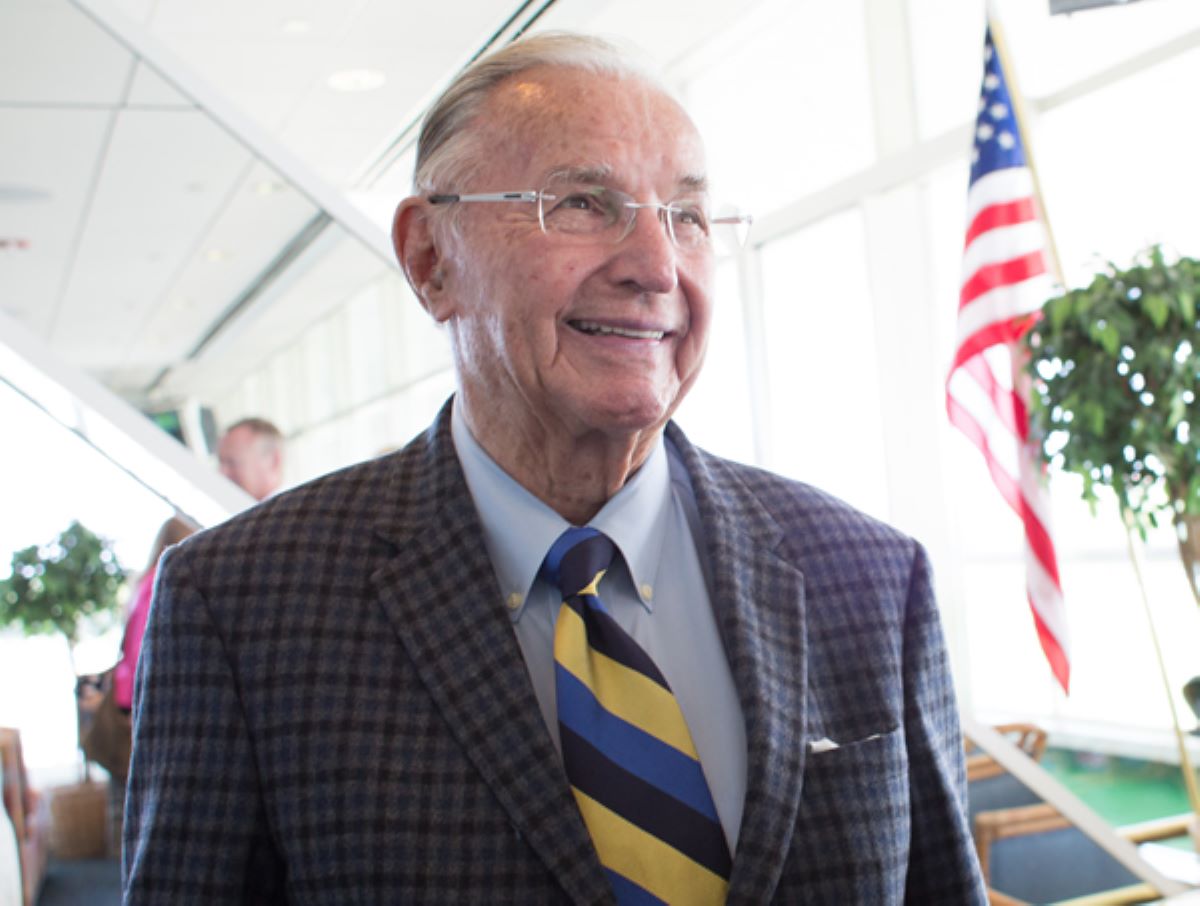 The businessman and philanthropist died four months after Arlington Park ran its last race. The track, which Duchossois owned from 1983-2000 before selling the majority interest to Churchill Downs Inc., was shuttered in late September. That came right before Duchossois turned 100 on Oct. 7.
The land Arlington Park sat on was sold shortly thereafter to the Chicago Bears for $197.2 million.
This ended an era that saw Duchossois turn Arlington Park into one of the country's premier race tracks. He and two partners bought the track in Chicago's northwest suburb of Arlington Heights from conglomerate Gulf + Western in 1983. After Duchossois bought out his partners, he immediately went to work, building Arlington Park from a nice Midwestern track into one worthy of playing host to the Breeders' Cup. It did just that in 2002.
'A pioneer in racing'
"He was a pioneer in racing and reinvented racing in the United States," former Arlington Park President Tony Petrillo told the Chicago Sun-Times. "When it was built, it was the most modern track in the country, if not the world. So much so, the Queen of England's sport racing commission came here to tour the facility and took copies of our blueprint to design her own racecourse."
Duchossois' transformative work went on stark display in 1985, after an electrical fire destroyed most of the facility. He immediately began rebuilding, dismissing claims the track wouldn't be ready to play host to the Arlington Million, the track's signature race. Duchossois and his staff made it happen. From then on, that year's race became known as the "Miracle Million."
The rebuild produced a beautiful, modern-looking track. In turn, Duchossois produced a modern atmosphere that catered to families as well as railbirds. His demanding standards, honed during a 28-year stint as CEO of Thrall Car Manufacturing Company – one of the country's leading railcar manufacturers – created generations of fans and produced numerous racing executives, such as Petrillo.
From railcars to race tracks
Duchossois built his fortune building Thrall, then buying Chamberlain Manufacturing Corporation in 1980. He sold Thrall to Trinity Industries and turned the windfall into a privately held business called The Duchossois Group. The Duchossois Group is worth more than $3 billion.
Twenty years later, in 2000, he sold his majority interest in Arlington Park to Churchill Downs Inc., becoming the largest single shareholder. He played key roles in the track's activities into his 90s.
A late-comer to horse racing, once Duchossois became involved, he became a relentless promoter. There was the Arlington Million, the first million-dollar purse he and Joe Joyce Jr. fostered and promoted. There was Duchossois, turning Cigar loose in the 1996 "Citation Challenge" – his successful attempt to tie Citation's record of 16 consecutive races.
And there was Duchossois, ever-present at the track, mingling with millionaires and factory workers alike. He doubled as a horse owner and breeder at his Hill 'n Dale Farm in Barrington Hills, Ill.
Duchossois could be ruthless
Even with the kindly uncle persona to fans at his track, Duchossois could play for keeps. He shut down Arlington Park in 1998-99 over a dispute with Illinois legislators. Understandably concerned about the competition from riverboat casinos, Duchossois wanted the state's legislators to add casino-style games to racetracks.
When this happened in 2018, Churchill Downs passed on the opportunity to bid for a license. That led to Arlington Park's eventual closure. By then, the track had lost some of its luster, the victim of creeping neglect from CDI.
Duchossois was born in Chicago on Oct. 7, 1921. He graduated from Morgan Park Military Academy and Washington & Lee University before his induction into the Army. That provided Duchossois a much more difficult template on which to build his considerable leadership skills.
He took part in five major European campaigns
He commanded a tank destroyer battalion in Gen. George Patton's Third Army. He fought at D-Day, the Battle of the Bulge, and in three other major engagements, earning two Bronze Stars and a Purple Heart after being badly wounded.
Duchossois is survived by his second wife Mary Judith, his son Craig, daughters Dayle (Fortino) and Kimberly, and numerous grandchildren and great-grandchildren. His first wife, Beverly, died of cancer in 1980. That prompted Duchossois to donate $21 million to the University of Chicago for an outpatient medical center.