A powerful, late winter storm wiped out Saturday racing cards at several Midwest and Eastern tracks, most notably New York's Aqueduct, Maryland's Laurel Park and West Virginia's Charles Town.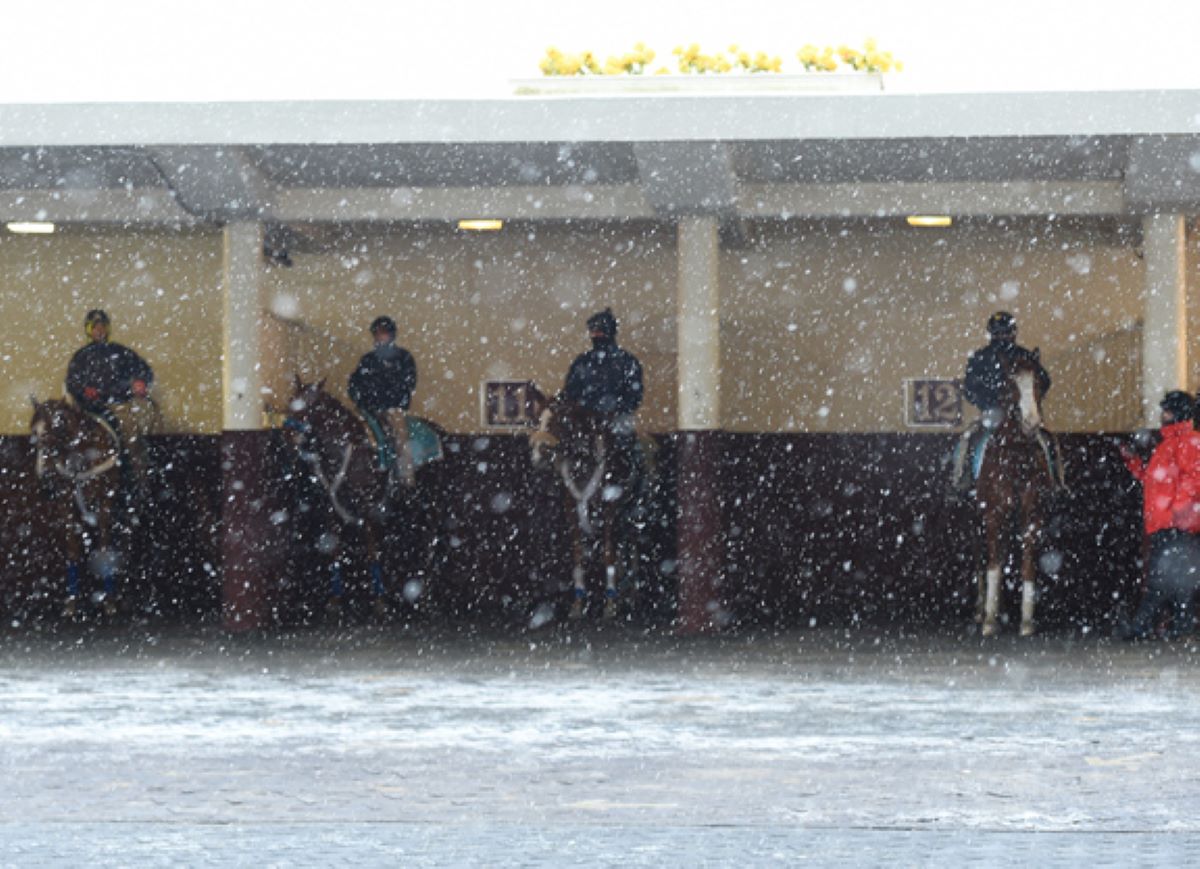 That explains why horseplayers can't bet those races on their ADWs. The storm already claimed Turfway Park in Kentucky's last five Friday races and Remington Park's entire Friday card. The Oklahoma track currently runs Quarter Horses.
The effects of the storm could be seen Friday at Oaklawn Park. Horses raced through the leading edge of that storm and the accompanying snow flurries. With the Grade 2 Azeri headlining the 10-race card, that track changed its track ratings to good for all 10 races today.
The New York Racing Association issued a statement that said the storm came with snow, sustained high winds and gusts up to 50 mph. With that, NYRA canceled a card headlined by the $100,000 Correction Stakes. That race will be rescheduled for Saturday, March 19.
Storm doesn't cancel simulcasting at the Big A, Maryland tracks
NYRA said it plans resuming Sunday with a nine-race card headed by the $100,000 Damon Runyon. In its statement, NYRA said Aqueduct will remain open for simulcasting.
The Maryland Jockey Club scrubbed Laurel Park's nine-race Saturday slate. It issued a statement citing the National Weather Service's forecast of heavy snow at a rate of 1-to-2 inches per hour, with accompanying gusty winds battering the Baltimore/Washington area.
The MJC said it plans to return to live racing Sunday with a new, nine-race card. The featured race is the eighth: a stakes-quality allowance sprint for fillies and mares 4-and-up. The ones to watch are multiple stakes winner Dontletsweetfoolya and even-money favorite Princess Kokachin.
Meanwhile, the MJC said Laurel, Pimlico, Rosecroft and the MJC OTB Network remain open for simulcasting.
Charles Town issued its statement scrapping its Saturday card "due to the effects of the winter weather having moved through the region." That track plans resuming Wednesday night.