Another dog-heavy week during NFL Week 2 in which both Drew Brees (thumb) and Ben Roethesberger (elbow) went down with a major injury.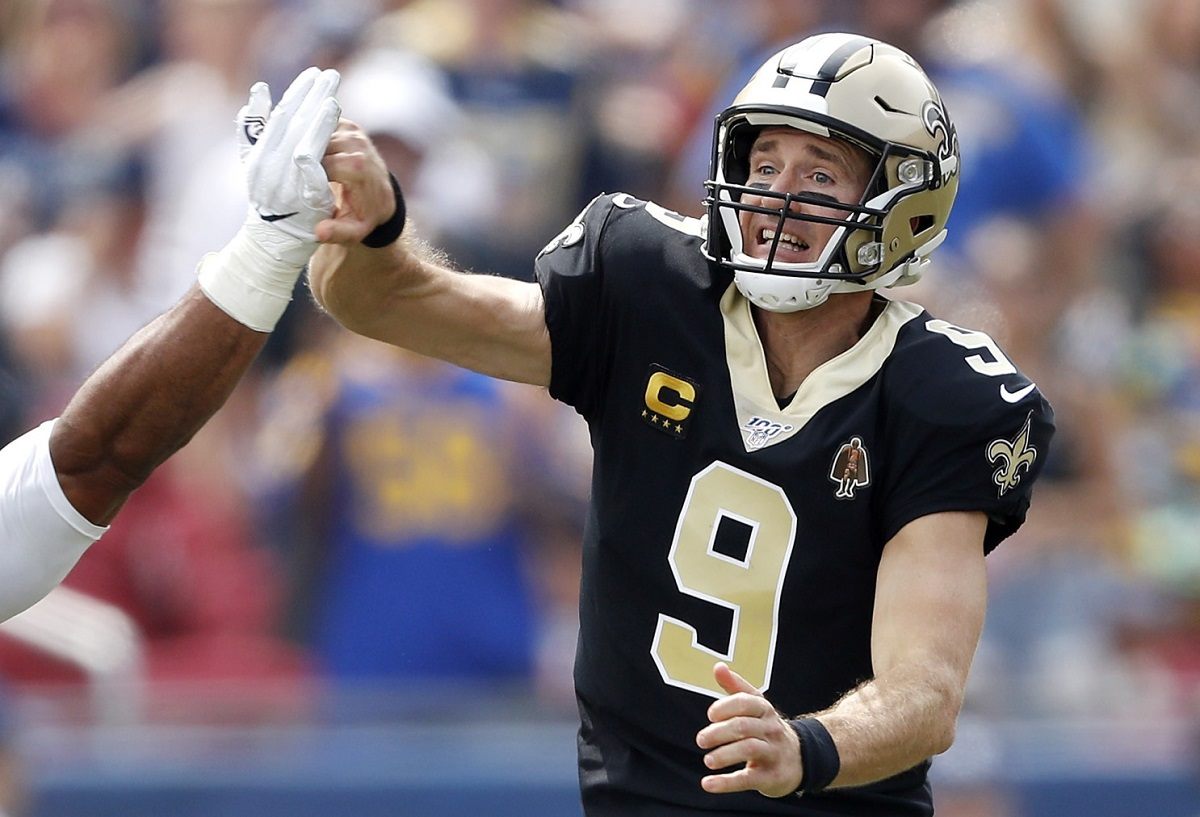 Underdogs went 9-7 against the spread and that's including a pair of easy victories for the Kansas City Chiefs and New England Patriots, plus a Monday Night game in which the New York Jets had zero chance against the Cleveland Browns. Over the first two weeks of the season, underdogs went 19-12-1.
At the end of Week 2, only 9 teams remained undefeated while 9 teams went 0-2. Since 1990, less than 15 percent of NFL teams advance to the playoffs after starting the season 0-2, so it looks like nine teams already set themselves on a course for disaster.
With Drew Brees and his thumb down for at least six weeks while recovering from surgery, the Los Angeles Rams are the team to beat out of the NFC. Then again, the NFC South is wide open without a true threat to the Saints. If Teddy Bridgewater can keep the Saints afloat until Brees returns, then the Saints still look good for a division title.
In the AFC, the Mahomes Machine rolls on without Tyreek Hill. Mahomes found a new favorite target with WR Demarcus Robinson (2 TD) in a breezy victory over Jon Gruden and the Oakland Raiders. The New England Patriots improved to 2-0 after the tanking Miami Dolphins did not offer much resistance to Tom Brady and the Pats.
The Pats are 3/1 odds favorite to win the next Super Bowl. The Chiefs are 7/1 odds to win the Super Bowl. The Saints slipped to 14/1 odds and that's only because Drew Brees is scheduled to return in less than 6 weeks.
BLOWOUTS: Jimmy G, Tommy Boy, and JG
New England Patriots 43, Miami Dolphins 0… Bill Belichick let Tom Brady's wife call the plays against the tanking Dolphins. Even a Brazilian model who knows more about soccer than football can destroy a team that follows the opposite philosophy of Herm Edwards. The Fins play to lose the game.
San Francisco Niners 41, Cincinnati Bengals 17… The Bungals were actually a 1-point favorite at home against the high-octane Niners this game. Niners QB Jimmy G looked like a guy who could replace Tom Brady at any moment. Niners WR Deebo Samuel looked good in his second pro game.
LA Rams 27, New Orleans Saints 9… Even with Drew Brees and a fair officiating crew, the Saints would have been hard-pressed to win this rematch of the 2019 NFC title game. Once Brees went down with a thumb injury, the Saints were toast. The Rams exploded for 21 points in the second half when Jared Goff threw a TD and rushed for another.
SCATTERED, SMOTHERED, AND COVERED: Monsters of Lambeau
Green Bay Packers 21, Minnesota Vikings 16… Maybe Aaron Rodgers just likes arguing with his head coach? Then again, the Packers do not have to rely 100% on A-Rod now that they have a pretty gnarly defense that allows only 11 points per game.
Buffalo Bills 28, New York Giants 14… The Bills Mafia are going berserk with a 2-0 record. As Josh Allen said, the Bills are the only team in New York (State), but at this point even Giants and Jets fans are willing to jump ship and root for the undefeated Bills.
Dallas Cowboys 31, Washington Redskins 21… Dak Prescott was a one-man wrecking crew with 3 passing touchdowns and 69 rushing yards. Zeke Elliot shook off the rust for 120 total yards and a score. Washington rookie WR Scary Terry McLaurin eluded the Cowboys secondary with 5 catches for 62 yards and a touchdown.
Kansas City Chiefs 28, Oakland Raiders 10… To think the Raiders were up 1-7 at one point before the Chiefs posted 21 unanswered points. Patrick Mahomes is making rookie Mecole Hardman look like an All-Pro wideout while filling in for Tyreek Hill.
Cleveland Browns 23, New York Jets 3… The #LOLJets looked awful with backup QB Trevor Siemian replacing mono-afflicted Sam Darnold. Siemian went down with an ankle injury (out for the rest of the season) and Adam Gase tapped an unknown QB to guide his intricate offense. Too bad the Jets have just 19 points and only one offensive touchdown in two weeks.
HOME DOGS: D Shows Up in the Big D, Pineiro Chitown Star
Detroit Lions 13, LA Chargers 10… After letting a rookie QB tie them last week, the Lions defense made several big plays in crunch time against a good Chargers squad. Matt Stafford (2 TD) outgunned Phil Rivers to push the Lions to 1-0-1.
Chicago Bears 16, Denver Broncos 14… The Broncos almost pulled off a big win at home until Eddy Pineiro kicked a 53-yard game winning FG as time expired. Pinerio went 3-for-3 on FGs and Da Bears finally found a consistent kicker… for now. The Bears improved to 2-0, but the Donkeys covered as a small home dog.
Atlanta Falcons 24, Philadelphia Eagles 20… The Falcons picked off the sluggish Eagles, who could not establish a running game. Philly also lost DeSean Jackson to a stomach muscle pull and Alshon Jeffrey is also out. Julio Jones looked like his old self with 5 catches, 106 yards, and two scores in the victory.
ROAD DOGS: Remember Russell and Luck Who?
Seattle Seahawks 28, Pittsburgh Steelers 26... So much for the run-happy Seahawks. Russell Wilson (29-35, 300 yards) aired it out for three touchdowns including two to TE Will Dissly. Big Ben went down with season-ending elbow surgery.
Indianapolis Colts 19, Tennessee Titans 17… The AFC South is still wide open after the Colts and Jacoby Brissett (3 TD) shocked the Titans in Tennessee. The Colts one-two punch ground attack with Mack/Wilkins provided 134 rushing yards.
Check out more Quickie NFL Recaps and Hemingway Reports.