Carolina Panthers star RB Christian McCaffrey scored three touchdowns and looked unstoppable in a victory against the Jacksonville Jaguars. The Panthers won their first home game of the season. Through five weeks of the NFL season, visiting teams have been winning at an impressive clip of 56 percent. In Week 5, NFL road teams went 8-6 straight up (excluding the London game), and underdogs went 7-8 against the spread.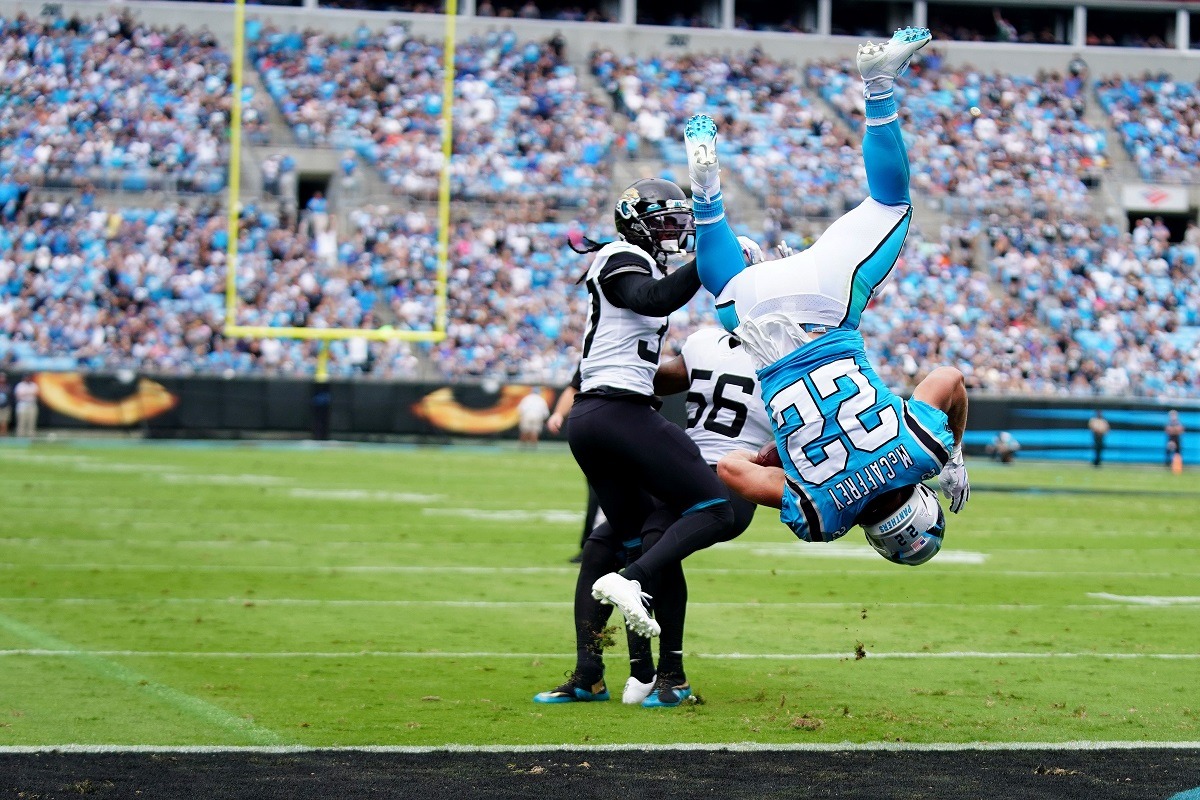 Road teams are 42-34-1 in the NFL this season, winning 55.9 percent of the overall games. In 2018, NFL road teams won 39.8 percent of all games.
Historically, it's flipped because home teams typically win 55 percent in the NFL. Since 2010, home teams won 57.2 percent of their game versus 44.1 percent this season.
At the end of Week 5, only the New England Patriots (5-0) and San Francisco 49ers (4-0) remained unbeaten. Four teams continued to fight for an 0-16 record, with the NY Jets, Cincy Bengals, Miami Dolphins, and Washington Redskins all seeking their first win of the season. Patrick Mahomes looked human after spraining his ankle, while Christian McCaffrey is running away with the MVP after a sick week.
RAMS LOSE BACK-TO-BACK
Seattle Seahawks 30, LA Rams 29… The Seahawks (4-1) won a tough division game on Thursday Night Football. Russell Wilson (268 yards, 4 TD) came out ahead in this shootout with Jared Goff (395 yards, 1 TD). Todd Gurley scored twice, but only rushed for 51 yards. The Rams have now lost two in a row after being outscored 85-69. McVay has a little extra time to prep for when the first place Niners fly down to LA for a Week 6 skirmish.
A-JONES LIGHTS UP THE JERRY DOME
Green Bay Packers 34, Dallas Cowboys 24… The Packers (4-1) are undefeated on the road (2-0) after an impressive victory in Dallas against the Cowboys (3-2), who have now dropped two in a row in the Jerry Dome. RB Aaron Jones had a career day with four rushing touchdowns and 182 combined yards (107 rushing yards plus seven receptions for 75 yards).
With his 4️⃣th touchdown, @Showtyme_33 ties the #Packers franchise record for number of rush TDs in a single game.#GBvsDAL | #GoPackGo pic.twitter.com/uZu2TU3eu9

— Green Bay Packers (@packers) October 6, 2019
MORTAL MAHOMES
Indianapolis Colts 19, Kansas City Chiefs 13… The Colts (3-2) took advantage of a banged-up Kansas City (4-1) squad, including Mahomes, who rolled his ankle once again. A gimpy Mahomes looked human and the depleted Chiefs coudln't fend off the visiting Colts on Sunday Night Football. RB Marlon Mack rushed for 132 yards and a score, and the Colts out-rushed KC 180-36  to hand Mahomes and company their first loss of the season. The road team secured another win the NFL Week 5.
TEDDY FOOTBALL
New Orleans Saints 31, Tampa Bay Bucs 24… The Saints (4-1) improved to 3-0 at the Superdome after a big NFC South win. Teddy Bridgewater (314 yards, 4 TD) hasn't looked this sharp since he blew out his knee. WR Mike Thomas (11 catches, 182 yards, 2 TD) posted his best game of the season.
CMAC CAT ATTACK
Carolina Panthers 34, Jacksonville Jaguars 27… Gardner Minshew (374 yards, 2 TD) got multiple chances to send this game into overtime, but the rookie couldn't get it done. Backup QB, Kyle Allen, won another game as the Panthers improved to 3-2. His job was easy thanks to Christian McCaffrey. The RB looked like a Marvel character as he posted a career fantasy day with three TDs and 237 combined yards. McCaffrey is the consensus pick for MVP through the first quarter of the season.
HE FLIPPED INTO THE ENDZONE?!@run__cmc | #KeepPounding pic.twitter.com/Hi3JBq2a9Z

— Carolina Panthers (@Panthers) October 6, 2019
SAY IT TO ME SANTOS
Buffalo Bills 14, Tennessee Titans 7… The Bills (4-1) and their third-ranked D went on the road and stuffed the Titans. They held Derrick Henry to only 78 yards. Josh Allen threw two touchdowns after bouncing back from a nasty hit against the Patriots. The NFL is a rough business; the Titans cut Brazilian kicker Cairo Santos after he missed four field goals in Week 5.
EASY COVERS
Philadelphia Eagles 31, NY Jets 6… The #LOLJets got crushed in a Philly beatdown. The hapless Jets (0-4) could not score once again, even with an extra week to prep for the Eagles (3-2). Philly easily covered the 14-point spread.
New England Patriots 33, Washington Redskins 7… Crazy to think the Skins were up 7-0 before reality sunk in. The Skins fell to 0-5 and finally put Jay Gruden out of his misery. The Pats are a perfect 5-0 ,and beat up on another fish.
Houston Texans 53, Atlanta Falcons 32… The Texans (3-2) lit up a bad Falcons team (1-4). Hope you had a lot of Texans on your fantasy football team. DeShaun Watson (426 yards, 5 TD) posted a perfect passer rating and looked like he was playing Madden. WR Will Fuller hauled in a career-day with 217 yards and three touchdowns.
Not one, not two, but three!@Will_Fuller7 | #ATLvsHOU pic.twitter.com/BiJD00uK3R

— Houston Texans (@HoustonTexans) October 6, 2019
RUN LIKE THE NINERS OUT OF CONTROL
San Francisco Niners 31, Cleveland Browns 3… Jimmy G tossed two touchdowns, and the high-octane Niners (4-0) remained unbeaten in an easy victory over the overrated Browns (2-3) on Monday Night Football. The Niners generate the second-best offense in the NFL with 31.8 points per game. Their stifling defense looked sharp coming off a bye week. SF's D is now ranked #4 in the NFL, allowing only 14.3 points per game. The Niners D manhandled Baker Mayfield (8-for-22 for 100 yards, 0 TD, 2 INT). The Browns' porous rushing D allowed 275 rushing yards, and they couldn't stop the Niners one-two punch with Matt Breida (114 yards, 1 TD) and Tevin Coleman (97 yards, 1 TD). The Niners easily covered and improved to 3-1 ATS.
ANOTHER QB DOWN
Baltimore Ravens 26, Pittsburgh Steelers 23… The Steelers lost another QB when backup Mason Rudolph got knocked unconscious on a play. He had to walk off the field because the medical cart was busto. That sums up the Steelers (1-4) season in a nutshell. The Ravens (3-2) won a big division game to remain in first place in the AFC North.
SILVER AND BLACK IN THE UK
Oakland Raiders 24, Chicago Bears 21… Chucky and the Raiders (3-2) won the first London game of the season during NFL Week 5. The Bears (3-2) were hibernating at the start, and in the hole 17-0. By the time Da Bears finally woke up, they scored 21 points in the third quarter. The Raiders pulled off the comeback win thanks to rookie RB Josh Jacobs (123 yards, 2 TD).
MILE HIGH WEST
Denver Broncos 20, LA Chargers 13… The Broncos (1-4) finally won a game thanks to RB Phillip Lindsay (147 combined yards, 1 TD). The Chargers were playing at home in front of a boisterous Broncos crowd. The venue should have been called "Mile High West". Phil Rivers had a bad game, and the Broncos D thwarted Melvin Gordon and the Chargers rushing attack.
VIKES CRUSH G-MEN
Minnesota Vikings 28, NY Giants 10… The road team locked up another win, and Giants QB Daniel Jones looked like an NFL rookie (21-for-38 with a pick and 4 sacks). Vikes QB Kirk Cousins bounced back from a horrible Week 4. Good Kirk threw for 302 yards, including two touchdowns to Adam Theilen. Cousins and Theilen are BFFs again. Dalvin Cook also ran for 132 yards on only 21 rushes, and added 86 receiving yards for 218 combined yards.
DEGEN GAME OF THE WEEK
Arizona Cardinals 26, Cincy Bengals 23… Someone had to win this battle of winless teams in NFL Week 5. The Bungals (0-5) couldn't stop rookie Kyler Murray. He rushed for 93 yards and a touchdown, and went 2-for-32 for 253 yards and no interceptions. Zane Gonzalez nailed four FGs to help lock up Arizona's first win of the season.
For more installments of the Hemingway Report, click here to read weekly NFL recaps.