Oleksandr Usyk came into his heavyweight title bout against Anthony Joshua as an underdog, but a live one who represented a real threat to the WBA, WBO, and IBF champion. After winning convincingly, Usyk proved that he belongs near the top of the heavyweight boxing rankings.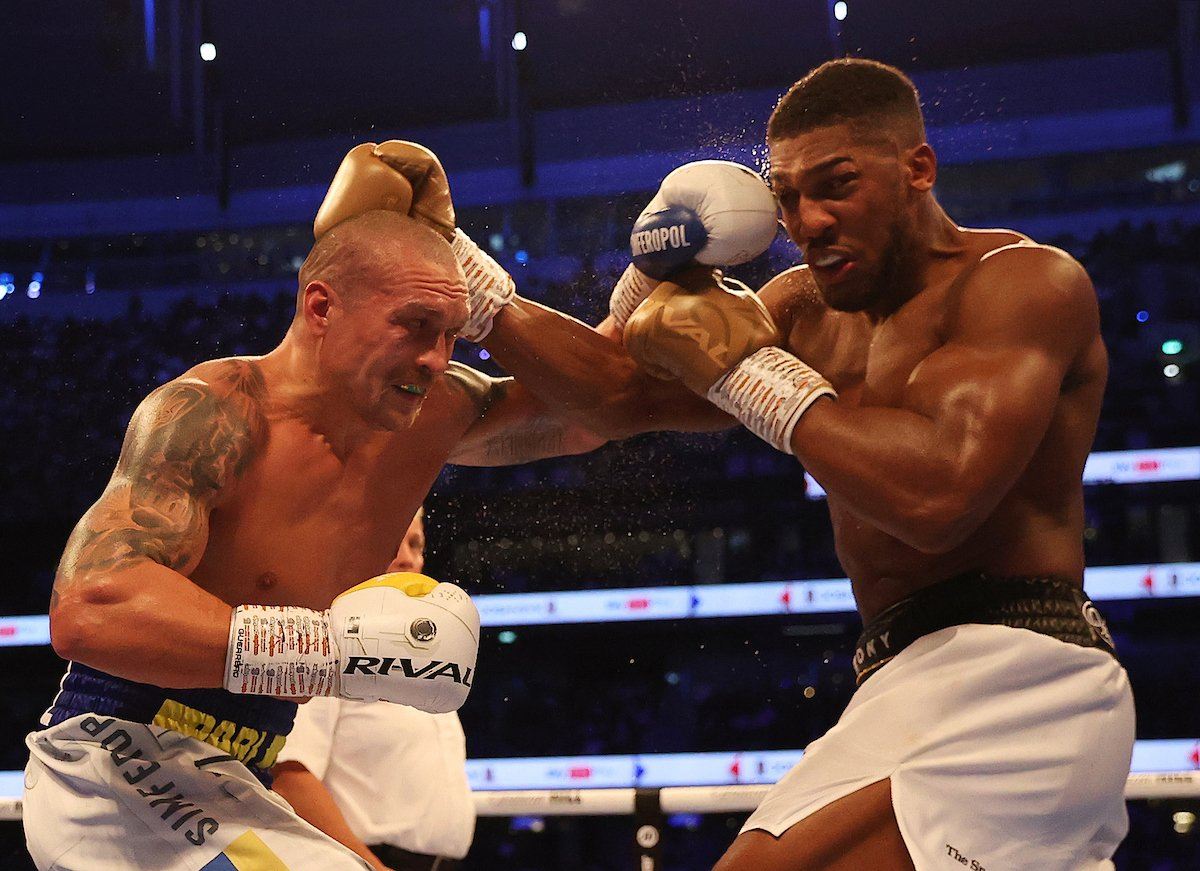 But exactly where does the Ukrainian sit in my latest top 10 for boxing's premier division? Here's a look at my heavyweight boxing rankings, beginning with the two men who now seem destined to eventually unify their titles.
1: Tyson Fury (30-0-1, 21 KOs)
Signature Wins: Deontay Wilder (2020), Wladimir Klitschko
Draw: Deontay Wilder (2018)
So much for that unification bout against Joshua. Fury holds the lineal and WBC heavyweight titles, but hasn't fought since his impressive win over Deontay Wilder in February 2020. Those two will fight for the third time in just a couple of weeks. If Fury can win, it will largely clarify the heavyweight division. If Wilder returns the favor and beats the champion, we may have a chaotic situation at the top. For now, the undefeated Fury looks the best and has the biggest win without a loss, so he stays at No. 1.
2: Oleksandr Usyk (19-0, 13 KOs)
Signature Win: Anthony Joshua
Usyk followed in the footsteps of Evander Holyfield, becoming the latest cruiserweight legend to step up to the heavyweight division and immediately make his mark. While Usyk didn't finish Joshua, he rocked the former champion on his way to an easy decision win. Usyk looked like the faster and more skilled fighter, while Joshua's size advantage made little difference. A Usyk vs. Joshua rematch appears all but certain and could be a sort of semifinal toward eventual heavyweight unification.
3: Deontay Wilder (42-1-1, 41 KOs)
Signature Wins: Luis Ortiz (2018, 2019), Gerald Washington
Loss: Tyson Fury (2020)
Like Fury, Wilder has remained inactive since their 2020 fight, spending much of that time trying to secure a rematch he argued he deserved. Wilder will get that shot on Oct. 9 in Las Vegas, with the chance to throw himself right back in the conversation as the top fighter in the heavyweight division. Wilder gave plenty of excuses for his knockout loss to Fury nearly 18 months ago; we'll soon see if the American can get revenge in the trilogy bout.
4: Anthony Joshua (24-2, 22 KOs)
Signature Wins: Andy Ruiz Jr. (Dec. 2019), Alexander Povetkin, Wladimir Klitschko, Dillian Whyte
Losses: Andy Ruiz Jr. (June 2019), Oleksandr Usyk
It is tempting to place Joshua further down this list. He doesn't hold a win against any of the fighters above him and has now lost his heavyweight titles twice via upsets. But Joshua has won plenty of big fights as well, and he would only be a minor underdog to any of the top three – and favored against anyone else on this list. In my mind, that means he belongs right here at No. 4. His next fight will almost certainly be the contractually mandated rematch with Usyk, and a win there could still allow him to fight Fury (or Wilder) for the unified title.
5: Dillian Whyte (28-2, 19 KOs)
Signature Wins: Dereck Chisora (2016, 2018), Joseph Parker, Alexander Povetkin (2021)
Losses: Anthony Joshua, Alexander Povetkin (2020)
There's a bit of a gap between Joshua and the rest of this list, but Whyte deserves to land in the top five. Whyte bounced back from his knockout loss to Alexander Povetkin with an equally impressive victory in the rematch, stopping the aging Russian in the fourth round. Whyte probably needs a couple of marquee wins before he gets another shot at one of the true championship contenders. A December bout against Otto Wallin – who gave Fury a battle and most recently beat Dominic Breazeale – probably has more upside for the Swede, though it's enough of a test that Whyte will get credit should he win.
6: Andy Ruiz Jr. (34-2, 22 KOs)
Signature Wins: Anthony Joshua (June 2019)
Losses: Joseph Parker, Anthony Joshua (Dec. 2019)
7: Joseph Parker (29-2, 21 KOs)
Signature Wins: Andy Ruiz Jr., Dereck Chisora
Losses: Anthony Joshua, Dillian Whyte
8: Luis Ortiz (32-2, 27 KOs)
Signature Wins: Christian Hammer, Tony Thompson, Bryant Jennings
Losses: Deontay Wilder (2018, 2019)
9: Michael Hunter (20-1-1, 14 KOs)
Signature Wins: Martin Bakole, Sergey Kuzmin
Draw: Alexander Povetkin
Loss: Oleksandr Usyk (at Cruiserweight)
10: Joe Joyce (13-0, 12 KOs)
Signature Wins: Carlos Takam, Daniel Dubois, Bryant Jennings