Game 3 of the Eastern Conference Finals between the Miami Heat and Boston Celtics has plenty of individual player scoring prop bets including over/under on made 3-pointers. We targeted 3-pointers totals for Grant Williams and Tyler Herro, and scoring prop bets for Jayson Tatum, Jaylen Brown, and Jimmy Butler.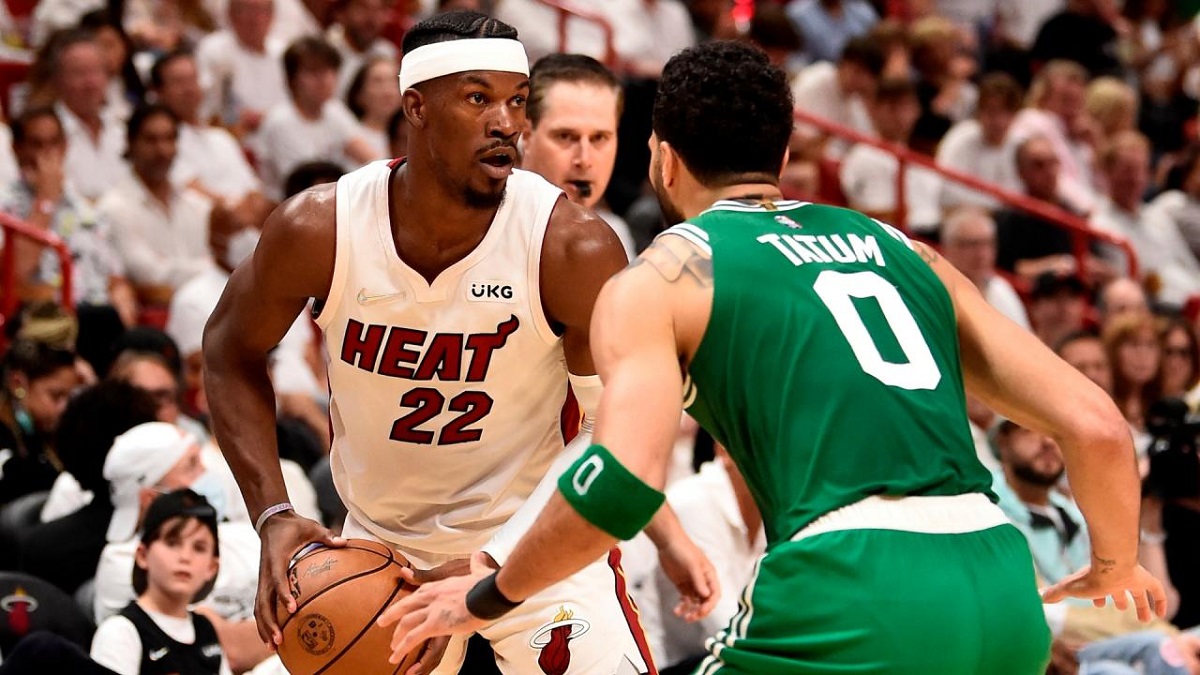 The Boston Celtics host Game 3 at their home court at TD Garden. They split the first two games on the road in Miami after the Heat won Game 1, but the Celtics cruised to a victory in Game 2. With the series tied at 1-1, winning Game 3 will provide either team a leg up.
The Heat could have Kyle Lowry in the lineup for the first time this series. The Heat starting point guard missed the last four games, including the first two games of the Eastern Conference Finals, with a hamstring injury. Lowry is currently listed as questionable, but he's a game-time decision.
PJ Tucker exited Game 2 with a knee contusion. The wily veteran insists that he's playing in Game 3, but he's also currently listed as questionable on the injury list and will also be a game-time decision.
Game 3 Scoring Prop Bets: 3-Pointers
Jayson Tatum 3.5 o/u… Tatum has been feast or famine from 3-point range in the playoffs. He connected on four-plus treys in seven out of 13 postseason games. Tatum knocked down four or more 3-pointers in three out of his last four games. If you think Tatum has a monstrous scoring performance in Game 3, he'll most likely have a hot shooting night from deep.
Jaylen Brown 2.5 o/u… Brown knocked down four treys in each of the first two games against the Heat. He's shooting 53.3% from deep this series. Brown shot 43.8% from downtown against the Milwaukee Bucks on 21-for-48. We like Brown to connect on more than 2.5 3-pointers, which has -150 odds (versus +125 for the under).
Grant Williams 1.5 o/u… Williams posted two outstanding sharpshooting performances against the Bucks with six treys in Game 2 and seven 3-pointers in Game 7. He tends to hit all his treys in big bunches. He hit one or fewer treys in five out of his last seven games, including Game 2 when he was a perfect 2-for-2 from behind the arc. If the Heat double-team Tatum or Brown, expect a wide-open Williams to take advantage of the situation.
Tyler Herro 1.5 o/u… Herro won the NBA Sixth Man of the Year, but his scoring is down in the postseason, especially 3-pointers. He averaged 20.7 ppg in the regular season, but less than 14 ppg in the playoffs with a 25.4% success rate from downtown. He's been ice cold in his last five games on a 2-for-17 clip for 11.7%, and zero treys thrice. Herro is due for a breakout game, which we've been saying for the last two weeks.
Game 3 Scoring Totals: Butler, Tatum, Brown
Jimmy Butler 27.5 o/u… Jimmy Buckets returns. Butler averages 29.8 ppg in the playoffs, but he's averaging 35 ppg in two games against the Celtics, including 41 points in a Game 1 victory. Butler knows the Heat play their best game when they share the rock and he doesn't have to shoulder the scoring burden. If Lowry plays, then the offense will not have to run through Butler on every possession.
Jayson Tatum 27.5 o/u… Tucker drew Tatum as his defensive assignment in this series, but it's unknown how effective he'll be with a sore knee. Tatum averages 28.2 ppg this postseason. He averaged 28 points in the first two games against the Heat. We're banking on the fact that Tatum will explode for 30-plus in the first home game for the Celtics this series, while taking advantage of a banged-up Tucker.
Jaylen Brown 23.5 o/u… Brown averages 22.5 ppg this postseason, but he scored 24 points in each game against the Heat. If Tatum has a big game, Brown's points won't be as high. So, whatever you do with Tatum, you should go the opposite way with Brown.
Check out more coverage of the 2022 NBA Playoffs.