The Green Bay Packers (14-3) nearly blew a 21-3 lead, but held on to defeat the Seattle Seahawks (12-6) 28-23 in the NFC divisional playoffs round. The Packers advanced to the NFC Championship next Sunday against the San Francisco 49ers.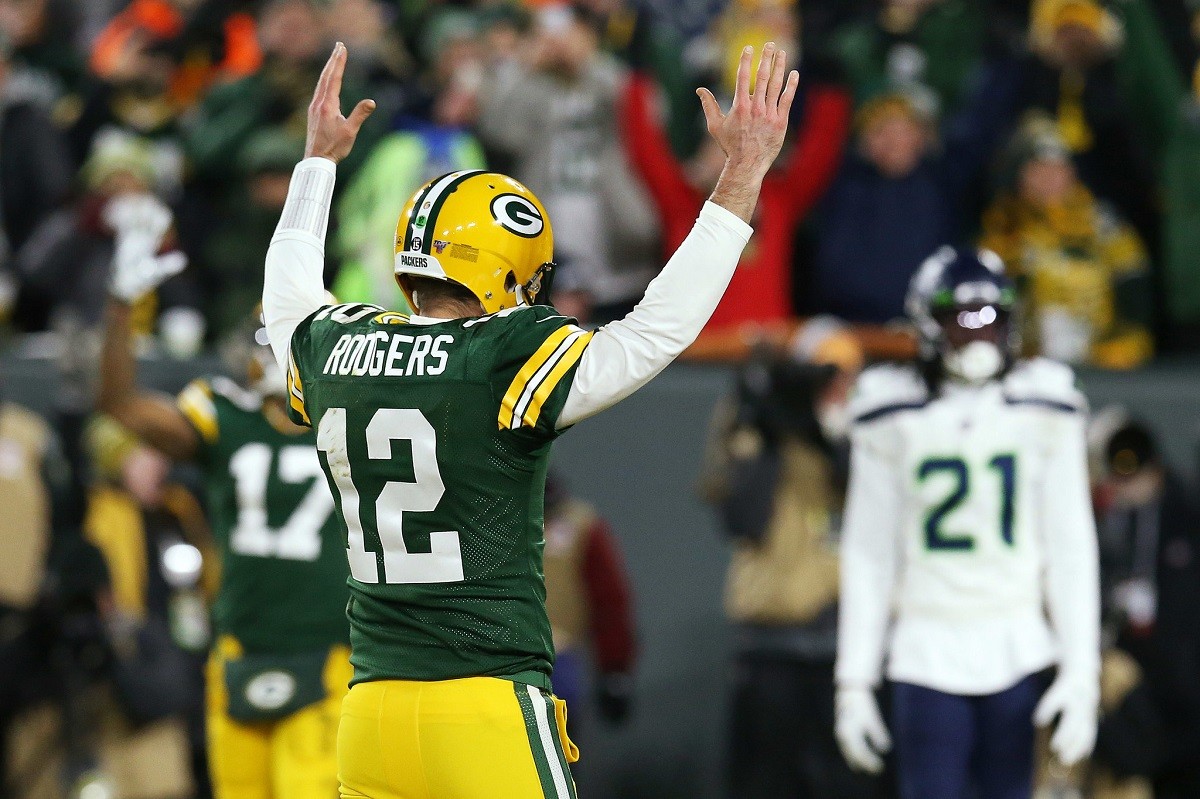 Aaron Rodgers hooked up with his favorite target, Davante Adams, for eight receptions, including two touchdowns. Adams racked up 160 receiving yards.
"It's one of those feelings that starts to creep up in warmups, when you really feel like you're locked in, and I was glad it translated to the field," said Rodgers.
"He's definitely hungry for another Super Bowl," Adams said about Rodgers. "He deserves it, so we're doing everything in our power to put him in that position."
The NFL playoffs continue on Sunday, Jan. 19 when the #2 seed Packers fly out to the Bay Area to play the top-seeded San Francisco 49ers. The Packers are 6/1 odds to win the Super Bowl, according to William Hill. Meanwhile, the Niners are the favorites to win Super Bowl LIV at 3/2 odds.
Whiskey Tango Foxtrot, Ground and Air Attack
Rodgers finished the game 16-for-27 with 243 yards and two touchdowns. He didn't turn the ball over, and got sacked only twice.
"Every time I looked up, he was making somebody miss in the pocket, creating and extending plays," said Packers head coach Matt LaFleur. "That's what he's done his whole career."
Green Bay running back, Aaron Jones, only rushed for 62 yards and 21 carries, scoring two touchdowns in the first half to propel the Packers to a 21-3 halftime lead.
Wow, 1️⃣7️⃣‼️#SEAvsGB | #GoPackGo pic.twitter.com/l2P3eFGKWN

— Green Bay Packers (@packers) January 13, 2020
Tight end Jimmy Graham is the only player on the Packers, aside from Adams, who recorded more than one reception. Graham made three catches for 49 yards, including a controversial first-down catch late in the game. Seahawks head coach, Pete Carroll, thought the officials screwed his team on the spot of the ball. Carroll believed his defender tackled Graham short of the first down marker. Replays indicated it was a bang-bang play.
Beastmode Roars, But Comeback Fell Short
Despite being down 18 points at halftime, the Seahawks rallied back and scored 20 points in the second half. Alas, their comeback fell short in the fourth quarter.
The Seahawks couldn't get the running game going outside of Russell Wilson. Wilson led the Seahawks with 64 rushing yards on seven carries.
Marshawn Lynch, who came out of retirement at the end of the season to replace injured starter Chris Carson, rushed 12 times for only 26 yards. Lynch still managed to find the end zone twice with two rushing touchdowns.
Tyler Lockett caught nine passes for 136 yards and a touchdown. Wilson finished the game with 21-for-31 passing for 277 yards and one touchdown. He didn't turn the ball over, but the offensive line allowed five sacks.
"We made it exciting," said Wilson. "We just wish we would have left here with a win."
The Seahawks saw their losing streak at Lambeau Field extended to nine games. They haven't won in Green Bay since November, 1999.