Giannis Antetokounmpo scored a career-high 35 points, but the Greek Freak and the Milwaukee Bucks were stunned by the Phoenix Suns 115-113.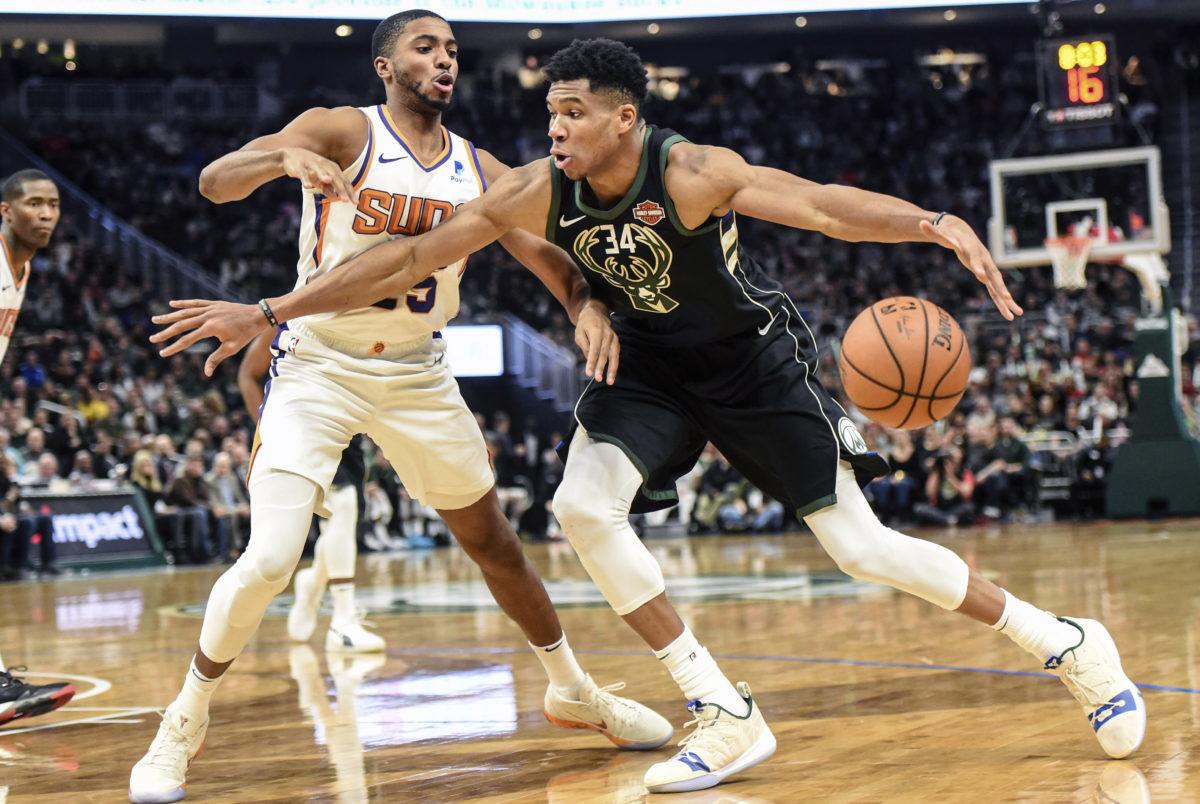 The 35-point outburst occurred a game after Antetokounmpo, the NBA's next superstar, set a new career-high with 33 points against the Portland Trailblazers. The Greek Freak is in the middle of a mini-heater with 68 points in his last two games, consecutive 30-10 games, and four double-doubles in a row.
Sun King
The Phoenix Suns visited Milwaukee as the second-worst team in the NBA. The Suns caught the Bucks sleepwalking after the holidays by stealing a two-point victory 115-113. Veteran shooting guard Jamal Crawford hit a jumper with 0.8 second remaining to put the Suns ahead.
"We've got to be able to come out with more energy, especially with a team like that," Antetokounmpo said. "When you play around with a game, the game kills you."
The very-young Suns squad finally won their fourth game of the season. Devin Booker led the Suns with 29 points.
Antetokounmpo scored 35 points and threw down nine thunderous dunks in a losing cause against the Suns. He broke a career-high he set two nights earlier.
The Bucks at 13-5 still maintain the second-best record in the Eastern Conference. The Bucks started the season as 80-1 favorites to win the NBA Championship. According to the South Point Casino in Las Vegas, the odds for the Bucks drastically improved to 10-1 to win the NBA title this season.
Blazed Blazers
Despite playing back-to-back nights, the Bucks blew out the Blazers on Thanksgiving Eve. It wasn't even close. When it ended, the Blazers suffered a 43-point shellacking. The Bucks won 143-100. That marked their thirteenth win in 17 games. The Bucks edged out the New York Knicks 118-114 the night before.
"We did the job tonight setting the tone for the entire team," Antetokounmpo said. "We know they were coming off a back-to-back, so we wanted to come out with energy and get an early lead."
The Greek Freak put on a heck of a show for the hometown crowd in Milwaukee. He scored 33 points and narrowly missed a triple double. The Freak finished with 16 rebounds and 9 assists. Khris Middleton added 21 points and 7 rebounds.
Antetokounmpo came out guns blazing and scored 25 points in the first half. He missed only 3 shots in 14 attempts from the floor.
The Bucks are finishing up a six-game homestand. They are currently 3-2 and host the San Antonio Spurs on Saturday night. The Spurs are struggling with a 9-9 record after trading away all star Kawhi Leonard to Toronto.