The Milwaukee Bucks narrowly won Game 3 of the Eastern Conference Semifinals to take a 2-1 series lead against the Boston Celtics thanks to 42 points from Giannis 'Greek Freak' Antetokounmpo.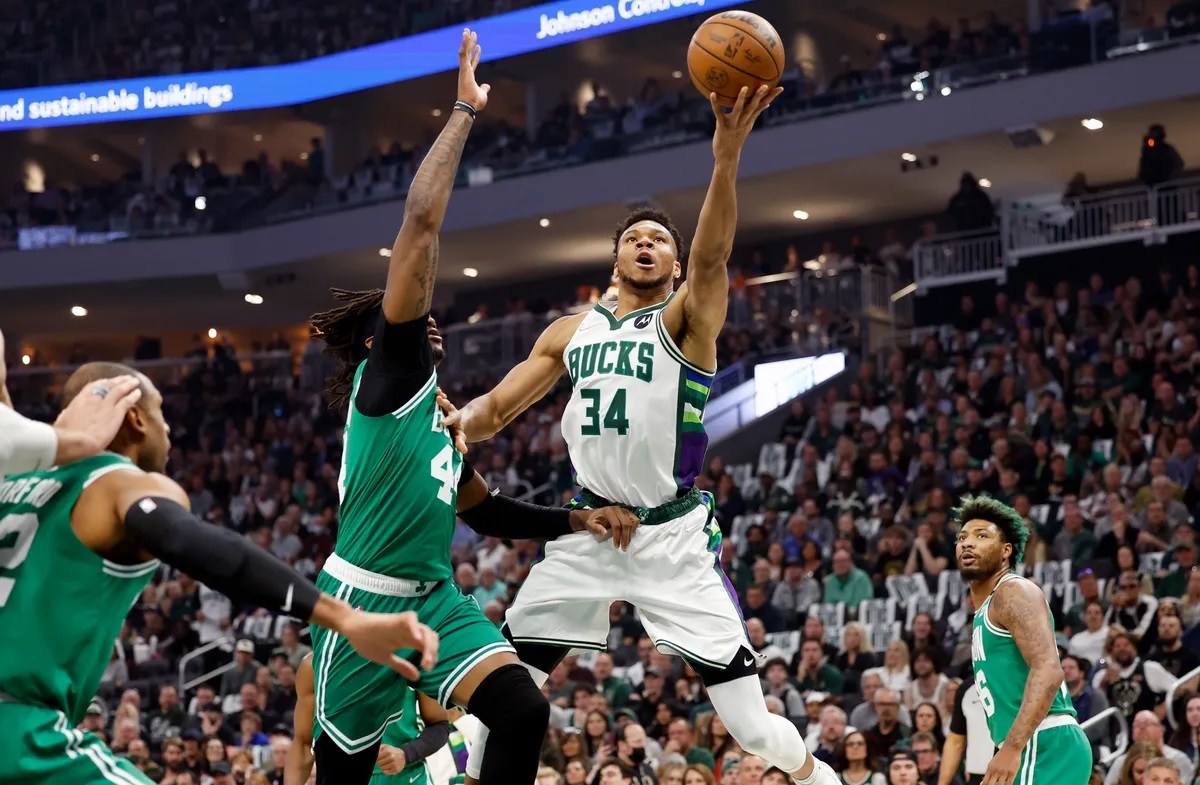 The Bucks edged out the Celtics 103-101 in Game 3, and Greek Freak missed a triple-double when he finished with 42 points, 12 rebounds, eight assists, two blocks, and two steals.
In Game 1, Greek Freak tallied a triple-double in a victory for the Milwaukee Bucks with 24 points, 13 rebounds, and 12 assists.
"He's so great just being mentally strong, even aside from all the on-court, statistical things he does," said teammate Brook Lopez. "He obviously has lots of guys being physical with them, throwing themselves at him when he's trying to get into his moves and make plays for himself and everyone else. He does a great job of just sticking with it, staying in the game and just keeping his mojo through all that."
In three games against the Celtics this series, Greek Freak averages 31.3 points, 11.3 rebounds, and 9.0 assists per game.
The Bucks regained control of the series with a 2-1 lead. The Bucks are the betting favorite at -160 odds to win the series, while the Celtics are +135 to rally from behind. With Game 4 slated for Monday night in Milwaukee, the Bucks opened as a -1 favorite.
Giannis has more 40-point playoff games than

Tim Duncan
Karl Malone
Charles Barkley
Amar'e Stoudemire
Larry Bird
Dominique Wilkins pic.twitter.com/YhocDOeGCE

— StatMuse (@statmuse) May 7, 2022
Greek Freak: Monstrous 42 Points
Greek Freak outplayed Jayson Tatum in Game 3. The Bucks harassed Tatum, who scored just 10 points in 41 minutes. Tatum shot 4-for-19 from the floor and missed all six of his 3-point attempts. It looked like Tatum suffered a wrist injury at some point, but he said it didn't alter his shooting.
"I was probably over-thinking a little bit too much," said Tatum. "It all comes down to I've got to make better reads."
In the first two games, the Celtics did a good job defending Greek Freak, who shot 38.5% from the floor while missing 32 shots. In Game 3, Greek Freak took 30 shots and hit 16 of them. He struggled from 3-point land with a 1-for-6 clip.
"I know what my strengths are," said Greek Freak. "Try to read what's in front of me and just play with my instincts. Sometimes I'm going to make the right play and sometimes I'm going to make the wrong play, but as long as I play within my strengths, we're going to be in a good place."
Although Greek Freak fared poorly at the free-throw line in the first two games shooting 11-for-20, he looked much more confident at the charity stripe connecting om 9-for-12 in Game 3.
"There's going to be struggles, but at the end of the day, if you keep with it and you stay with it and you stay on course, you're going to succeed," added Greek Freak. "If you don't stay on course, you're not going to succeed. It's as simple as that."
Check out more video highlights and other installments of NBA High Guys. Also, take a look at OG's extensive coverage of the 2022 NBA Playoffs.