The eight teams are set for the College World Series, which begins Saturday, and Vanderbilt and Arkansas are the 3/1 favorites. Vanderbilt was listed with UCLA as the 8/1 favorites before the Super Regionals. The Bruins were upset by Michigan, losing a chance to win its second title. It also shut out the west from the CWS. There is no team west of the Colorado Rockies, and only two are west of the Mississippi River.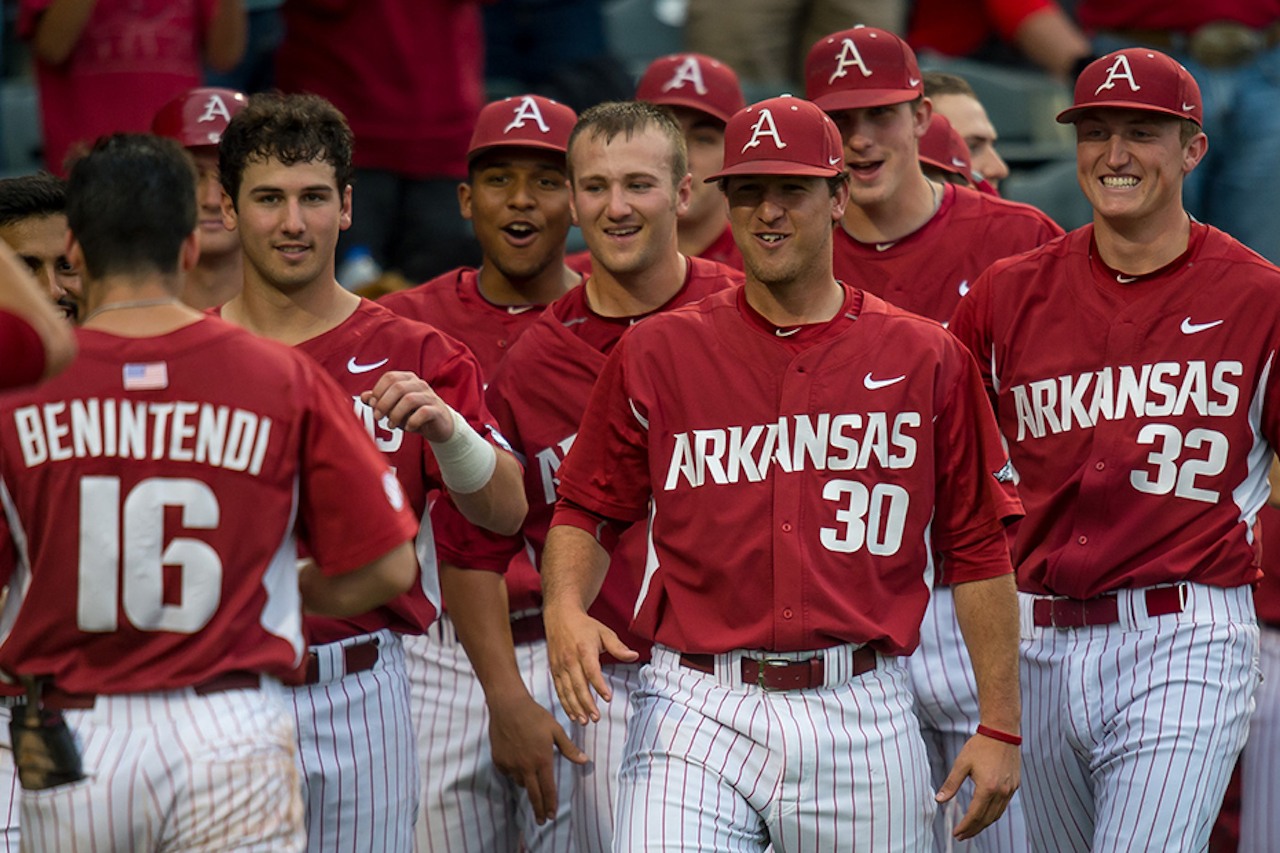 The SEC is dominating the tournament with Mississippi State and Auburn joining Arkansas and Vanderbilt. MSU is just behind the Razorbacks and Commodores at 4/1. The Tigers are with Florida State at 10/1.
Texas Tech and Louisville are 8/1, while Michigan is the underdog at 15/1. Wolverine manager Erik Bakich said his team has a new attitude after upsetting the No. 1 ranked Bruins to reach the CWS.
"But we're a completely different team since then. We're confident right now and that's probably the biggest change in us. We have a little bit more of an identity as a team, we figured out who we are and how we need to play to play our best."
Unfinished Business
Arkansas was one out away from winning the CWS last year, and ended up losing to Oregon State. That painful tournament has been motivation for the Razorback players that returned.
"It's just awesome to win that game three and send us back to Omaha this year," sophomore outfielder Heston Kjerstad said. "It's been a fun year with all the guys and you know it's taken everybody on the team. The whole roster. Everybody's contributed. That's why we're a team. It took a team effort and we're excited to get back to Omaha."
The team faces Florida State on Saturday, and is a -1.5-run favorite. They are also -195 on the moneyline, while the Seminoles are +165. FSU pitcher C.J. Van Eyk said they realize how good the Razorbacks are, but they just got done dispatching two other SEC teams in Georgia and LSU.
"These teams that we've ran through are definitely pretty good, and we know that we're going to see as good, if not better, competition in Omaha," Van Eyk said. "We're going to be ready for that."
Auburn Looking for Redemption
They didn't get to the CWS last year, but were so close, losing in the 11th inning in the Super Regional to miss a chance to return for the first time since 1997. Now that they are here, they aren't taking it for granted.
Especially since they lost a regular season series to the Bulldogs back in March. MSU lost the first game, then scored 35 runs in the next two. It is something that Tiger players haven't forgotten. They also aren't worried about facing another tough conference opponent. They are +195 underdogs, while MSU is -245.
"I think the biggest thing for us was not panicking," junior designated hitter Conor Davis said of the regular season struggles. "We knew what we had, we knew what we were capable of. The coaches kept us consistent, mindset-wise, and not panicking, not freaking out about anything. We knew that we had what we need to get to where we wanted to go, so we just kept being positive even through the lows of this season. We were trying to keep climbing no matter what."