The Gonzaga Bulldogs suffered a heartbreaking end to their season, losing to Baylor in the national championship game to end their quest for a perfect season. But oddsmakers still see the Zags as the team to beat when it comes to picking the winner of the 2022 NCAA Tournament.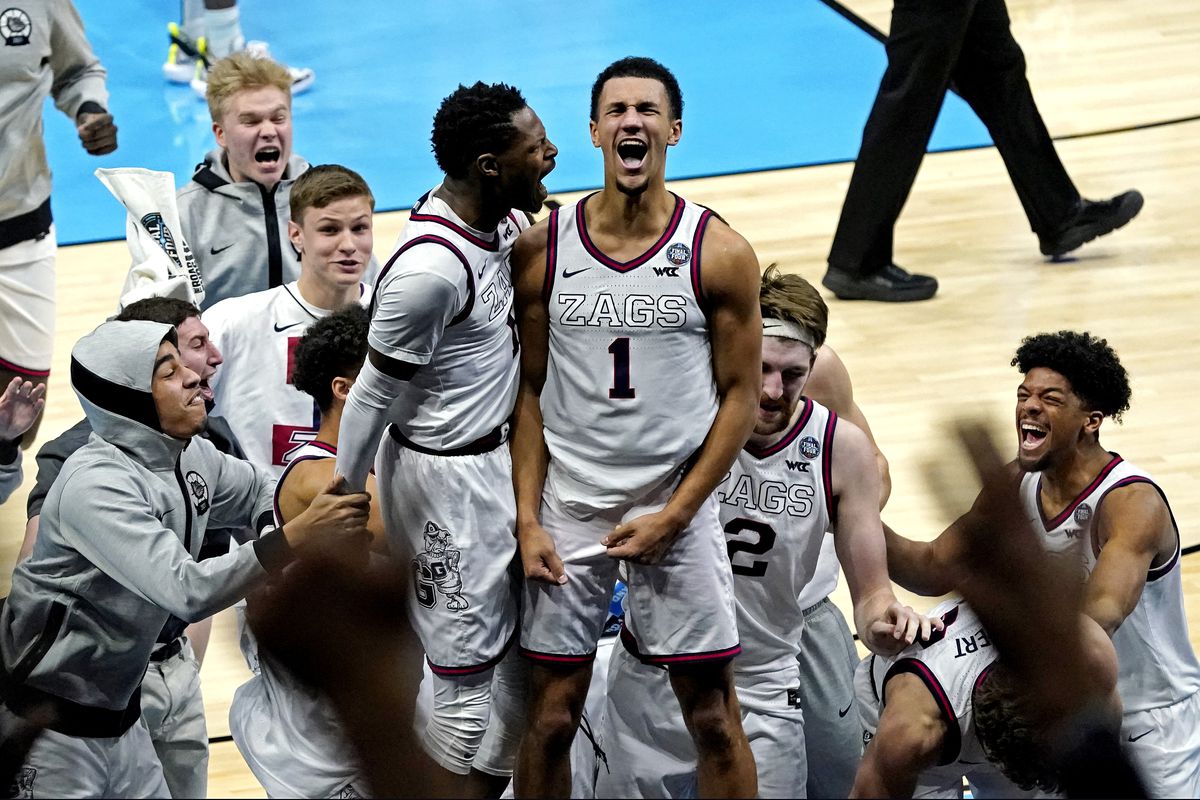 BetMGM lists Gonzaga as the +600 top choice to win the next March Madness tournament, ahead of Michigan (+800), Duke (+1200), Florida State (+1200), and defending champion Baylor (+1200).
Gonzaga landing top recruits for 2022
Gonzaga will likely lose freshman guard Jalen Suggs to the NBA draft, as most experts project him to go among the first few picks. However, head coach Mark Few has built the program to the point where the Bulldogs will simply reload for next season.
Hunter Sallis – the No. 7 high school recruit in the country, according to Rivals.com – has already committed to Gonzaga. Experts expect No. 1 high school player Chet Holmgren to join him in the near future, giving the Zags their best haul of new talent in school history.
---
2022 NCAA Men's Basketball Championship Odds (via BetMGM)
Gonzaga: +600
Michigan: +800
Baylor: +1200
Duke: +1200
Florida State: +1200
Ohio State: +1600
UCLA: +1600
Villanova: +1600
Alabama: +2000
Illinois: +2000
Kansas: +2000
Michigan State: +2000
Purdue: +2000
Virginia Tech: +2000
---
In other words, Gonzaga is no longer a mid-major. It has become, perhaps, the most imposing and dominant men's basketball program in the country.
"Mark built it to where I think they can sustain Final Four aspirations every year for a few years," Syracuse coach Jim Boeheim told Yahoo Sports. "I think they're going to get more top-tier players now. That's why they're not just good, they can win the tournament. That's the difference. You have to have a couple of those guys who develop into NBA players. That's the difference in their team."
Sportsbooks face heightened uncertainty for next season
Oddsmakers face a difficult challenge in handicapping the 2021-22 season, however. First, the NCAA will allow any player the ability to transfer schools without any penalty this year in deference to the COVID-19 pandemic. Secondly, the shortened high school season means there's less certainty about the impact new recruits will make, even at the top schools.
In other words, sportsbooks don't know who will be playing for which schools, and they don't have a handle on just how good the recruiting classes are.
"It's going to be a difficult task, to say the least," Nick Bogdanovich, US director of trading at William Hill US, told ESPN. "It might be one of those where we tread a little cautiously with the really big numbers and some of the favorites will be fattened up.
The Caesars Sportsbook by William Hill opened Gonzaga as the +550 favorite, with Baylor as the second choice at +850. The book also lists UCLA (+1200), Michigan (+1400), and Duke (+1500) among its favorites.
According to Bogdanovich, the best he and other oddsmakers can do now is rely on what they already know.
"We'll look at end-of-year power ratings and then you'll see what they're going to lose as far as plain seniors," Bogdanovich told ESPN. "Then you just factor in any information you can find, whether they've had any early success already in the transfer portal. Programs don't go down too far; they just reload."