Apparently if you want a star player to team up with you for the Zurich Classic, all you have to do is ask. That is what Ryan Palmer did with Jon Rahm for last week's PGA Tour team event. Palmer, 42, had partnered with Jordan Spieth twice before, but this year with Spieth not playing, he decided to take a chance with the Spaniard.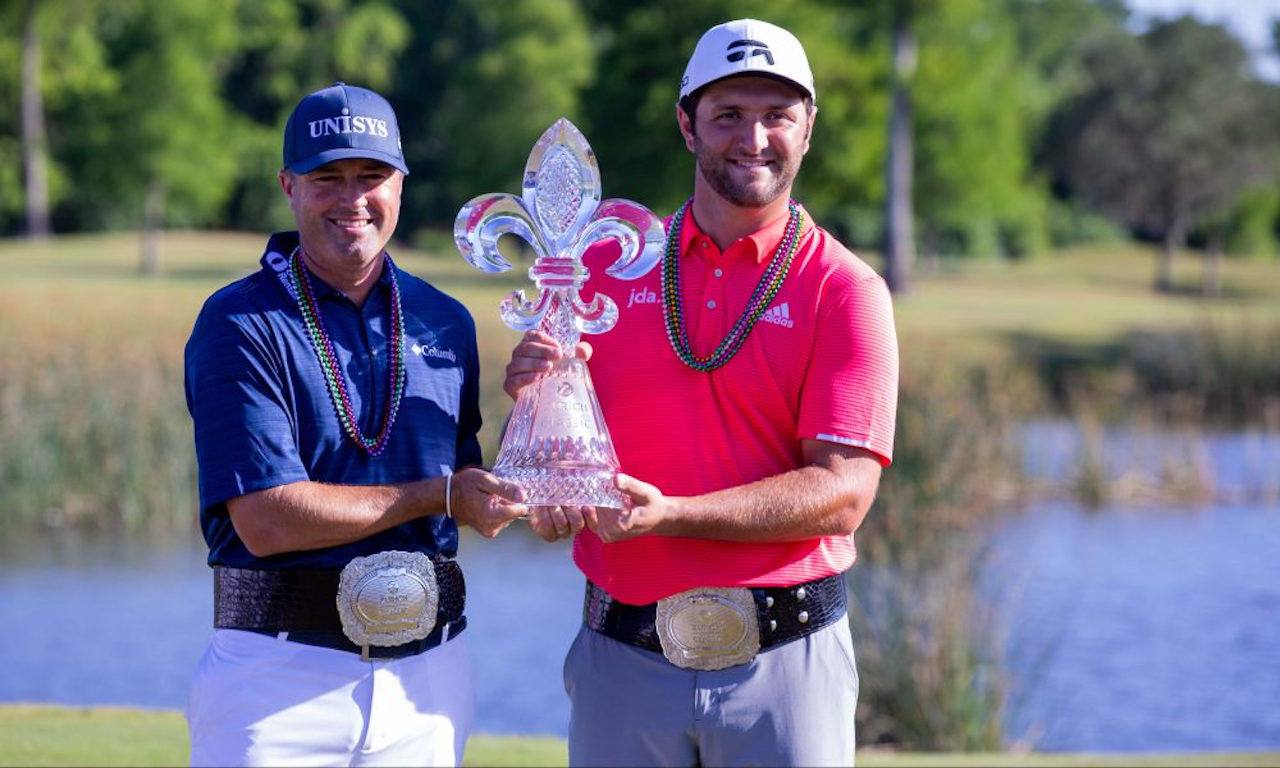 The two couldn't have less in common. Palmer is a tour grinder, winner of four events over a 19-year-career. Rahm is 18-years younger, has been on tour since 2016, and already has three victories stateside, and three more internationally.
The unlikely duo worked. The two were 16/1 picks to win the Zurich and captured it by three shots. Rahm told reporters afterward the two meshed perfectly.
"To win my third PGA TOUR event with Ryan, obviously very different stories, but to get it done together, the way it happened, he started off playing great, I kind of struggled and then I came through in the middle and then he finished it up," Rahm said. "It was amazing."
So how did this unlikely partnership occur. Both Rahm and Palmer wanted to play in New Orleans, but knew that their past partners weren't going to be there. So Palmer took a chance and reached out to Rahm.
"I shot him a text, hoping he would bite," Palmer recalled. "When a 42-year-old player is calling him, he's probably like, 'Why does he want to play with me?' But he accepted and what an awesome week."
ANA Inspiration Might Move Date
It's ironic that the thing Augusta National has done to help women's golf, is actually hurting the LPGA Tour. But don't expect the mostly men's club that hosts the Masters to change.
The Augusta National Women's Amateur made its debut this year, with the goal of highlighting mostly collegiate golfers. It achieved that objective, but it came at the cost of the LPGA Tour's first major championship of the season.
The ANA Inspiration was the same weekend as the ANWA, and got clobbered in the television ratings. With the amateur getting the most viewers since the 2016 US Women's Open, and the ANA plunging in the ratings from the year before, something has to be done.
International Management Group runs the tournament, and Chris Garrett, who serves as tournament director, told the Desert Sun newspaper a move on the calendar might have to happen.
"At this point, I think it's 50-50 we stay, 50-50 we move," Garrett said.
The problem, Garrett said, is when to move. Going after the Masters the 48-year-old event that was made famous by entertainer Dinah Shore, would then compete in town with two giant music events. Placing it before would require a complete overhaul of the schedule.
This Weeks Odds, Pick
The Wells Fargo Championship is packed with star golfers trying to get in one last event before the PGA Championship in two weeks. Rory McIlroy is the favorite at 6/1, followed by Rickie Fowler and Jason Day at 10/1.
We like McIlroy who has dominated this event. He has won it twice, has four other top-10 finishes, and hasn't finished worse than ninth in a non major event this season.