Tiger Woods has not won a tournament this year, but is still a 14/1 pick to win the Northern Trust Open this week in New Jersey. But could a bettor's money be better spent on other wagers involving Woods that don't require the PGA Championship's second-place finisher to win outright?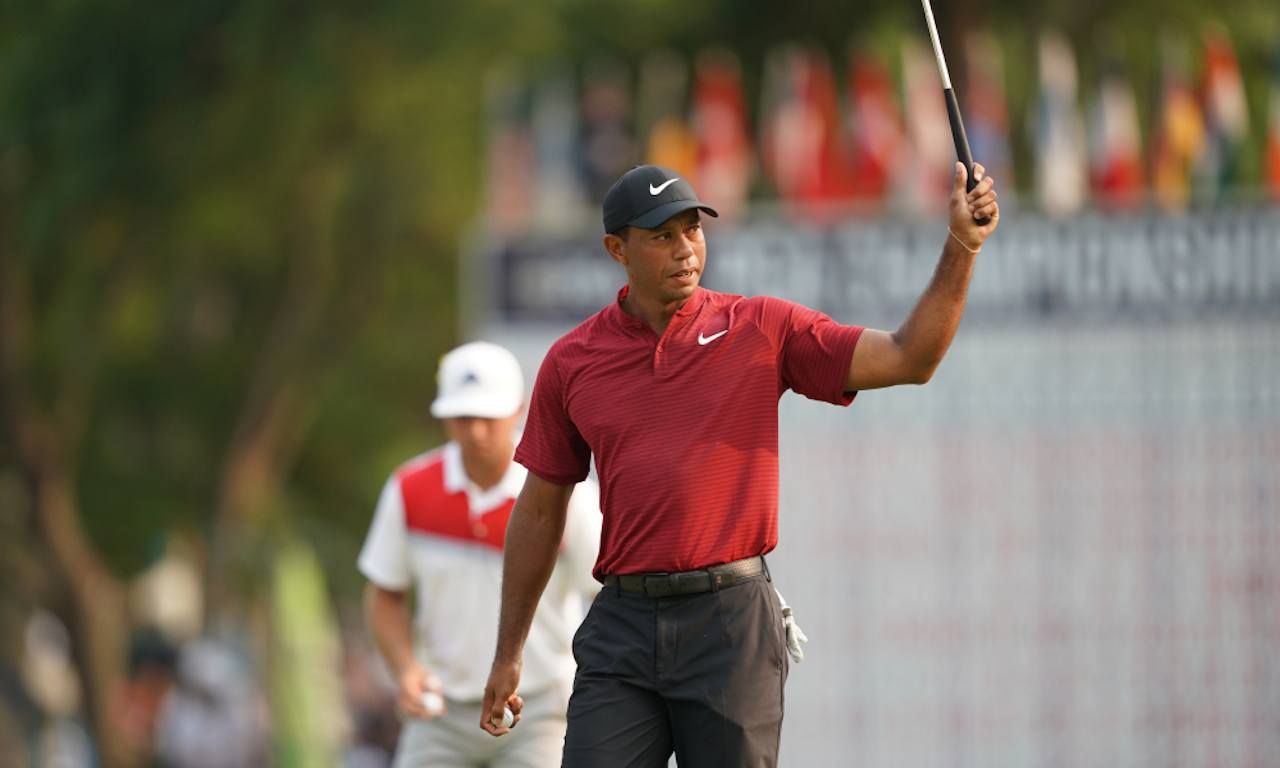 The favorite to win the first tournament of the FedEx Playoffs, held at Ridgewood Country Club in Paramus, New Jersey, is Dustin Johnson at 9/1. The 34-year-old has won three times on tour this year, and has four other top 3 finishes. Statistically he would be a much better bet than Woods, who is listed at 14/1.
Woods has recognized the fact that he didn't win an event this year, but said it was still a success to him. He told reporters on Tuesday at the Northern Trust that he is a different golfer than he was 10-15 years ago.
"To have a winless year, but to go through what I've gone through — I didn't know if I was going to play last year," Woods said. "I didn't know if I was ever going to play again. I was just hoping to be able to play golf with my kids and with my buddies at home. I wasn't thinking about the Tour and now here I'm contending in major championships and had a chance to win a couple major championships. This has been, as I've said before, this has been a blessing, but man, it's been so special to have this opportunity again."
Winless FTW?
If Woods is going to win golf tournaments, he has to do it in a different way than when he was dominating the tour. His goals have changed from 2000, when he won 10 tournaments, including three majors.
"The discipline is different now because I can't do the things that I used to be able to do," the 42-year-old Woods said. "So I've had to figure this out, whether it's golf-swing-wise or it's recovery — how much I can do, how much I can't do. This is all new."
Woods doesn't doubt he can win again, but knows it isn't going to come as easy as it did when he was in his 20s.
"I've become a little bit more mobile than I was the beginning of the year. I was just fresh off a fusion and didn't know what to do and had to protect myself a little bit. Even though my speeds were up, I was doing it in a different way than I had, and over the course of the year, my swing has evolved and it's gotten more consistent and I think it will continue to get that way."
Woods in Head-to-Head Matchups
With Woods being more realistic about his chances of winning, bettors should also be more cautious on where they place their money in regards to the golfer. There are plenty of wagers that can be taken advantage of this week at the Northern Trust.
The first would be head-to-head matchups. The Westgate Las Vegas SuperBook has Woods facing Jason Day. Day is a -125 favorite. Woods is a +105 pick and that could produce good value.
Bovada has Woods facing off with Jon Rahm, and has Tiger as a slight favorite — at -125 compared to a -105 for Rahm.
Ladbrokes has attractive odds on Woods in some prop bets, too. One is for him to finish in the top 5. Woods is 3/1 on that bet. He is a 6/5 bet to finish in the top 10.