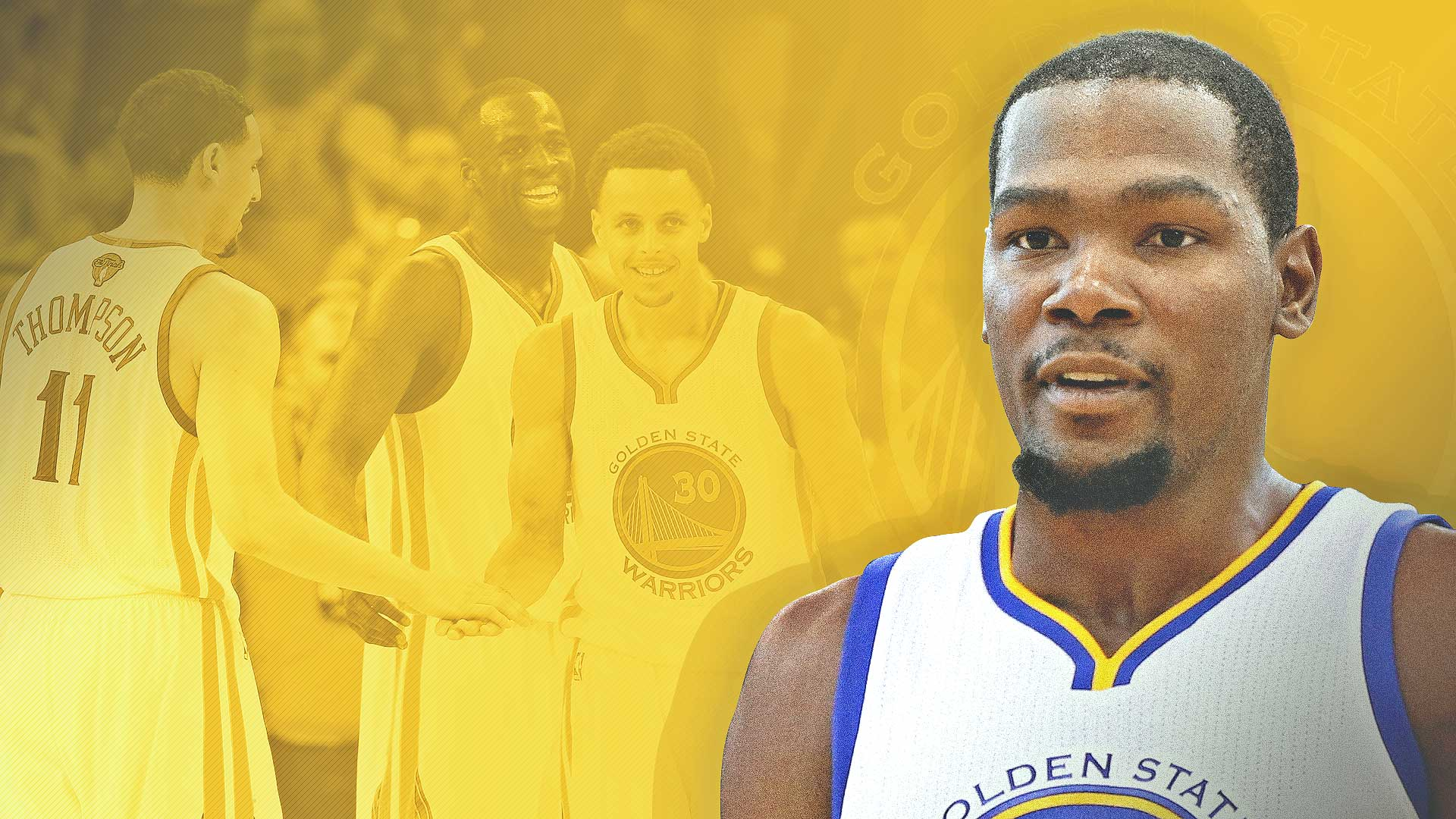 The Golden State Warriors have landed the golden ticket. After spending eight years in Oklahoma City, Thunder superstar Kevin Durant is packing his bags and returning to the West Coast.
Now 27-years-old, Durant spent his first season in Seattle before the franchise was relocated to the Midwest. Originally from Washington, DC, going back out west was no easy decision for the 2014 NBA MVP.
"This has been by far the most challenging few weeks in my professional life," Durant wrote in The Players' Tribune, an online site founded by Derek Jeter that provides first-person narratives from athletes. "Oklahoma City truly raised me. It taught me so much about family as well as what it means to be a man."
Durant's emotional account of his decision eventually boiled down to growing as a player and putting himself in the best position to win.
"I have decided that I am going to join the Golden State Warriors," Durant revealed. "It really pains me to know that I will disappoint so many people with this choice, but I believe I am doing what I feel is the right thing at this point in my life and my playing career."
Golden State Golden Boys
The Warriors won an astonishing 73 regular season games during their 2015-16 campaign. The mark eclipsed Michael Jordan and the Chicago Bulls' previous record of 72 wins.
But in the end, 73 didn't matter.
The defending NBA champs fell to the Cleveland Cavaliers in the NBA Finals in seven games last month as LeBron James was special even by LeBron James standards. Back-to-back regular season MVP Stephen Curry made no secret that without a title the team's regular season accomplishments mean little.
Now armed with Durant, a 6'9″ small forward, the Warriors have 2016 NBA All-Stars in four of their five starting positions. Along with Curry and Durant, the Warriors will start Klay Thompson at shooting guard and Draymond Green at either center or power forward.
Forget the Miami Heat's or Boston Celtics' Big Three of yesteryears. It's now the Big Four in Golden State.
Warrior Dash
Though Cleveland just recently finished cleaning up its streets from its victory parade that brought together 1.3 million fans, Vegas oddsmakers are already prepared to crown the next NBA champ.
According to VegasInsider.com, the Warriors are listed at 4/5 to win the 2016-17 NBA Finals. That's a nearly unheard of line for any professional sports team in the Big Four preseason.
The New England Patriots, the favorite to win NFL's Super Bowl next February, is at 15/2. The defending Stanley Cup champion Pittsburgh Penguins are at 8/1 to repeat next year.
But those in the know believe Durant, Curry, Thompson and Green can outlast any other team in the NBA. As of now, it's hard to argue against that thinking.
However, at -140 to win the NBA title, only the most diehard Golden State believers will be rushing to Vegas to place their bets. Based on the current odds, a $140 bet would net the bettor just $100.
Considering the rumor mill is now churning out Dwyane Wade to Cleveland gossip, it might be best to hedge one's bets for the time being.