Going Global began her racing career finishing fourth, 12th, and 13th in a trio of summer races in her native Ireland. There was nothing distinguishing her from the countless other 2-year-old fillies dotting Irish racetracks.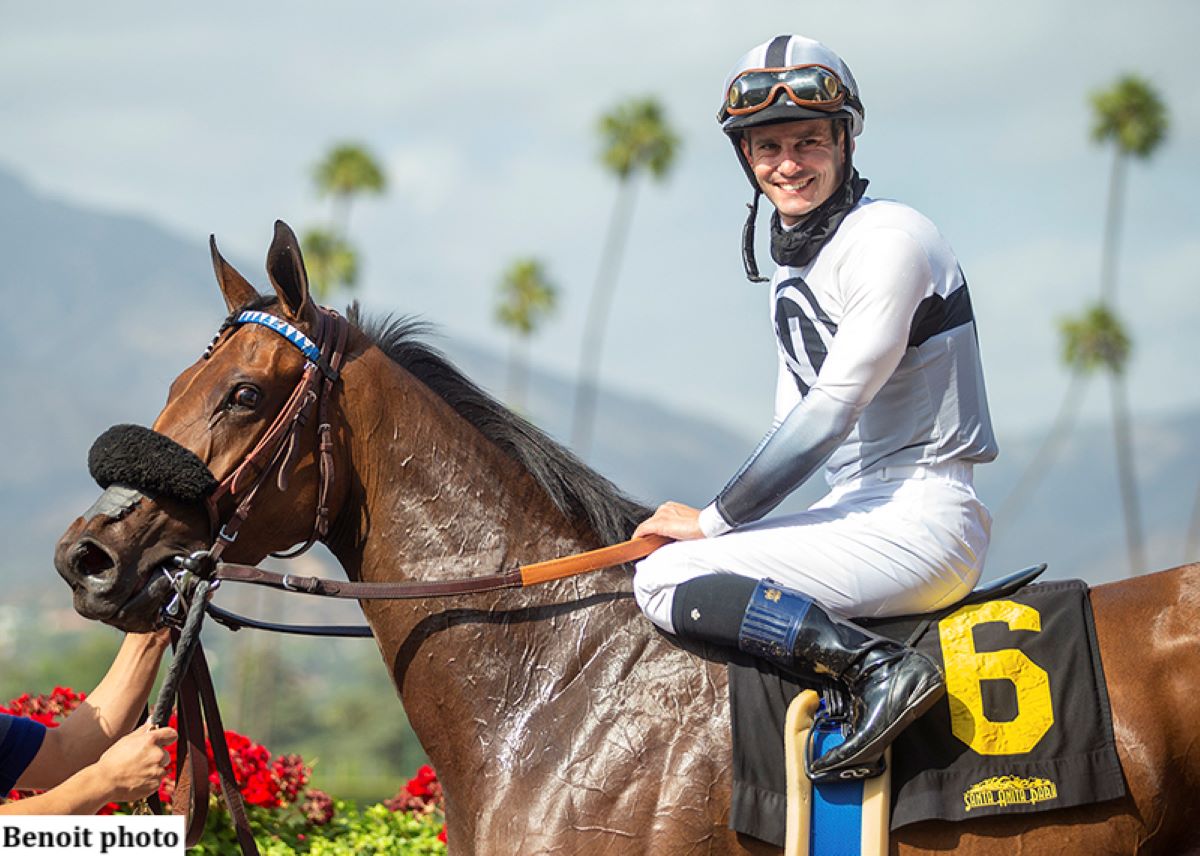 This changed last November when Going Global broke her maiden in an Irish Handicap race at Dundalk. Nice, but not a hint of foreshadowing for what came next. Apparently, Going Global needed to go global to blossom because, after coming to the US for her 3-year-old season, she turned Santa Anita Park into her personal playground.
Now, we'll see what happens when Going Global goes from Santa Anita Park to Del Mar. She brings a four-race winning streak into Saturday's Grade 2 San Clemente. The one-mile turf test serves as the prep for the Aug. 21 Grade 1 Del Mar Oaks. It also features a deep field of 12, including another Irish filly, Nimbostratus.
If that name sounds familiar, it should. Nimbostratus was the filly bringing the Santa Anita-record $150,000 claim after a May race. But Nimbostratus already saw Going Global in the Grade 3 Sweet Life Stakes on Valentine's Day. Actually, Nimbostratus saw Going Global's tail, finishing third behind her in that six-furlong sprint.
Going Global's first win came in her US debut
That victory at 8/1 was Going Global's first US win. Win No. 2 came three weeks later in the Listed China Doll Stakes. Going Global finally earned favorite status, going off at even-money and turning away Closing Remarks by three-quarters of a length.
Win No. 3 came nearly a month later in the Grade 3 1 1/8 mile Providencia Stakes on the Santa Anita Derby undercard. Now the 3/5 favorite, Going Global once again prevailed, holding off Closing Remarks again in deep stretch for a neck victory.
Now, Going Global is on everyone's map, which explains her 4/5 odds in May's Grade 3 Honeymoon Stakes. The ensuing victory was the most impressive of her career. Not only did she rack up a career-best 104 Equibase Speed Figure, but her 4 ¾-length dismissal of Golden came with tactical flair.
Prat added riding pizzazz of his own in passing Pizzazz
Going Global turned in a complete race, biding her time until the far turn. That's when Flavien Prat wheeled her inside, split rivals Pizzazz and Midnight Diva in the stretch, and then powered home.
"I think that she's a filly that is just blossoming before our eyes right now," trainer Phil D'Amato told Santa Anita's Mike Willman after that Honeymoon Stakes victory. "Each performance, I thought was better than the next, and this one I thought was many lengths better than the last."
What's makes Going Global's four-race winning streak more impressive isn't just the fact all four races were stakes events. She's won races at distances from six furlongs (the Sweet Life) to nine (the Providencia and Honeymoon). The China Doll was a two-turn mile.
"For a 3-year-old filly at this time of the year, she's probably the best filly I ever had," D'Amato told Willman. "I've had a lot of good Grade 1-winning mares, but this early on in their career, I'd say she's definitely the best 3-year-old filly."