Most of us get our sports information from some combination of television and the internet. Today, the question many are asking: Should I cut the cable and stream my data? Be careful before you do. The trend toward going all internet all the time could cost sports junkies vital information, all while putting a big dent in their wallet.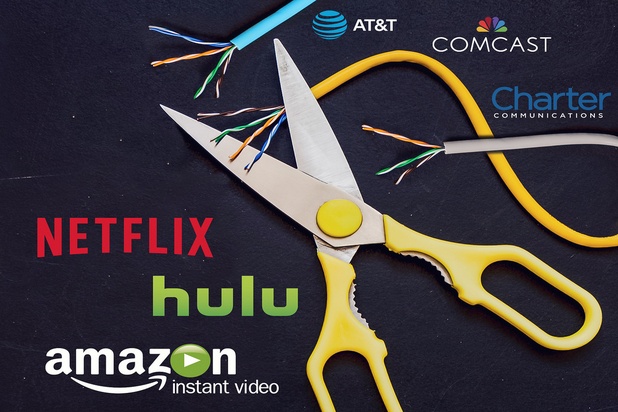 Yes, there are a lot of streaming sports packages available. The biggies include: Hulu, ESPN+, Sling TV, YouTube TV, CBS All Access, Amazon Prime and DirectTV Now. Those are just the top seven by numbers of current subscribers. There are at least a dozen more providers of sports information. Some of these are cable-oriented at first look, but they all either offer a streaming option if they're not already 100 percent streaming.
Any wise investor knows they need current information and reliable data. Content and cost must be balanced with ease of use and connectivity.
We're not going wade through a dollar-for-dollar comparison of the various services. Not only do the numbers change based on your cable provider, if you stayed wired, but also so do streaming costs.
If you haven't made your annual call to your cable or internet provider, do it now. They all negotiate. Sure, you might have to sign-on for another year or two, but you can get both discounts and extras. Ask specifically for sports-oriented programming. Surprisingly, those packages are often the most discounted of the various entertainment options.
Also don't rely on what you see advertised nationally. Costs and packages vary by region and cable provider. And there are always special introductory discounts.
Cable or Streaming?
The primary factor in whether or not you cut your cable should not be cost. First, you should consider how you consume your sports data.
If you like to watch on a 72-inch 5G screen, you had better know whether or not that streaming service you are considering will connect to your wall-size television. They all don't. Also, are you comfortable watching streaming content on your laptop? Don't say yes until you've tried it a few times. There is a huge difference between watching an NBA Finals game streamed on a 17-inch laptop screen or on that 56-inch plasma you have in your bedroom.
The trend to cut-the-cable is generally about lowering monthly charges or cutting the length of a contract. But more than likely you have bundled your television package with your internet and possibly your phone service. A streaming service may or may not have all of those options. Comparison shopping is vital.
Tips on Getting the Best Sports Package Deal
First, know your current service. What sports packages do you have and what else does your current provider offer? Get a quote on any new add-on sports information you want.
Let your current provider know you are shopping around for a more comprehensive sports solution. Don't threaten to leave just yet. But let them know you are looking. They track customer service phone calls and will know that you are getting quotes.
You must test. Don't buy the hype on any streaming service. Check it out, either with a free trial or with a friend already using the service. Every sports bar has a package of some kind. Over wings and a beer, ask what it is and check it out on the sports programming you wish to follow.
Get the details of the contracts you are asked to sign. Not only how much does it cost but how long are you committed. Read a sample contract.
Call back each of your 'best options' and ask for a better price. Most have the option to cut you a discounted deal for at least your first year.
Once you have the best available option in your sights, call your current provider and ask them to beat that offer.
---
Dr. Tim Lavalli holds a Ph.D. in psychology and has focused his work on the mental aspects of competition and gambling. He co-authored Check-Raising the Devil, the autobiography of poker pro Mike Matusow. You can follow him on Twitter @timlavalli.