Two of the contenders for Saturday's Red Smith Handicap at Aqueduct are 7-year-olds. One of the other favorites is 6-years-old, confirming that the 60th Red Smith Handicap is the race where older horses head before heading out to pasture.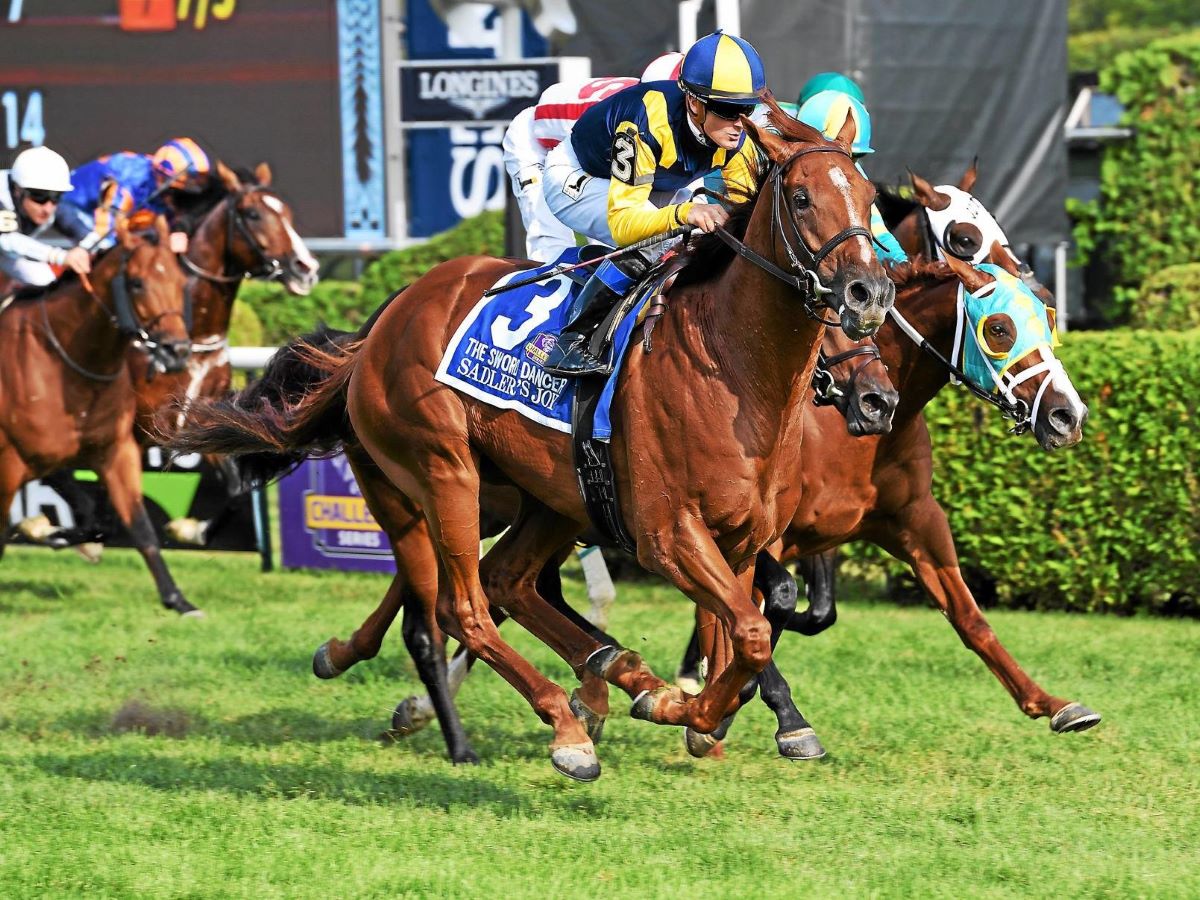 Or not. There's 7-year-old Sadler's Joy taking on his fellow 7-year-old graded-stakes champion Aquaphobia. And in case those two equine geezers aren't to your handicapping liking, there's the 6-year-old Red Knight.
With venerable horses like that to ponder, it's a wonder the Red Smith isn't sponsored by AARP. Instead, the Grade 3, 1-3/8-mile trek along Aqueduct's inner turf course bears the name of one of America's greatest sportswriters. Walter Wellesley "Red" Smith held court on American sports pages for 55 years, covering and writing columns on every sport, including horse racing. The Pulitzer Prize-winning columnist spent much of his storied career at the New York Herald Tribune and the New York Times.
So there's a symmetry here: old-school newspaperman lends his name to a race featuring old-school runners. But don't let the age thing fool you, especially in Sadler's Joy's case.
Red Smith Brought Sadler's Joy Plenty of Smiles
The venerable turf runner makes his 34th career start as the 8/5 favorite in the Red Smith. He's hit the board 22 times en route to seven wins and $2,648,160 in career earnings. Four of the victories came in graded stakes, the last being this race last November. That was Sadler's Joy's last victory. He's currently 0-for-his-last-7 in 2020, although he does own four thirds and a disqualification from first to fourth in August's Bowling Green Stakes at Saratoga.
Last time out, Sadler's Joy finished third in the Oct. 3 Grade 1 Joe Hirsch Turf Classic at Belmont Park. Despite a wide trip, he finished only 2-¾ lengths back, clocking a 110 Equibase Speed Figure along the way. The winner of that race – Channel Maker – finished third in a brutally tough Breeders' Cup Turf field. Back in 2018, Sadler's Joy finished third in that race himself – to turf superstars Enable and Magical.
"He's run some big races and was so close in some of the bigger races," trainer Tom Albertrani told the New York Racing Association. "I think one of the biggest disappointments was at Saratoga when he was disqualified. He's just always consistently been right there. The horse just always shows up."
Stretch Struggles Swallowed Up Aquaphobia
Usually, the same can be said about Aquaphobia (6/1), although the Grade 1 winner didn't in his last outing. That was a miserable seventh in the Grade 3 Sycamore at Keeneland last month, courtesy of a bad trip featuring a boxed-in stretch run. This wiped out Aquaphobia's favored stalking style that brought the son of Giant's Causeway the Grade 1 United Nations at Monmouth Park in July.
"I felt he was a bit closer to the pace than he likes to be, so we crossed through that race," trainer Mike Maker said.
Aquaphobia's resume resembles Sadler's Joy's: nine victories in 38 starts with 22 in-the-money finishes. The United Nations win is Aquaphobia's only graded stakes triumph. His other victories came in allowances or non-graded stakes races, which explains his absence from the million-dollar earnings club ($707,961).
Aquaphobia Didn't Scare Away Trainer From Claim
That didn't stop Maker from claiming Aquaphobia for $62,500 in a January optional claiming race at Gulfstream Park. Maker wasn't fazed by Aquaphobia's fourth-place finish. His eye was rewarded when Aquaphobia won his next start, in the aptly named Old Man Eloquent Stakes at Gulfstream Park.
Which brings us to Red Knight (5/2), who won that Sycamore his last time out behind a skillful ride from James Graham. The jockey put the 6-year-old gelding between horses coming out of the turn, sent him three-wide, then opened the jets for a two-length victory.
Unlike his fellow geezers, Red Knight spent much of 2020 on the sidelines. After his fourth in the Grade 3 W.L. McKnight, trainer Bill Mott gave Red Knight the next eight months off. He returned with a solid second to Arklow in the Grade 3 Kentucky Turf Cup at Kentucky Downs in September.
That set the table for his Sycamore victory a month later. That's one of Red Knight's eight career victories in 21 starts. He's hit the board 15 times in those 21 starts, including a second to Sadler's Joy in this race last year – a race bringing a 111 Equibase.